How to Start Your We TV Free Trial Without a Credit Card

If you love streaming movies, TV shows, and other top-rated channels, then you might have already come across We TV. Headquartered in New York City, this digital cable network and satellite TV channel is owned by AMC Networks with a programming focus that targets women.
You can  and never pay for a subscription you don't love with DoNotPay.
Does We TV Offer a Free Trial?
Yes, you can access We TV from your web browser by taking advantage of . Online streaming services that carry  before you decide if you want to spend your money on a full subscription. If you are just starting, you can check these streaming services that support We TV:
Philo: You can start your 7-day free trial in a few easy steps
FuboTV: With Fubo, you also enjoy a free trial spanning 1 week
YouTube TV: This streaming service offers a 1-week We TV free trial
Sling TV: You get a 3-day free trial
We TV is also available on DirectTV Stream, but this streaming service does not offer a free trial period. Once the free trial expires, you can choose whether you will get a full subscription. If you decide against subscribing, you will need to cancel before the free trial ends and that way, you won't get charged. Say you are using Sling TV, you can cancel your Sling TV subscription before the trial period ends.
Also, each streaming service carries a different number of channels and a full subscription also comes at different prices depending on where you choose to watch We TV.
How Can I Get a We TV Free Trial?
We TV prides itself on offering premium content for women's entertainment. The carefully selected programming guarantees premium entertainment for subscribers, making a subscription worth your while. But how can you be sure that you want to make a full commitment through a subscription? You can start your We TV free trial today in a few easy steps
Choose the streaming service that you want to use to access We TV. Your choices include YouTube TV, Sling TV, FuboTV, Philo, and DirecTV.
Navigate to the site's free trial page.
If you already have an account, sign in. Otherwise, follow these next steps to sign up.
Provide your mobile number or email address.
Choose your plan. Aside from DirecTV Stream, each plan carries a no-obligation free trial
Enter your billing information. In most cases, you will need to leave your credit card information while signing up. Alternatively, you can use a free virtual credit card when filling out your billing information.
Does We TV Free Trial Automatically Renew Into a Paid Subscription?
Yes, your subscription will renew into a paid plan if you do not cancel your subscription. Once you complete the signup process, your We TV free trial will begin with no obligation to subscribe to a paid plan. If you change your mind about the subscription, feel free to open your web browser and cancel at any time before the free trial period ends and you will not incur any charges.
If you feel that the streaming service is a good fit for you, you can go ahead and choose a subscription plan based on what is available and what you want your subscription to include. Most services offer various service packages, each carrying a certain price.
If you decide against a paid subscription but unfortunately the trial period has ended, you can request a refund. Most streaming services have a refund policy in place, allowing users an out if they feel the service is not a good fit. Unfortunately, the refund policy is usually lengthy and tedious and happens at the company's discretion.
Avoid Automatic Renewal With DoNotPay Virtual Credit Card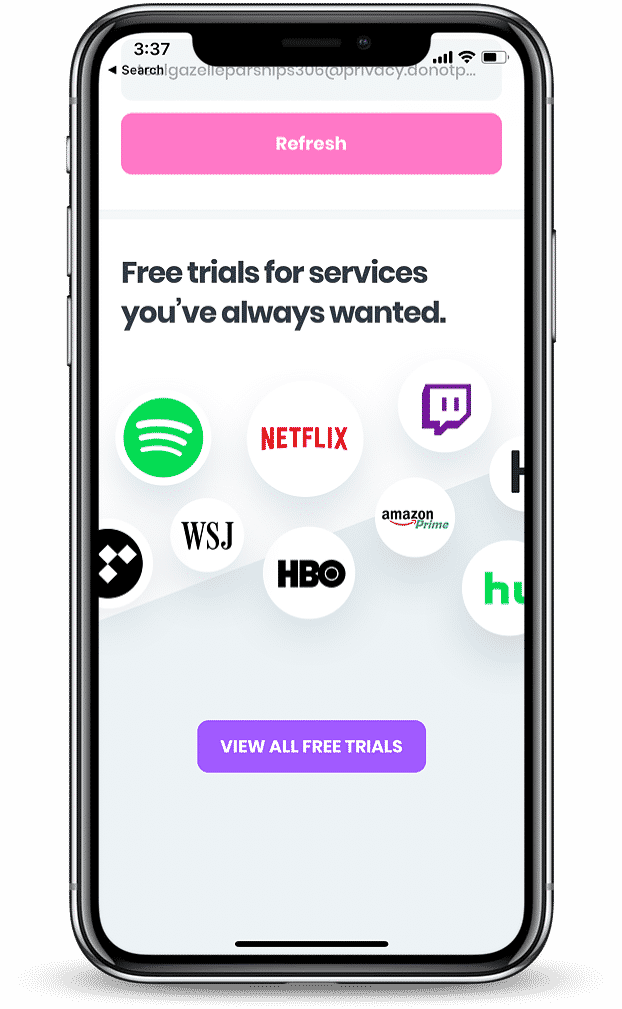 While We TV is a great service that lets you enjoy all your favorite programs, there are times when a certain service is just not what you want or thought it was. Free trials are great at giving you access before you make a final commitment. Unfortunately, you might forget to cancel a subscription that you don't want.
Since you already provided your billing information, you will be charged once the trial period ends and you forgot to cancel an unwanted service. You will be charged repeatedly if you don't cancel your subscription. That's why it's always a good idea to use a Virtual Credit Card to access online services.
Virtual Credit Cards allow you to access online services that require credit card information but it isn't your actual credit card.
DoNotPay can help you access a virtual credit card that you can use to subscribe to We TV. Here's how that works:
DoNotPay generates a random number and credit card info that you can use to subscribe to any service.
Once the free trial expires, the service can't charge you because there's no money on that card, so you get unsubscribed automatically
How Much Does We TV Cost After the Trial?
Various streaming services charge different prices depending on the subscription plan. Here's a quick summary of what We TV will cost you after the free trial.
Subscription Plan
Monthly Price
Benefits
Philo
$25
60+ channels
Sling TV
$35 (base bundle)

35+ channels
Can add extras to base bundle for $6

DirecTV Stream
$69.99 (base bundle)
65+ channels
FuboTV
$64.99
220+ channels
YouTube TV
$64.99 (base bundle)

Local channels over 70
Unlimited cloud DVR storage
What Are the Most Popular Alternatives to We TV?
Streaming services are some of the most popular services right now. If you are looking for something similar to We TV, here are the company's top competitors
VH1 | From $25 per month
Bravo TV | From $25 per month
Lifetime | From $3.99 per month
USA Network | From $35 per month
What Else Can DoNotPay Do?

There are a million ways you can use DoNotPay to save money and fight unfair charges. DoNotPay can help you with almost anything, including:
Disputing traffic tickets
Fighting speeding tickets