How to Connect With Loved Ones Incarcerated at Wallace Unit
is a 520 acre, a medium-security prison. Based in Colorado City, Texas, it houses up to 1384 male inmates at a time. Operated by the Texas Department of Criminal Justice, it has been in operation since 1994. It shares its location with the transfer facility known as Ware Unit.
The Wallace Unit facility provides full medical facilities, educational programs, community work programs and works with several faith-based entities to support inmates. It is sometimes referred to as the Daniel Webster Wallace Unit or simply as Wallace.
Where Is Wallace Unit Located?
is located in an isolated area. This rural region of Texas is best navigated via a personal vehicle, as public transportation is minimal.
Physical Address
Daniel Webster Wallace Unit

1675 South FM 3525

Colorado City, TX 79512

Phone Number
(325) 728-2162 (**074)
Website
Unit Directory
How to Contact Inmates at Wallace Unit
There are strict requirements one must adhere to before they can contact an inmate at Wallace Unit. Each method of reaching out to friends or family in this prison is subject to scrutiny from prison staff. Keep this in mind before initiating any of the options below.
Visiting Inmates in Person
Inmates can only accept visits on the weekends for anyone who lives within 300 miles of Wallace Unit.
Contacting Inmates by Phone
Inmates do not have personal phones. The general contact information above only connects to prison staff. Collect calls initiated by the inmate are allowed. The best way to contact inmates is by visiting in person or sending them mail, both of which are outlined in later sections of this article.
Sending Money to Inmates
Inmates are allowed to receive money from friends and family. However, it is limited to a third-party provider and must be processed through their website. You'll need to enter the location of Wallace Unit and have the inmate's prison identification number at the ready to process payment.
Another option is using the official Texas Corrections website and using your credit or debit card to buy commissary items directly. This requires the inmate to have the name of the buyer on their approved list.
Sending Letters, Photographs, or Packages to Inmates
Inmates in are allowed to receive certain types of letters or photographs. These are all subject to review by staff on-site.
For inmates, address all mail to:
Inmate Texas CD#
2400 Wallace Pack Road, Navasota, TX, 77868
All letters and postcards must be no larger than 4"x 6". Sexual content is not allowed. Do not include any contraband in any mail sent to Wallace Unit. Inmates can receive magazines, books, or newspapers. However, Money, stamps, or negotiable items are not allowed. Packages with miscellaneous items are not allowed to be sent to this medium-security facility.
Steps to Take Before Contacting an Inmate at Wallace Unit
Make sure the inmate is currently located at before contacting or visiting them. Visiting this prison is time-consuming given its isolated location, and interstate phone calls are extremely expensive. Not sure how to find an inmate? DoNotPay has a tool that allows you to locate and connect with inmates:
Open a DoNotPay account in your web browser.
Click the Connect With an Inmate tab and select Locate Someone.
Enter the inmate's name and the state where they are being held.
Submit your request.
DoNotPay's automated process will then output the current location of the incarcerated individual you're looking for within moments.
Difficulties You May Have Contacting Loved Ones at Wallace Unit
There are several common issues that arise when contacting loved ones incarcerated at Wallace Unit:
Phone rates are expensive at all American prisons and subject to price hikes at any time.
Wallace Unit is in an isolated area. Public transportation is not readily available. Paid transportation is prohibitively expensive for many.
Care packages are not allowed in nearly all cases. While inmates can receive personal correspondence, as well as limited larger items like books, almost anything else is prohibited.
Get in Touch With Your Loved Ones With DoNotPay
The official correctional facility resources tend to be low on information, often outdated, and leave much of the process up to family and friends to figure out via trial and error. DoNotPay streamlines this process by implementing as much institutional and legal knowledge as possible into a powerful, automated service. Using DoNotPay's Connect With an Inmate feature cuts the mystery out of the process and helps keep the friends and family of inmates from falling into a confusing situation dealing with a convoluted bureaucracy.
DoNotPay Can Help You Get in Touch With Your Imprisoned Friends or Family
It shouldn't be nearly as difficult as it is to connect with an inmate at Wallace Unit. DoNotPay can help you quickly and efficiently get through to your loved one with these steps:
1. Locate the Connect With an Inmate service on DoNotPay.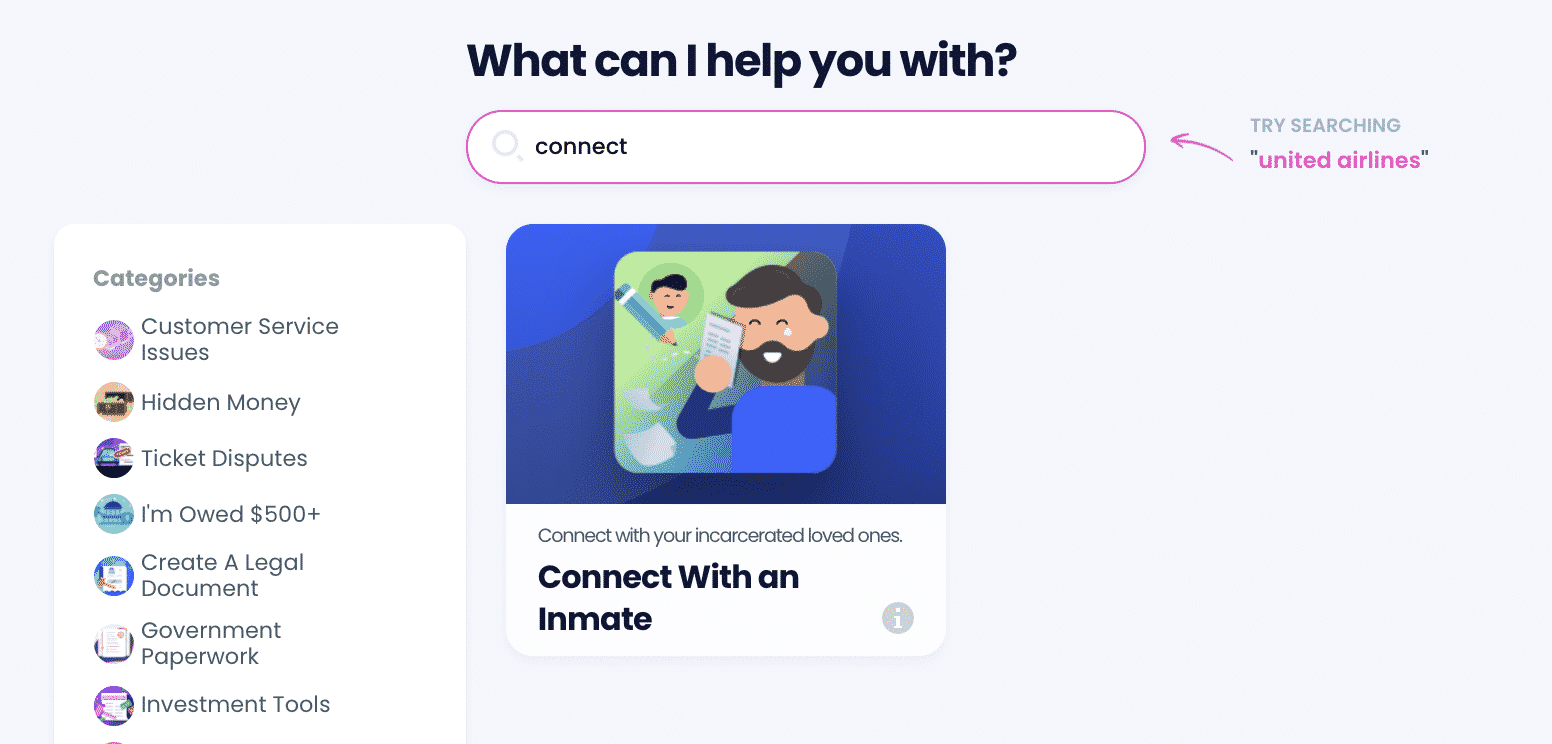 2. Choose whether you want to locate a loved one, create a virtual mailbox, or send a personalized letter.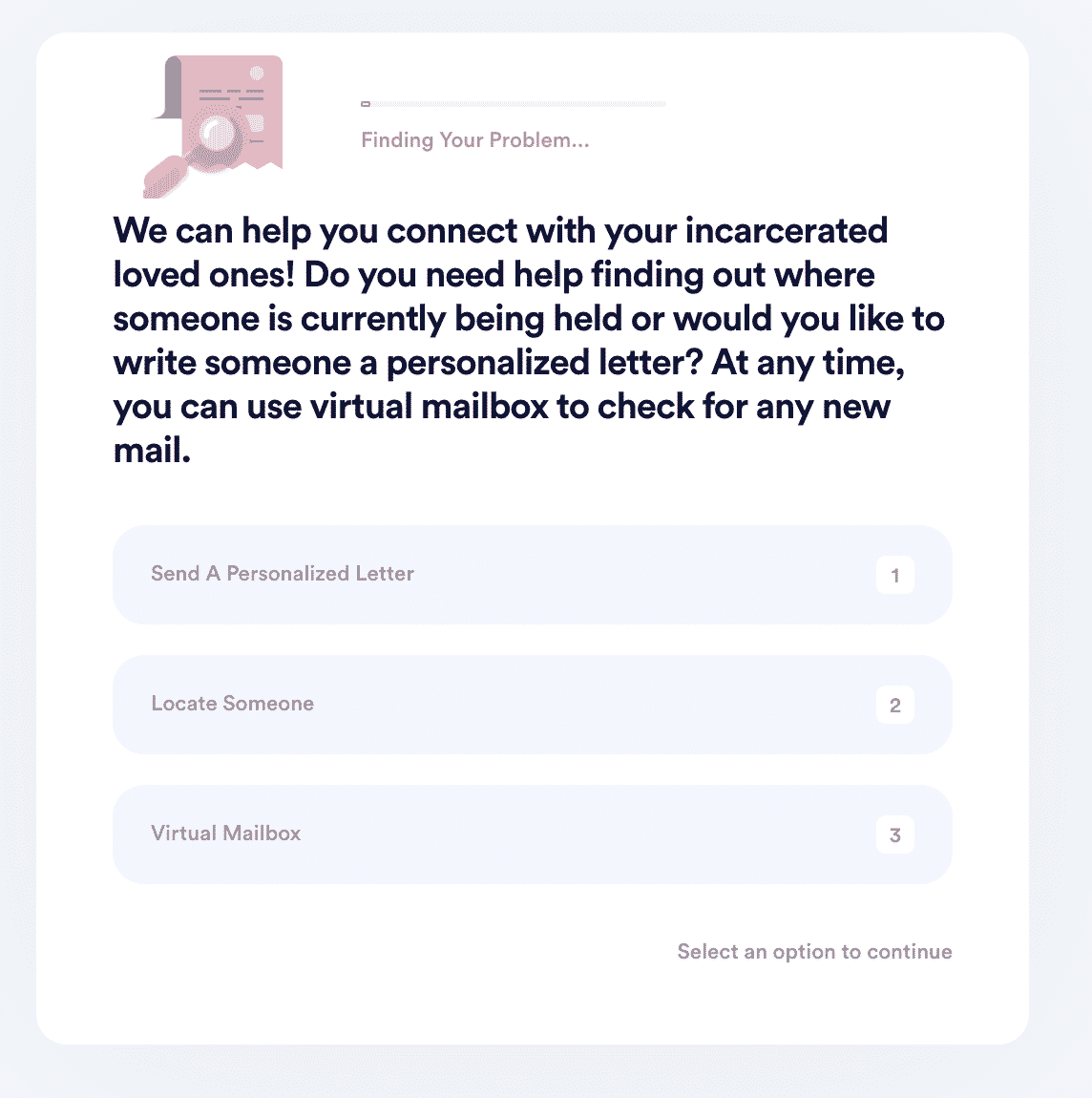 3. If you want us to find your loved one, provide his or her personal details and the state they are located in. We'll then conduct a search on the appropriate state database.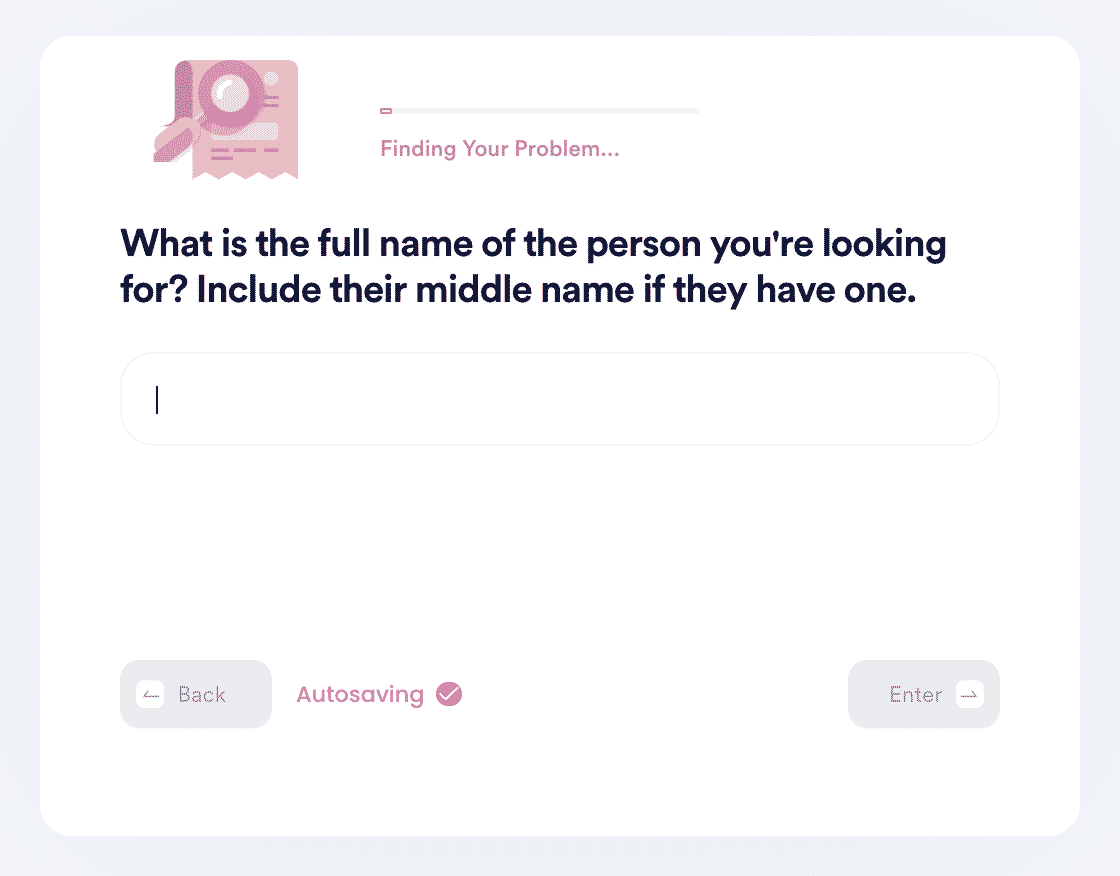 4. If you want to create a virtual mailbox, just provide your full name! We'll set one up for you so you can easily receive incoming mail from your loved one.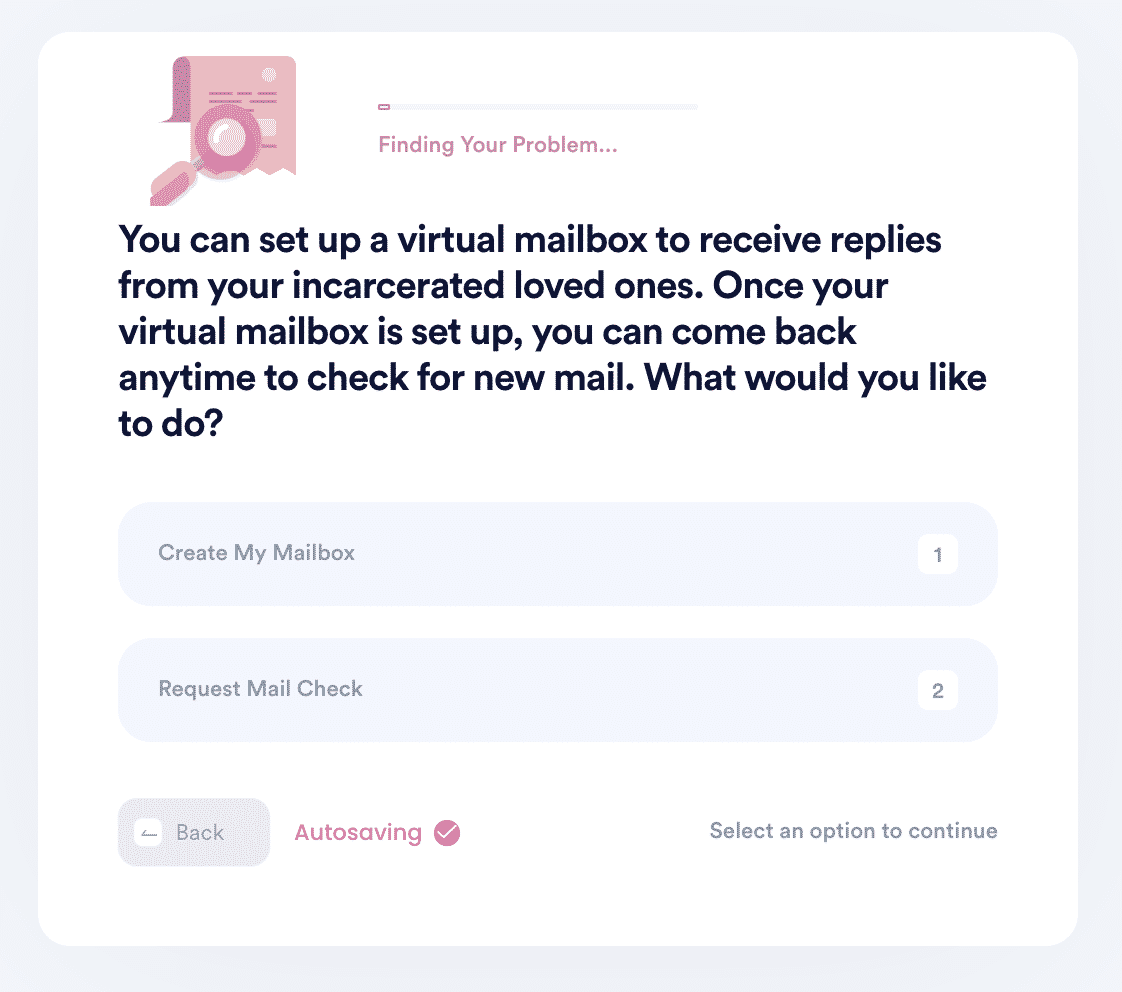 5. If sending a personalized letter, tell us which facility your loved one is located in and what you would like to say to them. You can even include a photo! Your letter will be delivered automatically - just wait 10 days for it to arrive to your loved one!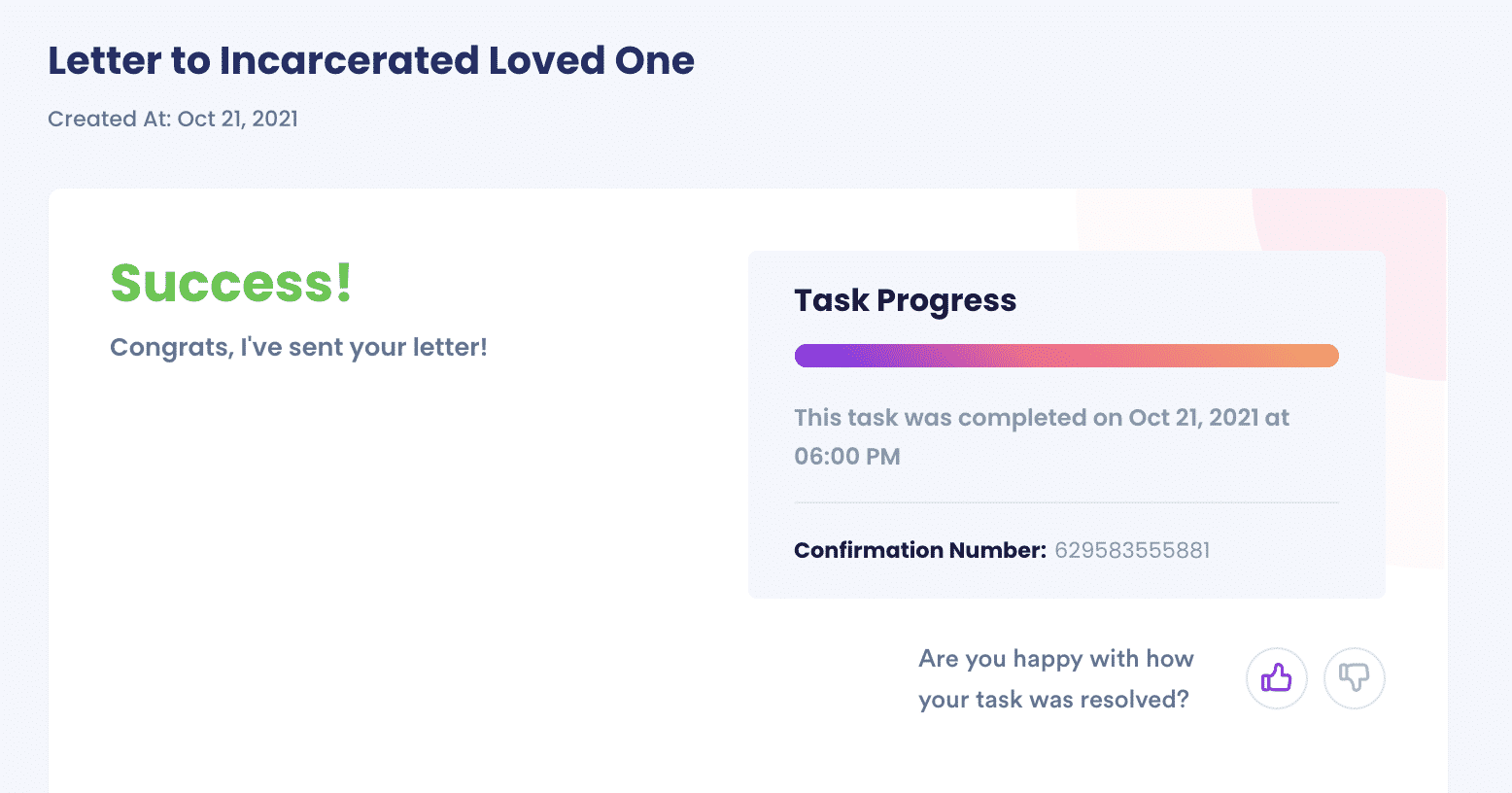 What Else Can DoNotPay Do?
DoNotPay isn't just about our comprehensive Connect With an Inmate service. There are similar, reliable services for streamlining all kinds of legal, financial, and retail situations. Consider using DoNotPay to