How to Get a Wall Street Journal Free Trial With a Virtual Credit Card

Wall Street Journal is a legendary newspaper founded in and run from New York City. It is known to focus mainly on topics that are relevant to business, from stocks to supply chains and everything in between. In some industries, the WSG is a necessity for keeping up with industries and business news. Today, it is also a reliable source of news and information for more than just business managers. Many people enjoy a subscription to the Wall Street Journal and some need it for work.
But if you're not ready to subscribe, can you find a Wall Street Journal free trial? WSG does , so let's step into the solution that's right for you.
Does Wall Street Journal Offer a Free Trial
No, there is no official free way to get the Wall Street Journal for a few free days, weeks, or months. There is no  - at least not at this date. But there are some pretty great deals when you sign up for a WSG print and digital package.
PACKAGE
PRICE
Digital All Access
$8.00/month
Digital Interactive
$10.00/month
$12 for 12 weeks

Only $4/mo
Saturday Print + Digital All Access
Monday - Friday Print + Digital All Access
Monday - Saturday Print + Digital All Access

40% Off for 6 Months

$24.59 /mo for Sat + Digital
$28.79 /mo for Mon-Fri + Digital
$29.99 /mo for Mon-Sat + Digital
With these prices, you can get a significant discount on your first months of reading the Wall Street Journal. It's just that none of the promotions are exactly free.
How Can I Get a Wall Street Journal Free Trial
If you want to get started with a discounted subscription to the Wall Street Journal, this is easy to do. Simply navigate to WSG.com and sign up! It's as easy as that.
Navigate to WSJ.com
Select "Subscribe" in the upper right-hand corner
Below the stock tape
Select Your Plan
Select Your Deal or Offer
Click "Act Now"
Create an Account
Enter Your Payment Information
Receive a Discounted WSJ Subscription
Does the Wall Street Journal Discount Automatically Renew Into a Paid Subscription
Yes. The WSG discounted payment system is based on its subscription service. Once the discount period runs out, you will renew to a full-priced subscription of the type you selected. You will need to cancel your Wall Street Journal subscription to stop the full-priced payments.
Avoid Automatic Renewal With DoNotPay Virtual Credit Card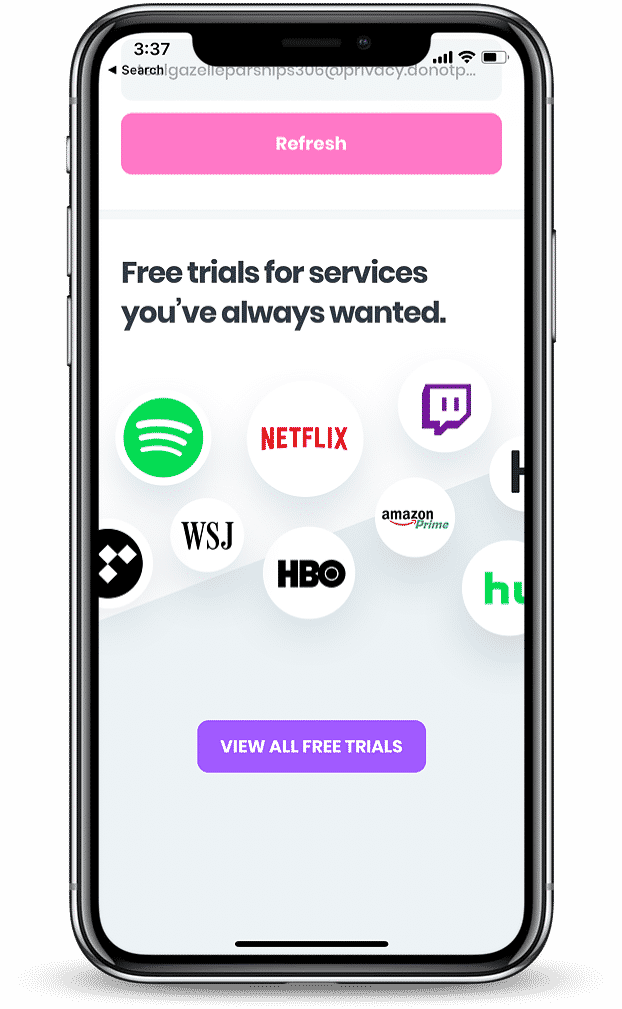 Wall Street Journal begins with a paid discount subscription. However, for free trials that don't charge until days, weeks, or months have passed; there's a better way to avoid that full-priced subscription at the end of the trial. A virtual credit card is an ideal way to set up free trials and then let them be free of charge. You can explore dozens of content and software options with no locked-in commitment to cancel or buy.
How Does A Virtual Credit Card with DoNotPay Work
DoNotPay generates a random number for the virtual credit card
When you sign up for a free trial, you enter the virtual number
Your payment information remains safe and untouched
At the end of the free trial, the virtual card will be charged
Virtual cards can't process payments, so the charge will bounce
No subscription will be started, and you will have no obligation to pay.
That's how DoNotPay can help make free trials actually free. You can generate as many free virtual credit cards as free trials you want to try.  As for the Wall Street Journal, we can help you promptly cancel your account as soon as you no longer feel the cost is worth it.
How Much Does Instacart Cost After the Trial
The Wall Street Journal is a subscription-based publication. This means after your discounted period ends, you will suddenly find yourself paying full price for whichever subscription you selected. This can range anywhere from a modest $8 /mo to $75/mo.
What Else Can DoNotPay Do

DoNotPay has put together a serious collection of services and online tools that can help you take care of any task list. From hiring landscapers to planning your financial future, we've got you covered. Explore our vast selection of services to find more ways that we can make your life easier and save you headaches. Here are just a few additional links that you might find helpful.