Sign Up for Vultr Free Trial With a Virtual Credit Card

Vultr is a higher performance solid state driver (SSD) cloud server providing developers with a reliable and efficient hosting service. You can try Vultr with a $50 free credit to understand how the platform works before trying the paid plans. If you have signed up for , remember to cancel it at the end of the trial period to prevent unplanned upgrades that charge massively.
DoNotPay offers a more convenient way to avoid such charges when using free trials.
Does the Vultr Free Trial Expire?
As mentioned earlier, Vultr provides a $50 promotional credit that allows you to . If you don't use the promotional credit, it will expire 12 months after issuance. You will then have to pay for any of Vultr's premium plans to continue using the platform.
What Happens Once the Free Vultr Free Trial Expires?
Once the promotional period expires, you will likely be upgraded to paid plans. Vultr offers eight public cloud servers and four dedicated cloud server plans. You are allowed to choose between paying monthly or hourly for any of your preferred plans. Here is a brief overview of the plans:
Plans
Cloud Servers
Monthly Fee
Public Cloud Server Plans
Compute instance 1
$5
Compute instance 2
$10
Compute instance 3
$20
Compute instance 4
$40
Compute instance 5
$80
Compute instance 6
$160
Compute instance 7
$320
Compute instance 8
$640
Dedicated Cloud Server Plans
Dedicated cloud 1
$60
Dedicated cloud 2
$120
Dedicated cloud 3
$180
Dedicated cloud 4
$240
Why You Should Cancel Free Trial Plans
Signing up for a free trial is an effective way to test out Vultr without spending any money. However,  can cost you if you are not careful. The most effective way to avoid going past a subscription's free trial period is to cancel right before the period expires.
The cancel a Vultr free trial easily:
Sign in to your Vultr dashboard.
Go to the Instances tab and navigate to the top right of the page.
Click the Trash Can icon.
Click on the "Yes, destroy the server" box and click Destroy Server.
A support ticket asking you to confirm you want to cancel your account.
Approve your request and wait for confirmation.
Unfortunately, you can easily forget to cancel the free trial whenever the trial ends. This translates to automatic upgrades that attract unwanted charges on your credit card at the end of each billing cycle.
DoNotPay offers a more convenient way to ensure you don't want to overdraft your account in the event that you don't end up canceling in time. We provide a virtual credit card that allows you to transact online and sign up for free trials without exposing your actual credit card and bank details.
Avoid Unwanted Charges With DoNotPay's Virtual Credit Card
Virtual credit cards feature unique card numbers generated digitally and linked to your account. You can use the 16-digit credit card number upon online checkout or when signing up for free trials instead of your physical credit card number. Since it doesn't expose your authentic credit card details or bank information, it ensures your sensitive information doesn't fall into the wrong hands whenever you are transacting.
Here's how it works:
DoNotPay generates a random number and credit card info that you can use to subscribe to any service.
Once the free trial period ends, the service can't charge you because there's no money on that card, so you get unsubscribed automatically.
The virtual card comes with temporary account details for the merchant that are valid only for one purchase. This prevents vendors of Vultr from charging you for unplanned upgrades should you forget to cancel your free trial on time.
Why Use DoNotPay to Sign Up for Free Trials?
DoNotPay offers an easy and more secure way to sign up for free trials without worrying about data breaches and unwanted charges.
It is fast. DoNotPay saves a lot of your valuable time by automating the entire sign-up process. with this product, you can sign up for a free trial in just four easy steps at the comfort of your home.
It is easy. DoNotPay ensures no struggle filling out tedious forms and tracking all the steps involved in signing up and canceling free trial accounts.
It is successful. You can rest assured you won't receive any unwanted charges.
What Else Can DoNotPay Do?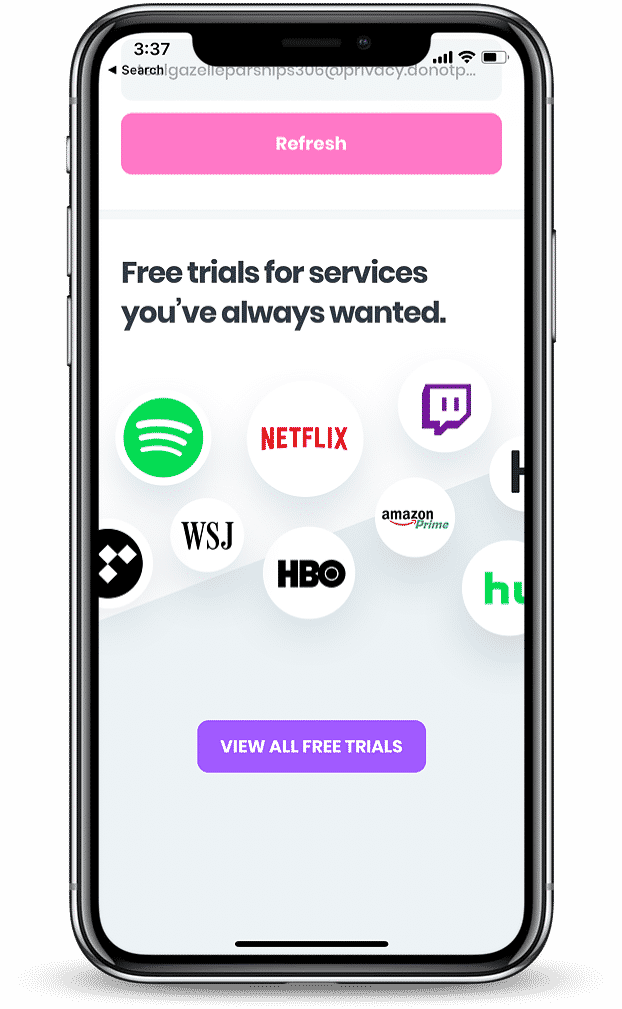 DoNotPay can help you with almost anything, including:
Let DoNotPay Help You Sign Up for Vultr Securely
Looking for an easy-to-use and cheap cloud to host? Check out Vultr today. Vultr provides 100% solid-state drives using the latest generation Intel CPUs. Ideally, you can choose from any of the 14 low latency locations across the globe and get your cloud server.
The most secure and easy way to sign up for a Vultr free trial is via DoNotPay's virtual credit card. The virtual credit card is designed to help users carry out transactions without exposing their bank details.  to learn more.