How to Get a Voicemod Free Trial With a Virtual Credit Card

Voicemod is one of the most popular voice modulation apps for Discord and gaming. Sound like a character instead of yourself and get your head in the game. Officially, Voicemod is a free app that anyone can download and try. However, you only get access to seven voices, and those voices rotate weekly. So if you want to fine-tune your voice modulation or just hold onto a favorite mod, you'll need to upgrade.
Upgrade to what, you might ask? Voicemod Pro, is officially a separate product but really the full-featured version of the free Voicemod app. So can you get a ? The answer is that  If you want better options to handle your Voicemod subscription and access, DoNotPay can help.
Does Voicemod Offer a Free Trial?
Does Voicemod offer a free trial? Well, it depends on how you look at the product. Officially, Voicemod is the free trial. You can download and interact with Voicemod for free. You can play with the mixer, test out the seven weekly voices, and change your voice when making videos or playing games.
However, the free version is configured in a few specific ways to make you want to buy Voicemod Pro.
Only 7 voices are available at once
The 7 voices rotate every week, you can't hold onto a favorite
The Voicelab mixer is not available on the free version
You can't create your own voice mods
The other trick is that Voicemod Pro's prices are not listed anywhere on the website. You can only access your subscription through the app, and you only see the prices when you are signing up. This also masks the fact that Voicemod recently more than doubled the cost of a lifetime license for Voicemod pro.
How Can I Get a Voicemod Free Trial?
The  is easy to get. All you need to do is download the Voicemod app. This is your opportunity to explore the features, functionality, and generally easy-to-use UI of Voicemod, their pitch for the pro version.
Navigate to Voicemod.net
Download the free Voicemod app
Begin playing with the settings and experience
Enjoy free Voicemod indefinitely
Does the Voicemod Free Trial Automatically Renew Into a Paid Subscription?
No. You can use the free version of Voicemod for as long as you want to without paying. There is no expiration on your free trial and there is no automatic charge after a certain amount of time using it. You can use Voicemod for free forever if you choose, or you can upgrade at the time of your choosing.
Be wary, however, of any company that does not print their prices up-front.
Avoid Automatic Renewal With DoNotPay Virtual Credit Card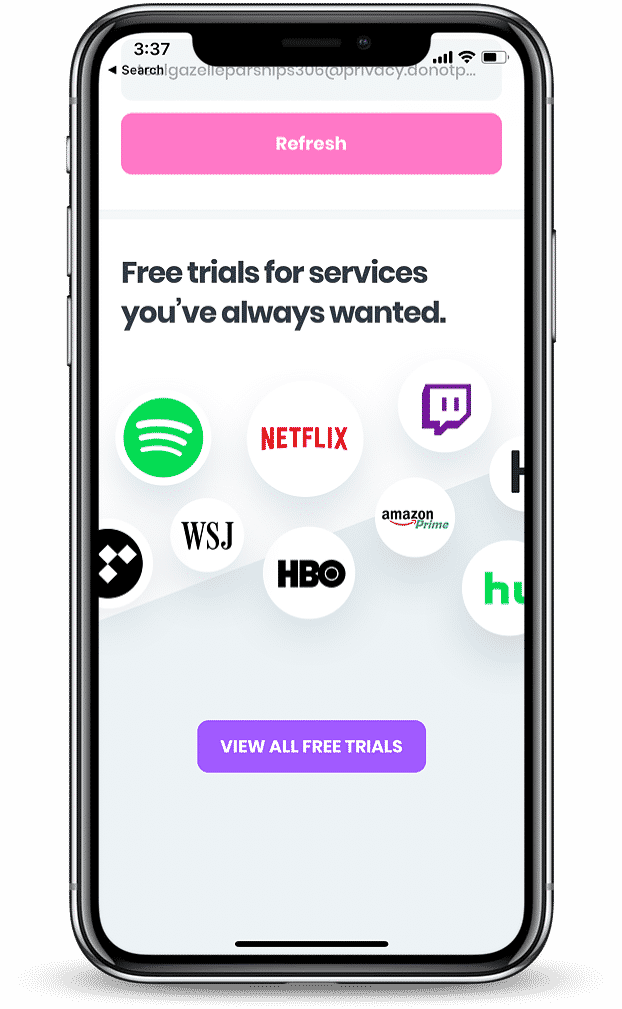 Voicemod has an interesting approach to the idea of a free trial, and so do we. At DoNotPay, we love the idea of a free trial that is free - not one that defaults to a paid subscription if you don't cancel the account in a few days. Voicemod offers infinite access to their free demo software, creating a truly free trial for all users to try. DoNotPay offers virtual credit cards, a card number that can't be charged when a free trial expires.
Generate a virtual card number
Use the virtual card to sign up for a free trial
Don't get charged when the free trial is done
How does a virtual credit card work? First, we generate a random string of numbers that reads like a payment card. Then you use that string of numbers instead of your real bank or credit card number when signing up for a free trial. When it comes time to bill your account for the new subscription, the payment won't go through and your free trial will come gracefully to an end without an unwanted expense or forced subscription after the fact.
In other words, you can finally really try out services for free instead of worrying about the half-hidden signup costs typical to "free trials."
How Much Does Voicemod Cost After the Trial?
You can use the Voicemod free trial version for as long as you want with no charge. But when you start to get frustrated with its limitations or the rotating 7 weekly voices, you'll make the decision to stick with free Voicemod or buy the Voicemod Pro license.
The cost of Voicemod Pro is not clear. They don't print their prices anywhere on the website and the only way to see the price is to start the process of upgrading your account through the app.
Watch out! Not long ago, the cost of a lifetime license for Voicemod Pro was $20. Reports now suggest that it has been raised to $36 and then $52 in the last year. If you do decide to upgrade, give yourself time to consider whatever that rising cost is today.
What are the Most Popular Alternatives to Voicemod Pro
You can compare the different voice changing application pricing and their benefits here;
Product
Cost
Benefits
iMyFone MagicMic

$19.95 for a year
$39.95 for a lifetime license

It comes with 50 voice-changing options for you to choose from.

It can work for various platforms like PUBG, Second Life, Fortnite, CS:  GO, Discord, Skype, and more.

You can add 200+ sound effects during gaming, chatting, or live streaming.

It is very easy to use. A beginner can easily operate the software to select any type of voice.

A free trial is available.

RoboVox Voice Changer Pro
$1.49 to Download

It provides numerous voice-changing modes like recording and real-time.

You can have real-time spectral analysis to analyze your voice.

You can record your changed voice on your device.

It helps you make ringtones

NCH Voxal Voice Changer

Commercial License- $14.99 (One-time purchase)
Home Use Only- $12.99 (One-time purchase)
Commercial License Quarterly Plan-Monthly subscription plan- $1.11/1 user

Voice can be changed to the voice of a robot, boy, alien, girl, echo, and atmosphere. There are various options available.

You can add effects to your voice and save the edited mode.

You can also create audiobooks.

Simple and attractive interface.

It can be used to change voices in real-time.
What Else Can DoNotPay Do?

DoNotPay can help with more than just free trials and slippery software. Our services are designed to save time and money in every possible aspect of life. We can help you handle customer service, government offices, college scholarships, bill payment, cashing in gift cards, and everything in between. We can even help you sue someone.
What can DoNotPay do to make your life easier, more affordable, and more interesting this year? Check out some of our other services: