USPS Change Of Address For A New Apartment Number
Not every move requires a big moving truck and several strong people. Sometimes, a better home is just down the hall, or on another floor of the apartment building you already live in. It's as easy as packing up a box, walking it to your new apartment, and repeating until you're all moved in. But, don't forget that even though your apartment number is the only thing that's changing, you still need to apply for a USPS change of address.
Even if you're only moving across the hall, your mailing address is changing and you need to notify the post office. Otherwise, your mail may end up being delivered to your old address, returned to the sender, or lost. You can file a USPS change of address for a new apartment number or you can leave it to DoNotPay to ensure your mailing address is properly changed.
How Much Time Do You Have to File a Change of Address With USPS?
In most states, you have 7 to 10 days to change your legal address when you move. That means you need to get down to the DMV to change your address as soon as you can. Changing your address with USPS is important since recent mail can be used to prove you have moved. You can apply to change your address with the post office in advance, allowing you time to notify anyone who sends you mail. But, with everything going on with the move, it's probably not going to be the first thing on your mind.
How Much Does it Cost to File a Change of Address?
If you choose to file a change of address for a new apartment number through the USPS website, you'll have to pay a nominal fee of $1.10 to verify your identity. That means you'll need to enter a valid credit or debit card into the form in order to process an online address change. You can avoid a charge by obtaining a physical copy of the address change form from your local post office and completing it as instructed.
How to Change Your USPS Apartment Number Address
Moving to a new apartment in the same building may not take a lot of time or resources, but it still presents some unique challenges. For example, you need to make sure your mailing address reflects your new apartment number. If you want to do this yourself you'll need to:
Obtain a copy of the change of address form (or access it online)
Fill in the information requested regarding the address you're moving out of
Provide the new address including the correct apartment number.
Choose whether this address change is for one person or the entire family.
Check the box noting whether this is a permanent or temporary address change.
Sign the form and submit (or mail the physical copy).
Wait for the address change to take effect.
What if Your Mailing Address Doesn't Get Changed?
If you've gone through all the steps and your USPS mailing address still hasn't been changed, it's more than just frustrating. It's important that your private correspondence with creditors, friends, family, and anyone else that sends you mail is protected. If your mail is still being sent to your old address after you've sent in a legitimate request to have it changed, it's time to enlist the help of DoNotPay.
Get Your Mailing Address Changed Fast with DoNotPay
The last thing you need is to worry about where your mail is going. You've done everything the USPS requires and your mail still isn't being forwarded to your new address, but you're not sure what to do about it. The best thing to do is get your robot lawyer involved. In no time at all, your address will be properly changed.
If you want to file a change of address but don't know where to start, DoNotPay has you covered in 5 easy steps:
1. Tell us the new address and when you want to start forwarding your mail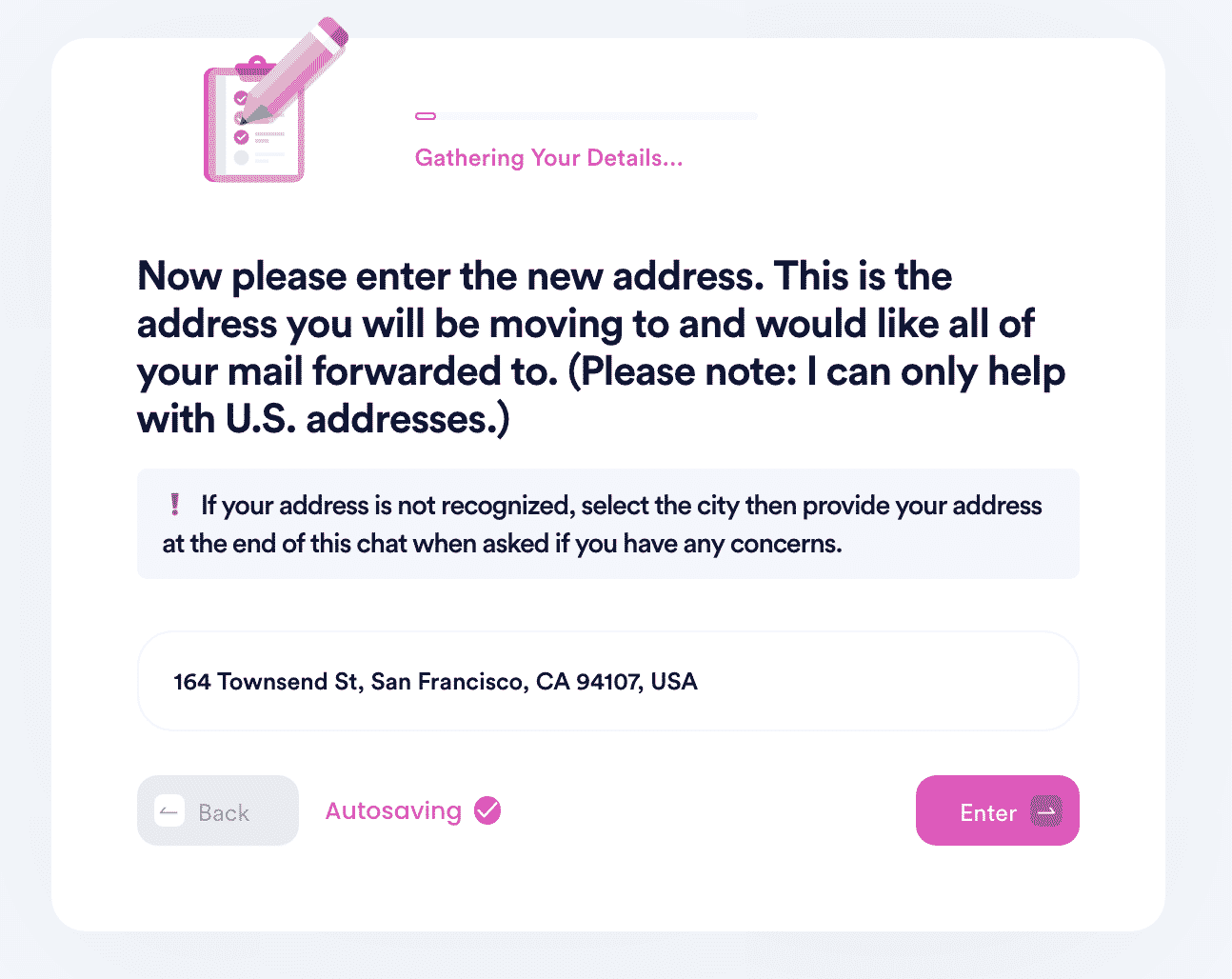 2. Tell us who is moving (is it just you, your family, or your business)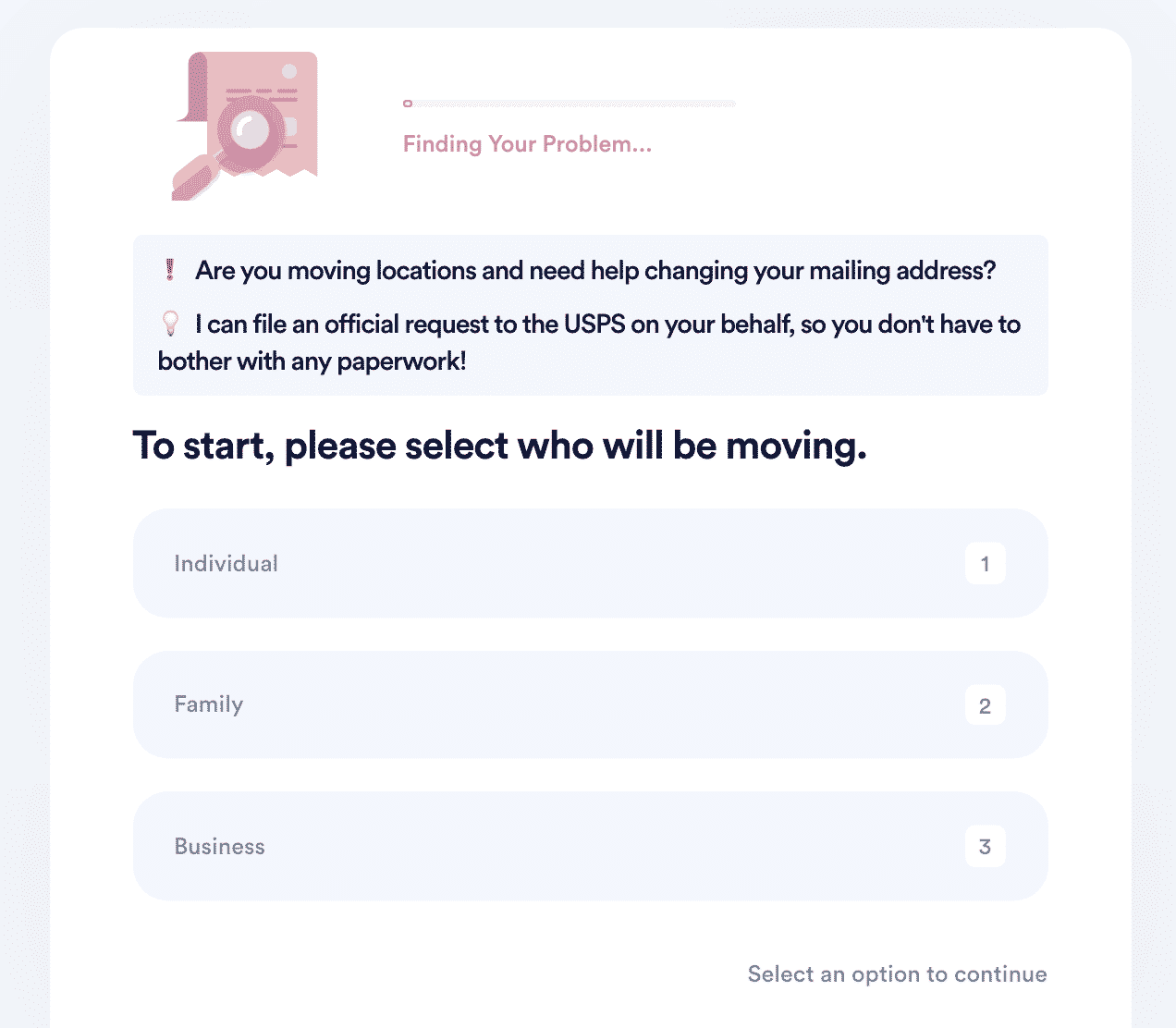 3. Select whether it's a temporary move or permanent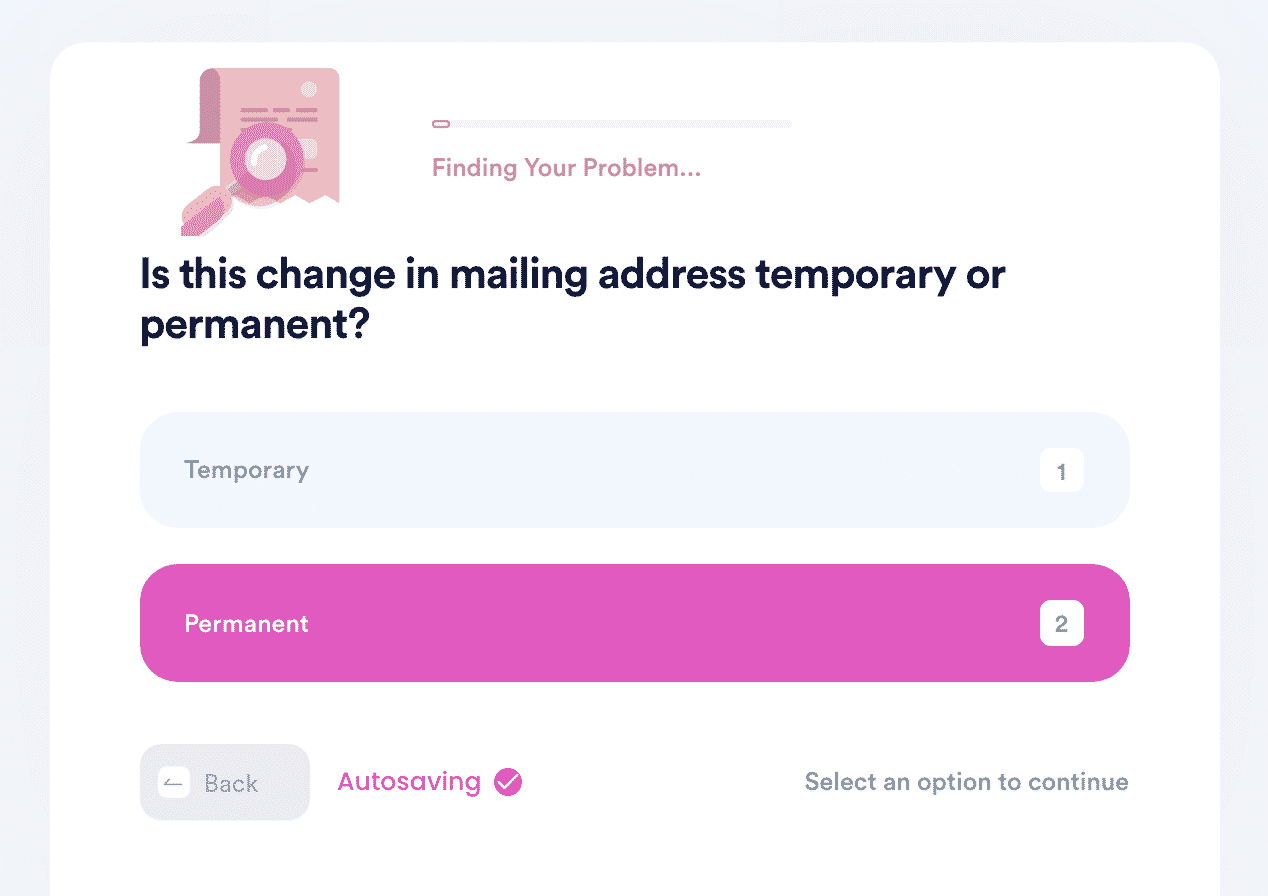 4. Add the option to extend your mail forwarding period beyond 12 months (you can get your mail delivered from your old address for up to 2.5 years)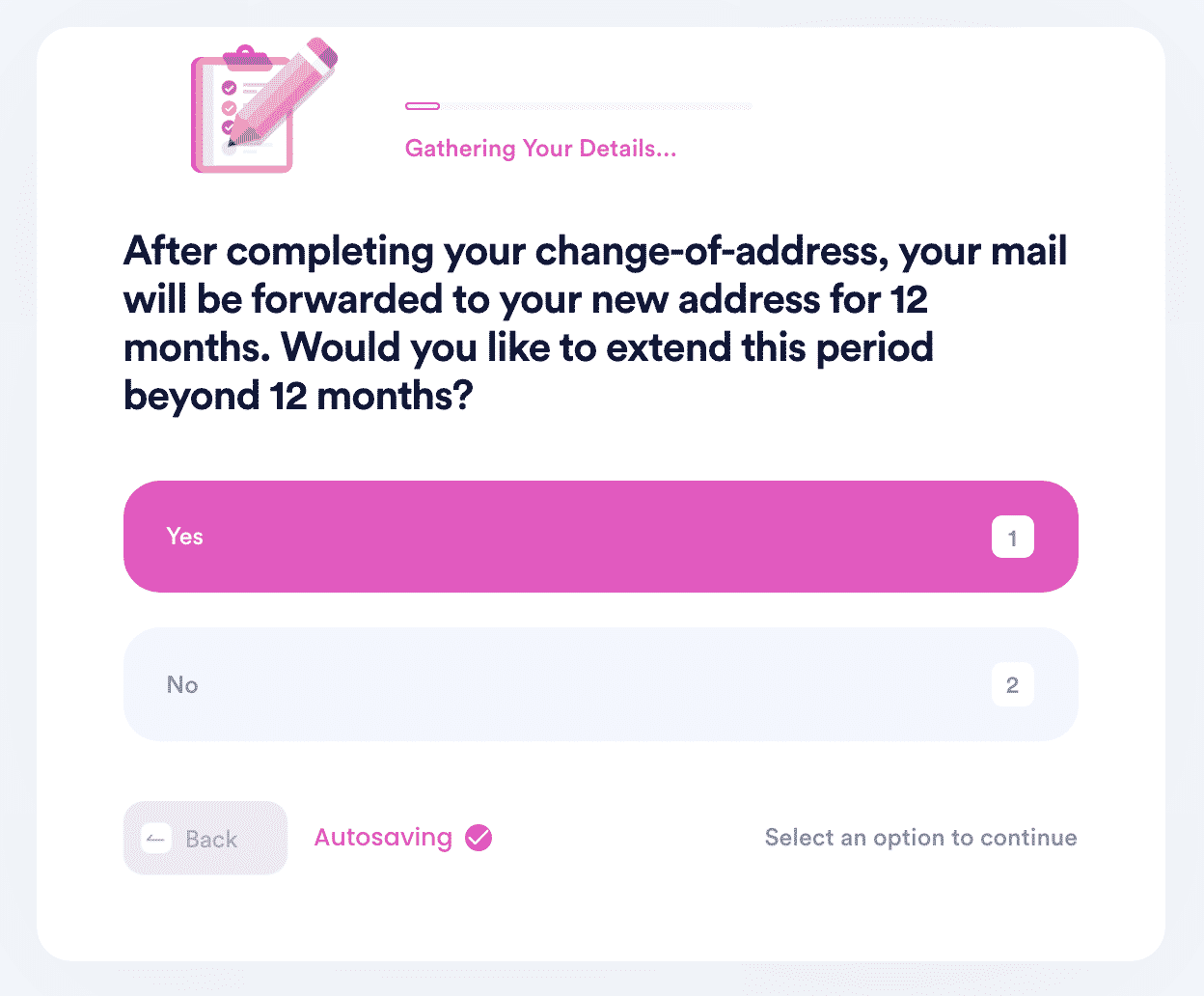 5. And that's it! DoNotPay will take care of the rest on your behalf. You should receive a confirmation email from USPS after your request is completed.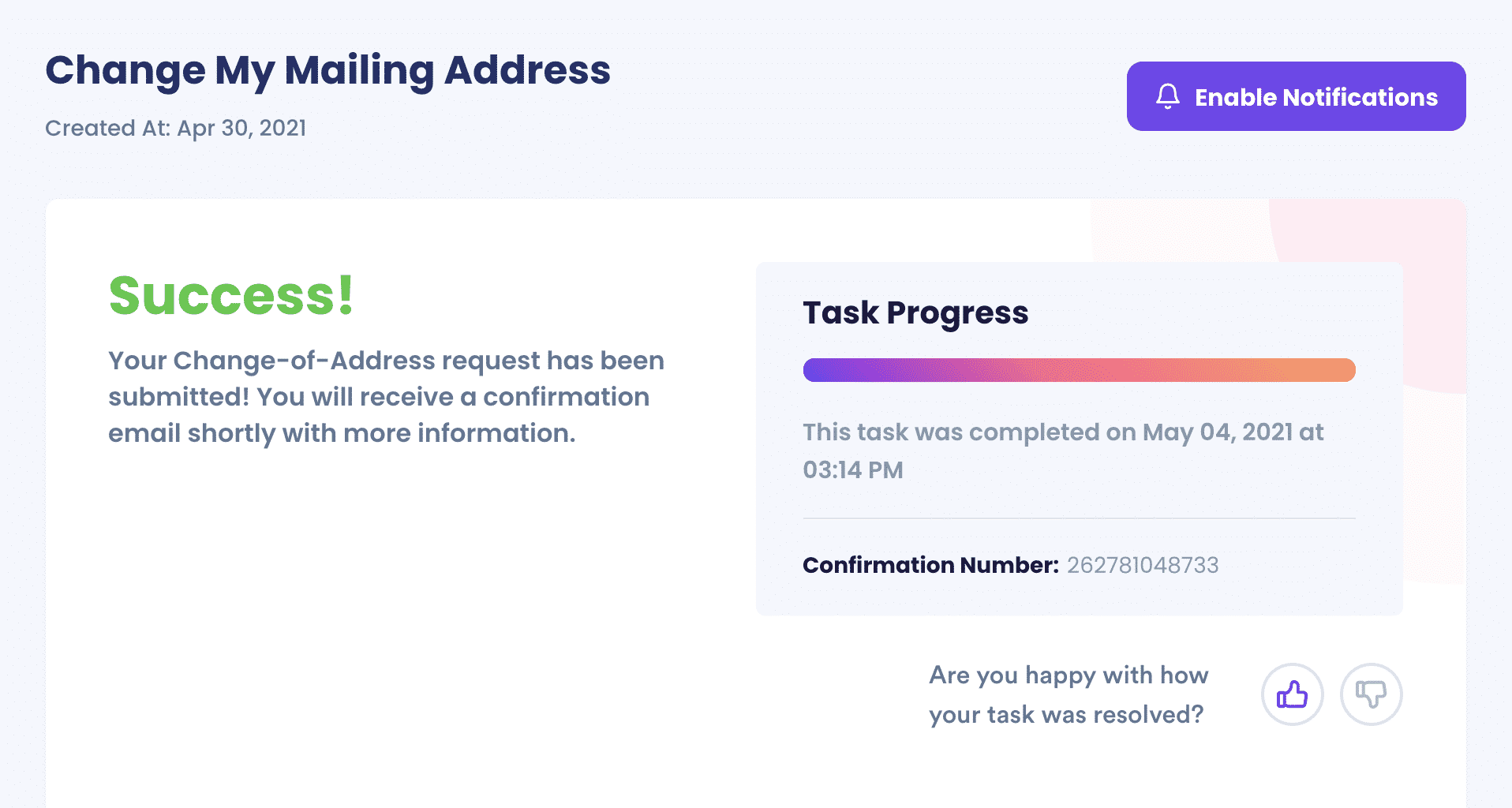 Why Use DoNotPay to Change Your USPS Apartment Number Address
Changing your apartment number seems like a pretty simple thing, but it can be a royal pain if you try to go about it on your own. When you enlist the help of DoNotPay, you can rest assured that your apartment number is updated with the post office, so your mail is delivered without interruption.
| | |
| --- | --- |
| It's Fast | You don't have to drive to the post office, wait in line, or wait for the change to take effect. In just a few minutes, your address will be updated. |
| It's Easy | There aren't any long tedious forms or complicated processes. With just a click of a button, your address gets changed. |
| It's Reliable | Whether you're moving across the hall, or up to the top floor, you can rest assured your address change is completed properly. |
DoNotPay Helps You Change Your Mailing Address from Anywhere
DoNotPay isn't just a great way to change your apartment number when you're moving within your building. It's the best way to change your address no matter where you're relocating. Use DoNotPay to change your address when relocating to:
A New Apartment
A New Home Across Town
A New City
A New State
What else can DoNotPay do?
In addition to helping you change your mailing address with the USPS, you can also rely on the world's first robot lawyer to help with all kinds of other legal issues. For example, DoNotPay can:
But, this is only a small sampling of the things that DoNotPay can do for you. From managing daily tasks to undertaking small claims court lawsuits on your behalf, DoNotPay is an innovative new way to handle legal tasks.