Easily Change Your Colorado Mailing Address with USPS
The United States Postal Service processed nearly 36 million change of address requests last year. Over half of those were initiated online. If you've changed your address with USPS due to relocation in 2020, you're one of a quarter million Coloradans who moved. It's not that changing your mailing address in Colorado is such a convoluted process, but you do have to present certain documentation to effect the change. So it can be a pain to find what you need.
Changing your address with USPS is just the first step in the world of an address change. Don't forget that you will need to change your legal documents like your license as well. DoNotPay can help you with all your address change needs, including legal stuff like notifying social security.
A Quick Rundown of the Many Places Needing Your Change Your Address
The USPS is just the tip of the proverbial iceberg when it comes to notifying other business entities about your new address. Relocation is the first on the list of changes with legal documents that affect your life coming next.
Relocation:
Temporary relocation within Colorado
Temporary relocation out of state
Permanent relocation within Colorado
Permanent relocation out of the state
Business change of address within Colorado
Business change of address out of state
The Other "Stuff" Like Legal Documents:
| | |
| --- | --- |
| Driver's license/Passport | Utilities |
| Banking | Loans |
| Mortgage company/Titles | Credit cards |
| Social security | Employment/Union |
This isn't a comprehensive list. You should make a list of all the places that send you snail mail and make sure that they get notified of your address changes too.
How Much Time Do You Have to File a Change of Address With USPS?
The consensus is to notify the post office of your change of address within two weeks of your move. It takes about five business days to get a confirmation letter. The USPS will forward your mail up to 12 months for a permanent address change and 15 days for a temporary change.
Other offices have other deadlines. For instance, the Department of Motor Vehicles (the DMV) requires you notify them at least 30 days ahead of time.
How Much Does it Cost to File a Change of Address?
It's free to change your address with the USPS. The exception is if you change it online. The fee is currently $1.05.
Beware of lookalike USPS sites charging upwards of $100 to change your address for you. These sites are fraudulent. The USPS will never charge you more than $1.05 (unless the current rate changes, but it will never amount to the fraudulent fees).
How to Change Your Address in Colorado On Your Own
The steps to change your address in person at the USPS are:
Obtain PS Form 3575.
Add dates if the Change of Address (COA) is temporary.
Check the box whether the COA is for an individual, a family or a business.
Fill out the name of the business.
Fill out your new address.
Fill out your old address.
Add your email address.
Hit submit.
You can digitally preview your mail with USPS informed delivery if you're eligible. You'll know exactly when your mail will start arriving at your new address!
DoNotPay Makes Changing Your Colorado Address Simple
If you want to file a change of address but don't know where to start, DoNotPay has you covered in 5 easy steps:
1. Tell us the new address and when you want to start forwarding your mail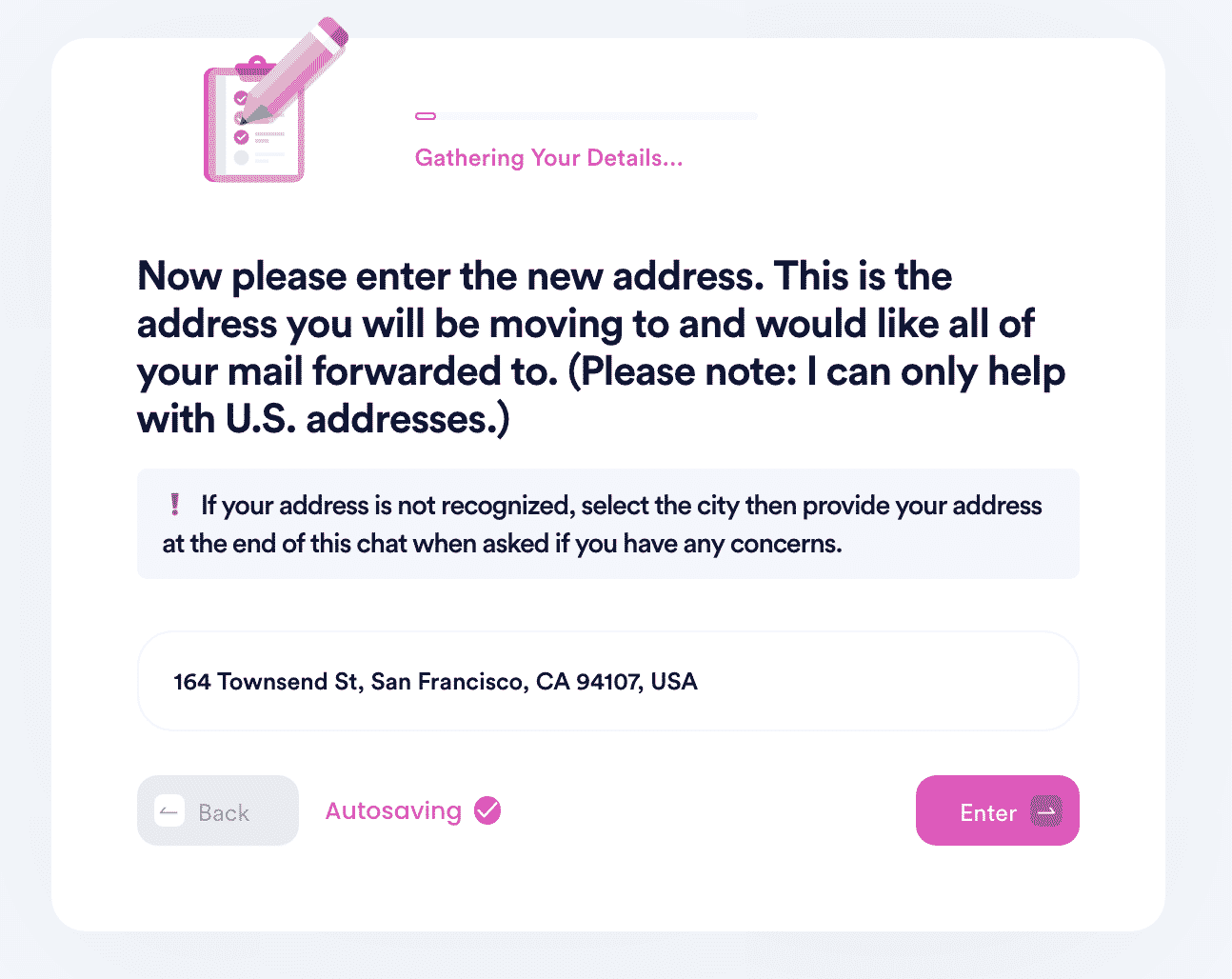 2. Tell us who is moving (is it just you, your family, or your business)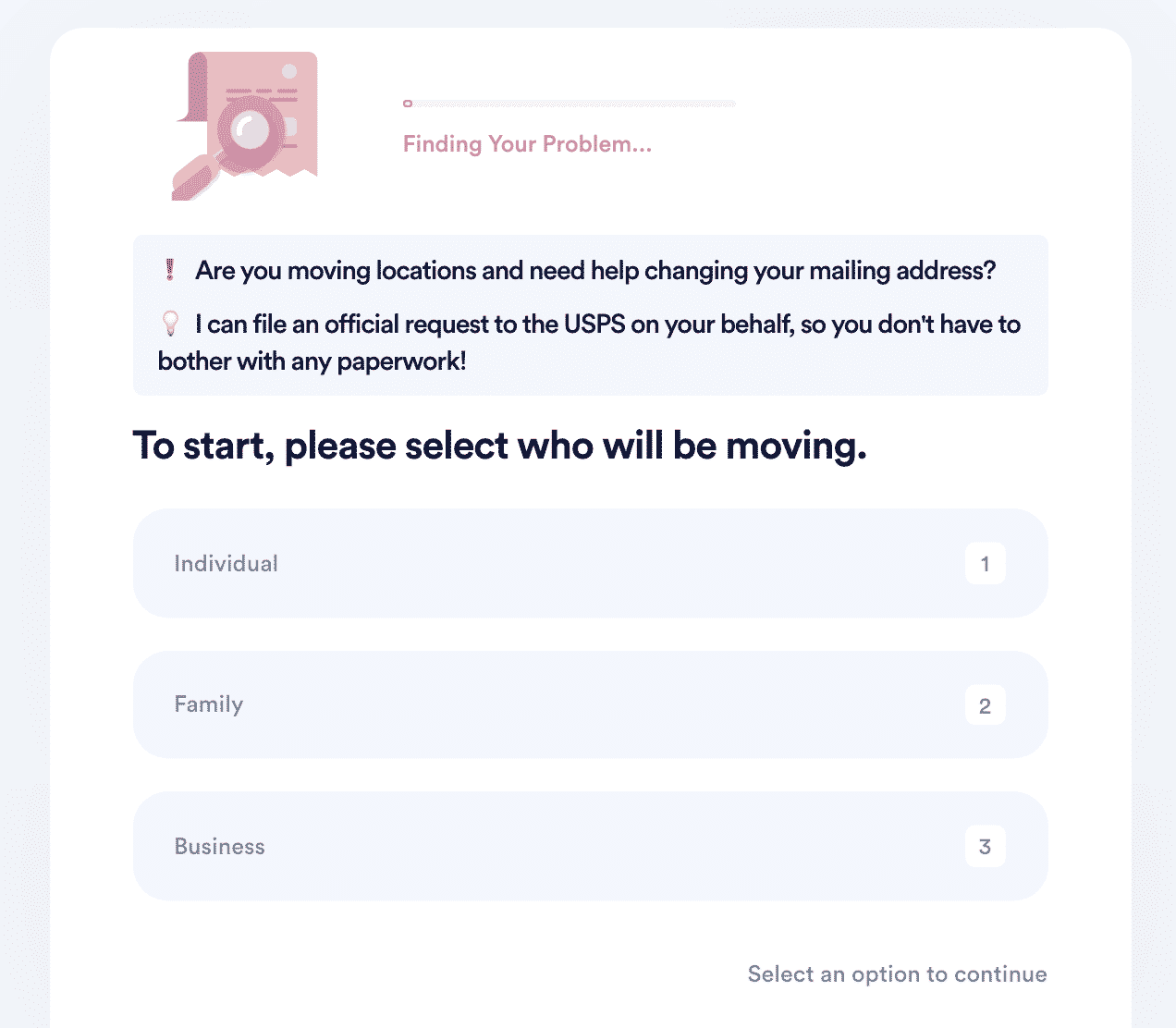 3. Select whether it's a temporary move or permanent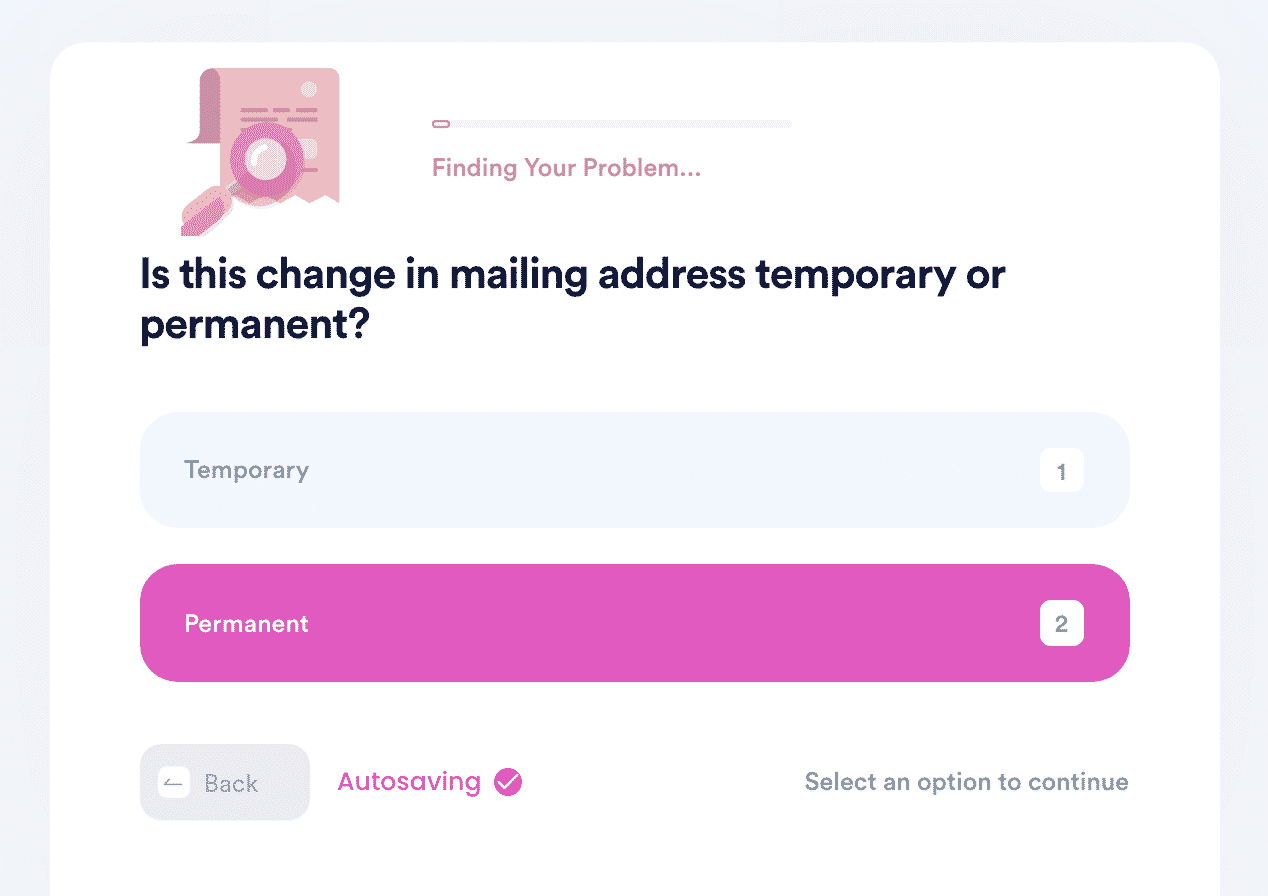 4. Add the option to extend your mail forwarding period beyond 12 months (you can get your mail delivered from your old address for up to 2.5 years)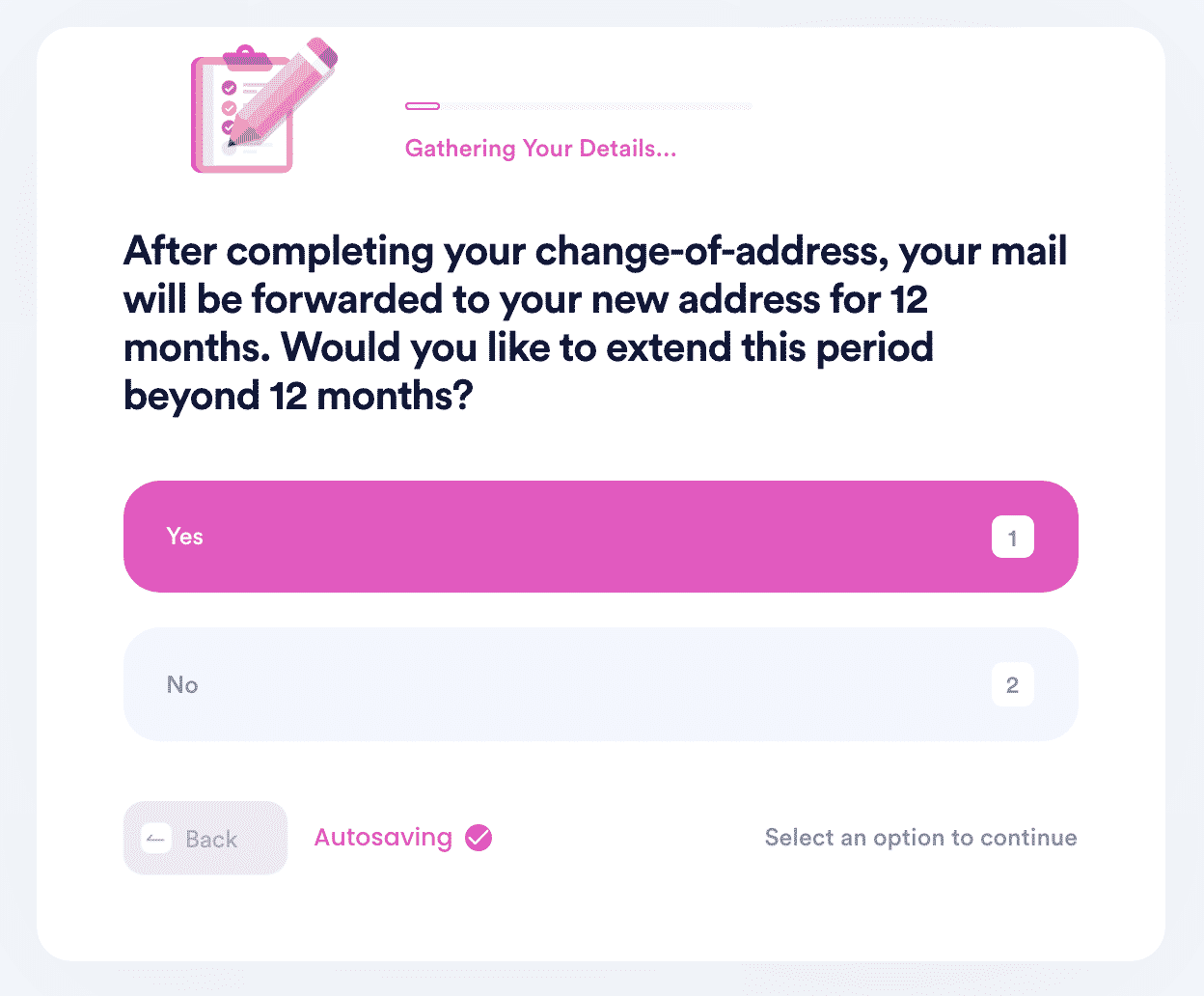 5. And that's it! DoNotPay will take care of the rest on your behalf. You should receive a confirmation email from USPS after your request is completed.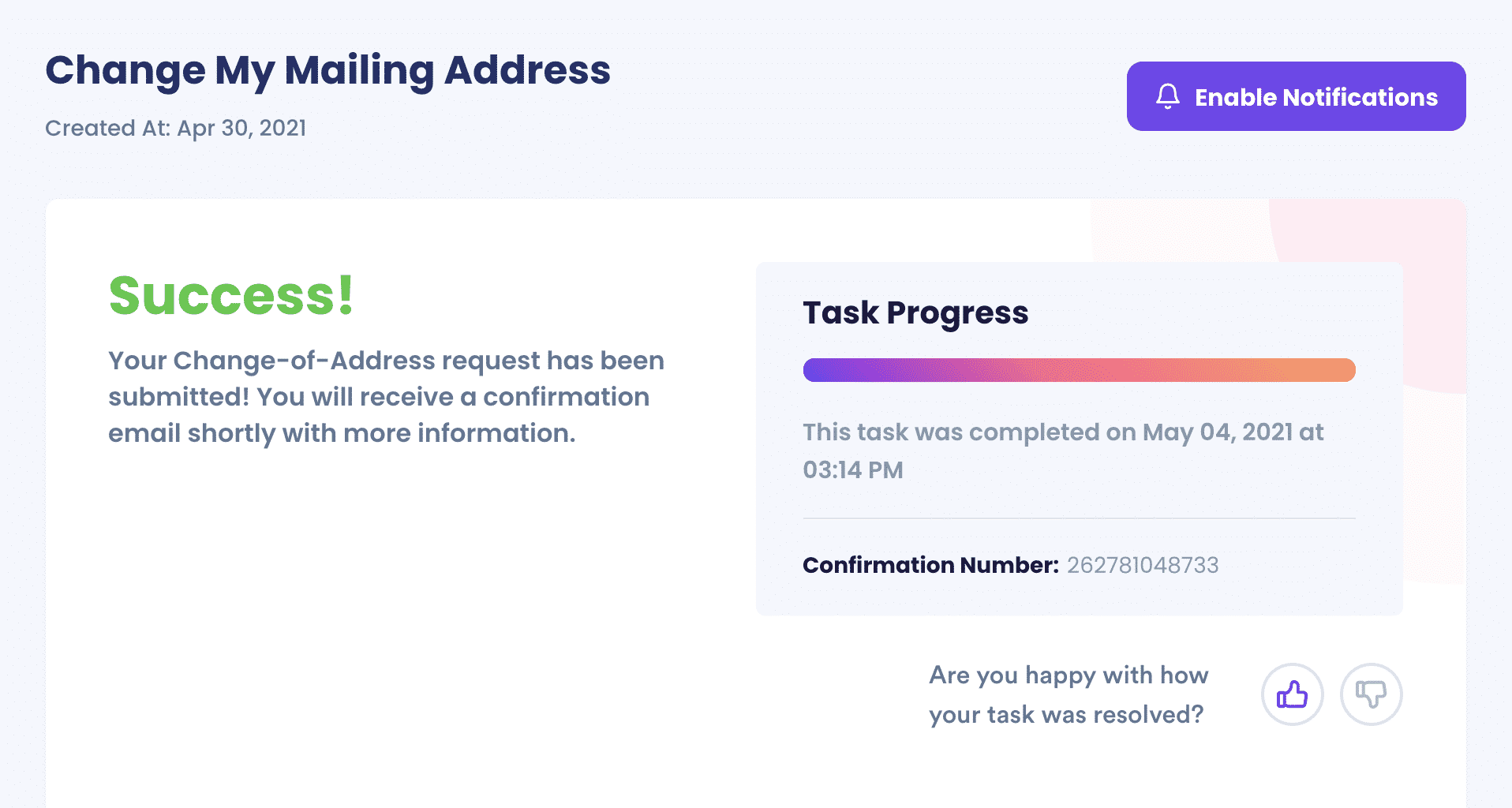 By the Way, DoNotPay Isn't Just for Changing Your Address
DoNotPay can help you do more than change your mailing address in Colorado and any other state. We can help you resolve your issues with:
The DoNot Pay hub is all you need to help you with all the issues that affect your life and your lifestyle. Literally, hundreds of tasks that you need to take care of every day can be taken care of with DoNotPay. Leaf around the site and see what we can do to help make your life easier to manage!