How to Change Your Capital One Mailing Address
Capital One Financial Corporation is a bank holding company that focuses on issuing credit cards, auto loans and offering banking and savings accounts. Based in McLean, Virginia, United States, the company provides services to consumers across all U.S. states.
Capital One distributes credit cards and other printed material to its consumers through the post office. If you relocate and change your mailing address with USPS, you must update the address with Capital One to avoid the loss of documents through the wrong mailing address.
Changing your mailing address is a process that takes more than two weeks to be fully processed. DoNotPay helps you apply for address changes and get feedback faster than traditional address changing means.
Sign up today and change your Capital One Mailing Address within minutes.
Can I Change My Mailing Address With USPS?
USPS allows you to change your mailing address if you have relocated or have temporarily moved from your residence. If you have relocated, USPS will swap your older mailing address with a new one and a mail holding address for a temporary move.
You can change your mailing address online by logging in to the USPS official website, clicking on 'Move,' and filling out the USPS Change of Address® form. Alternatively, you can walk into any USPS office near you and request a mover's guide packet containing a PS Form 3575.
Here Are the Details You Need to Fill In the Change of Address Forms
Specify whether it is an individual, family, or business movingYour full name and active email addressThe phone type you use and phone numberType of movement; temporary or permanentThe day you'd like your mail to start being forwardedYour old addressYour new physical and zip address
If your mailing address change is not working, you can contact USPS customer service at the following details.
USPS Website
Welcome | USPS
Filing a Complaint Details
Complaints Against the Government | USAGov
Contact Details
1-800-ASK-USPS (1-800-275-8777)

TTY: 1-800-877-8339

Email
XSDHM0@usps.gov
Letter/Mail
Address: United States Postal Service

Office of the Consumer Advocate

475 L' Enfant Plaza, SW

Washington, D.C. 20260-0004
For a faster way to file a complaint, use the DoNotPay File a Complaint product and have your concerns addressed within minutes of application.
How Much Does It Cost to Change My Mailing Address?
USPS does not charge you for changing your mailing address. However, you need to pay $1.10 to verify your identity and prevent fraud. USP only accepts payment through debit or credit card; you cannot use other payment methods.
How Long Does It Take to Change My Mailing Address?
USPS takes up to 10 postal working days to fully process your change of address application. However, USPS can start forwarding mail to you three days after applying for a change in mailing address.
You must submit your mailing address change application at least ten working days before your move if you want to have your new mailing address on the day you move into your new residence.
How Do I Change My Mailing Address With Capital One?
Capital One bank sends its printed documents such as newsletters, annual reports, credit and debit cards to its consumers through the mail. If you change your mailing address, it is crucial to update your address with your bank to avoid the loss of essential documents.
To update your mailing address with Capital One bank:
Sign in to the Capital One official website
Log into your user account
Click on your name/icon in the top right corner of the home page
Click "Profile" to access and edit your mailing address and any other contact information you might need to update
Save changes
If you have a Capital One branch account, you cannot use the website to update your mailing information. Instead, contact the Capital One customer service or visit the Capital One branch near you.
The changes you have made to your contact information are effective immediately. Capital One does not charge you anything when changing your mailing address and other profile information.
Use DoNotPay And Change Your Mailing Address Within Minutes
Whether you are moving temporarily or permanently, processing your application for a change in mailing address takes time before it is complete. If you had not communicated with your bank about your change in residence, it is possible to lose documents by getting them mailed to your old address.
DoNotPay helps you save time and change your mailing address in the fastest way possible. If you want to file a change of address but don't know where to start, DoNotPay has you covered in 5 easy steps:
1. Tell us the new address and when you want to start forwarding your mail.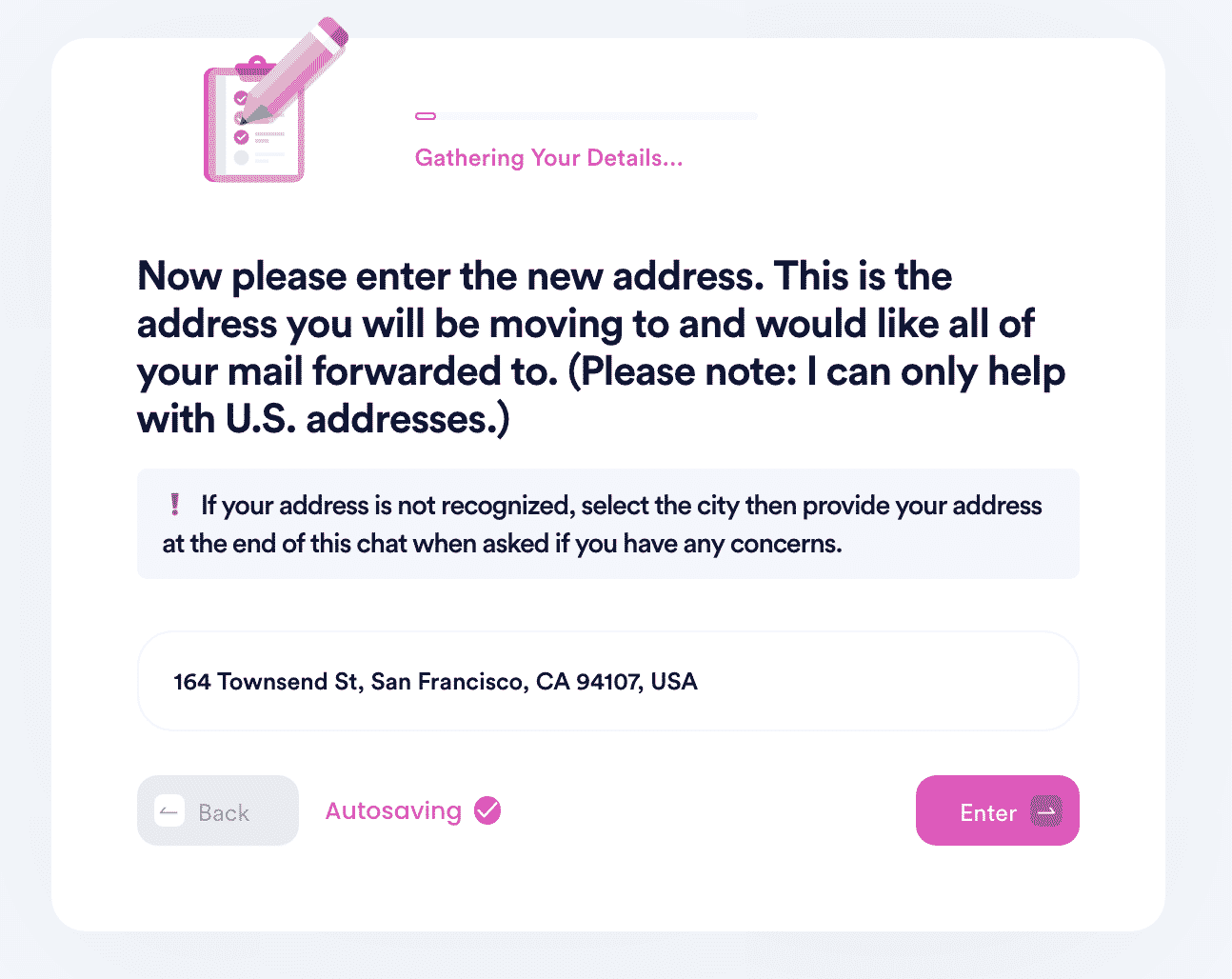 2. Tell us who is moving (is it just you, your family, or your business).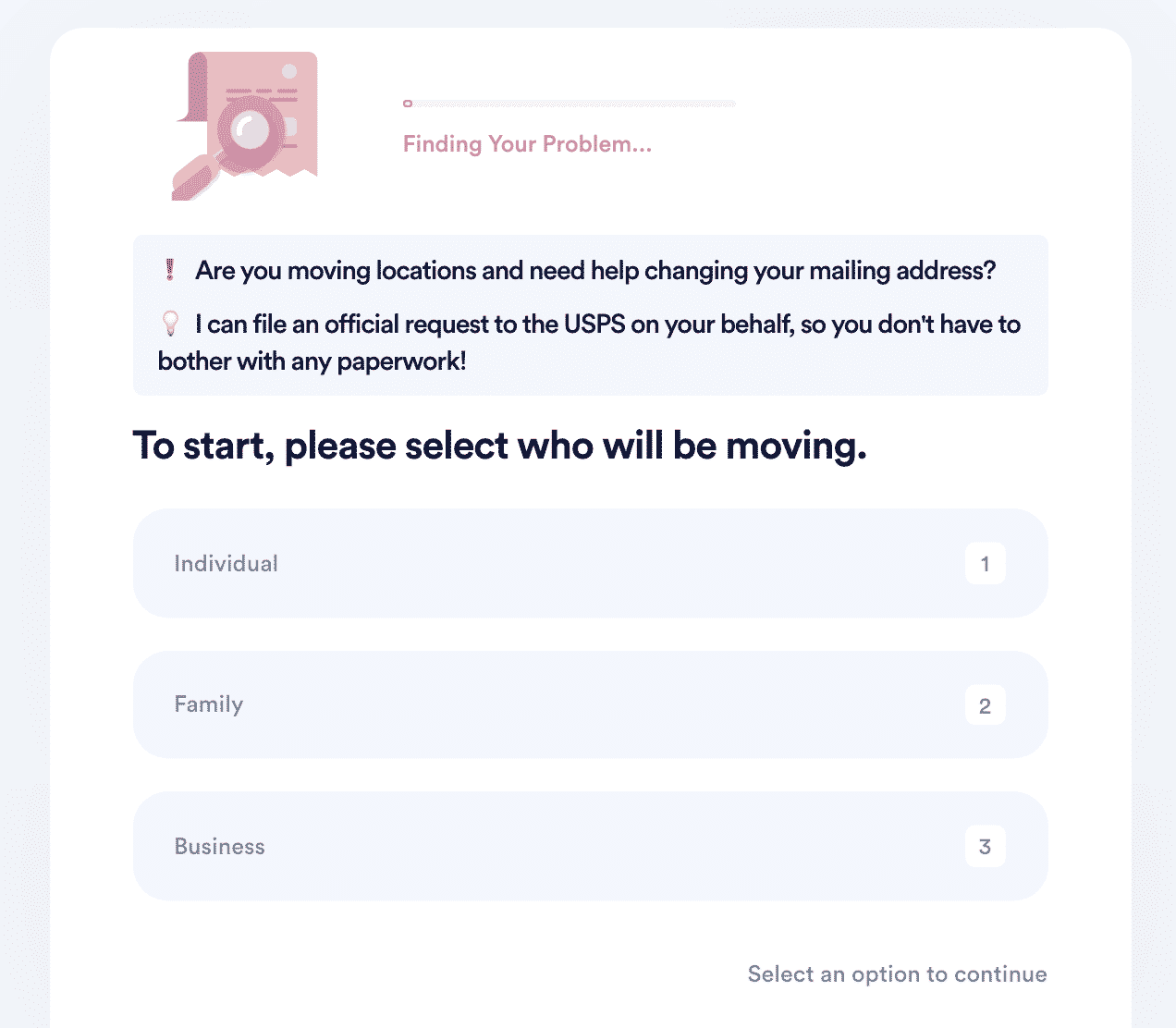 3. Select whether it's a temporary move or permanent.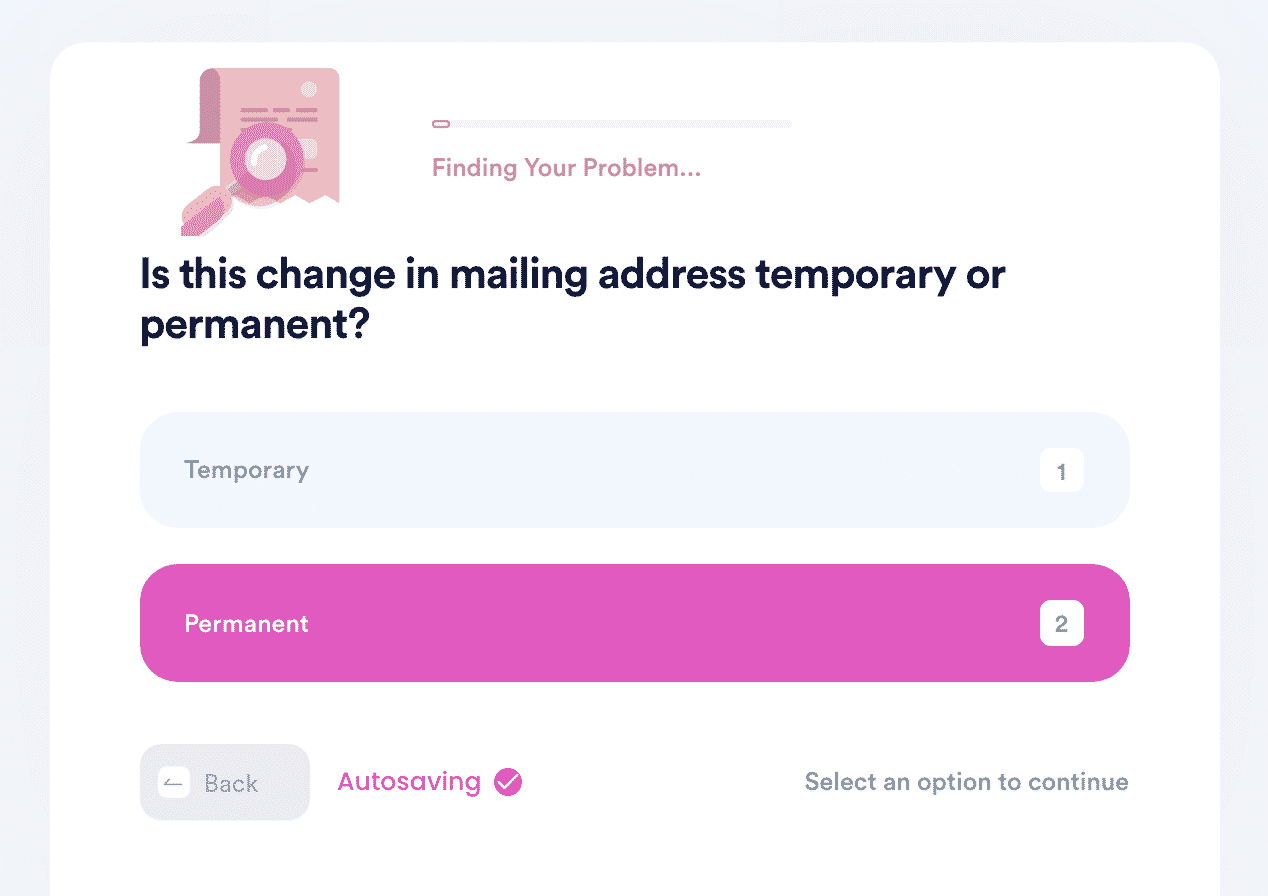 4. Add the option to extend your mail forwarding period beyond 12 months (you can get your mail delivered from your old address for up to 2.5 years)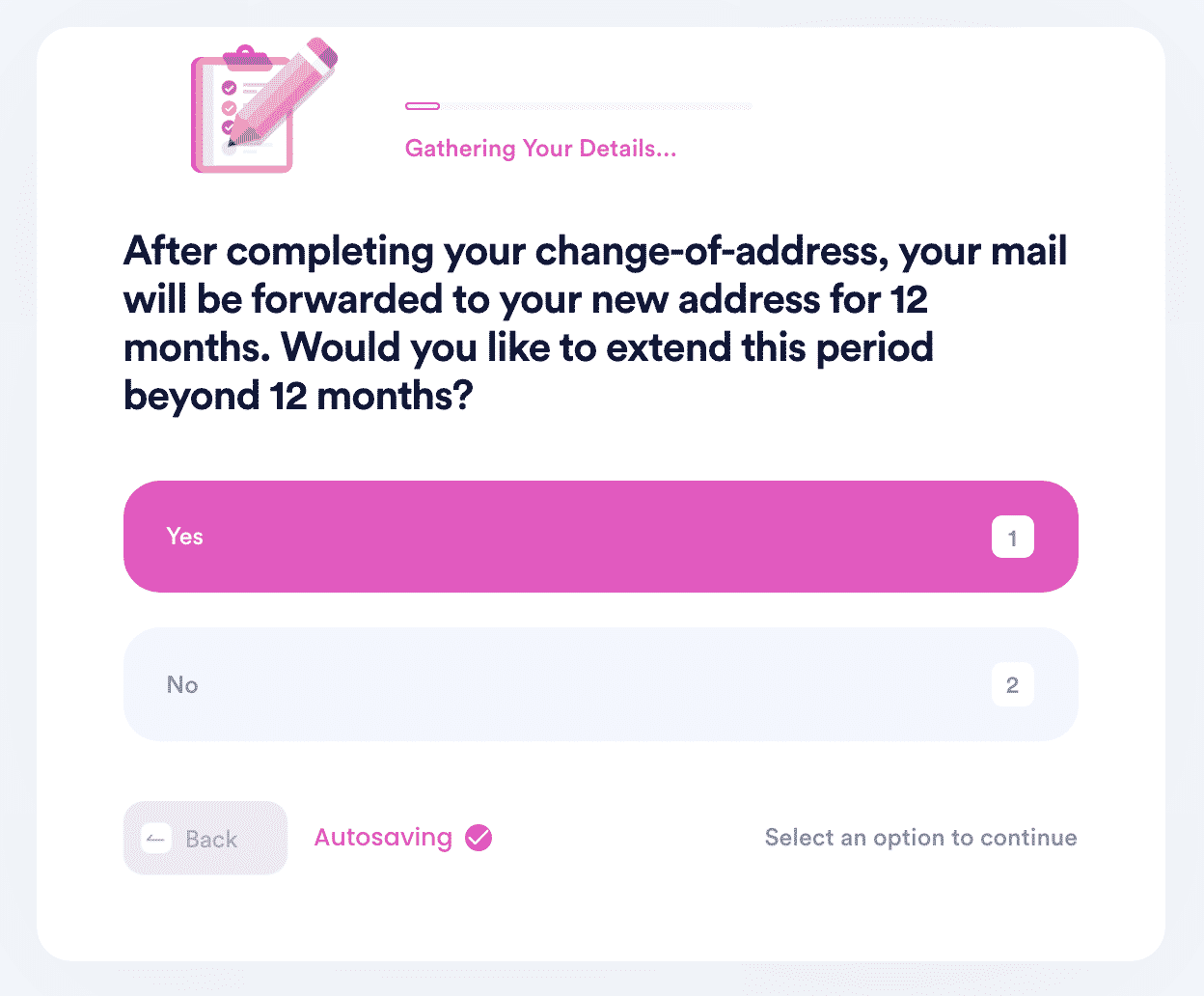 5. And that's it! DoNotPay will take care of the rest on your behalf. You should receive a confirmation email from USPS after your request is completed.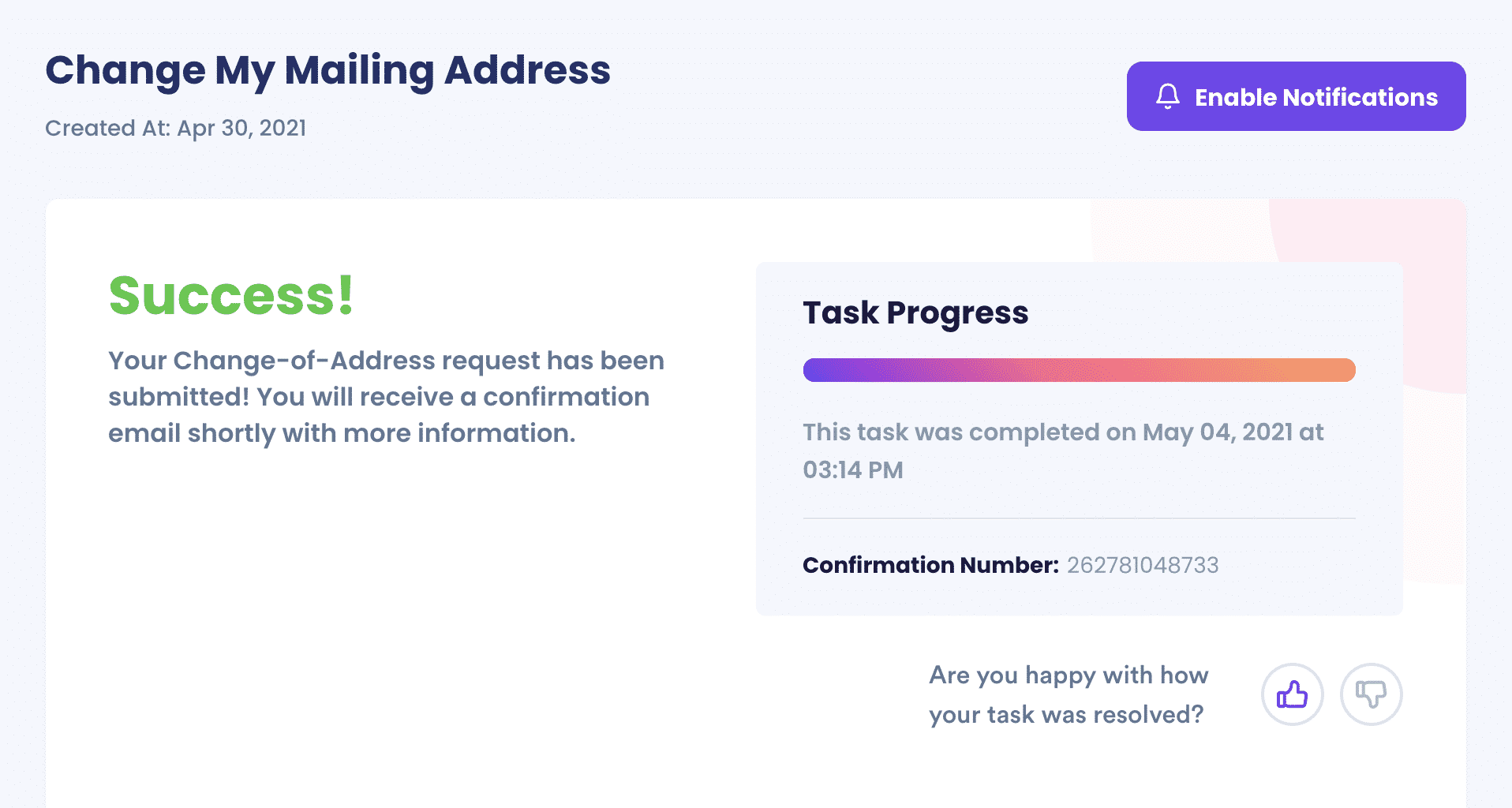 DoNotPay Takes Your Troubles Away
If you need to solve all your legal and administrative issues, DoNotPay is the ultimate solution. We offer you a safe, fast and convenient way to sort all your problems from the comfort of your phone.
Our products are designed to accommodate multiple issues; you can now change your:
Whether you want to fight bureaucracy, sue someone or access quick day-to-day services, we've got you covered. Our variety of products can help you access the following and more:
Sign up today to get started!