How to Get Usenet Free Trial Without Giving Your Credit Card Info

Usenet is a globally distributed discussion and forum system available on computers that have grown to comprise multiple discussion groups—known as newsgroups—stored on select internet servers with millions of users.
One of the common Usenet providers is , which currently has over 110,000 newsgroups globally and has been in the industry the longest.
Does Newshosting Have a Free Trial?
Yes, it does. Newshosting provides new users with a  that runs for 14 days. The 14-day Usenet free trial is available on all qualified plans to allow you the opportunity to try the service without worrying about commitment.
The Newshosting free trial is available strictly for new users and can be used once per every subscriber. A new account is free for 14 days and has a 30 GB download maximum.
How Can I Get a Newshosting Free Trial?
To access Newshosting's Usenet free trial, head over to the service provider's website. Look for the 'Start Free Trial' orange button, which should direct you to the pricing page. However, for convenience, you should sign up for a new Newshosting website or log into your existing account.
On the pricing page, choose your preference from the pricing plans available. Scroll down to enter your details—email address and password. Further down, you will need to enter your payment details to proceed. Newshosting accepts payment via major credit cards and PayPal.
However, most Americans use credit cards, which may be an issue, since most people are skeptical about sharing their credit card information online.
Does Newshosting Free Trial Automatically Renew Into a Paid Subscription?
Yes, it does. All Newshosting qualified plans are renewed automatically each billing period, including immediately your 14-day free trial expires. Newshosting is free for 14 days, with an option to cancel the free subscription before the end of the 14 days if you change your mind.
Failure to cancel the trial before the end of the free trial will lead to you being automatically charged at the end of the period. If you get charged at the end of the period because you forgot to cancel on time, you may plead your cancellation and hope to get a refund.
DoNotPay can help you file for a refund if you forgot to cancel your Newshosting free trial on time.
Avoid Automatic Renewal with DoNotPay Virtual Credit Cards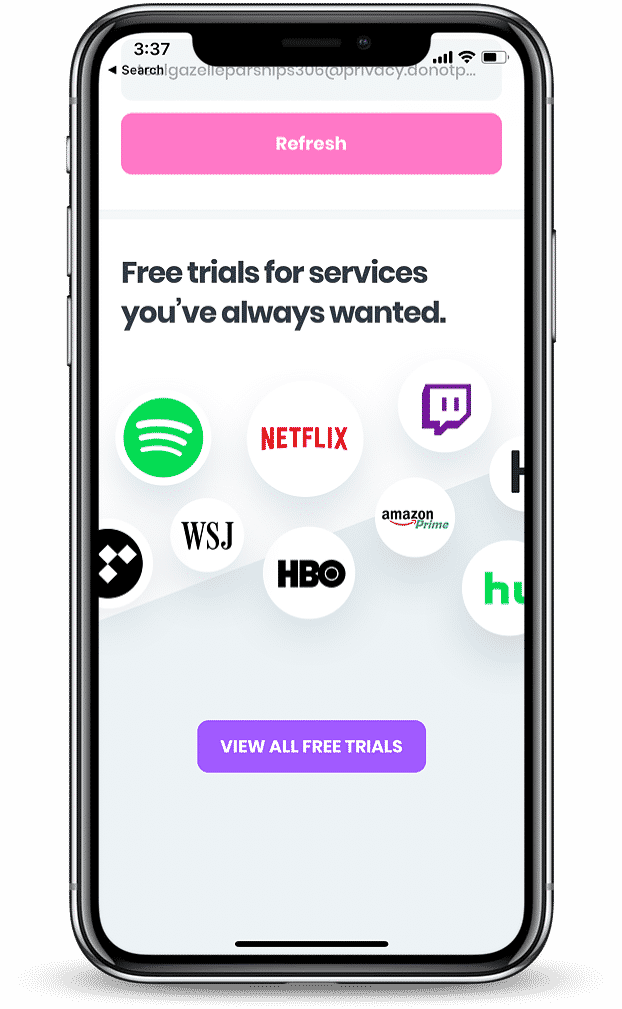 The chances of forgetting to cancel your free trial before the end of the 14 days are often high. Unfortunately, this means you will get charged for a service you won't use or need after the automatic renewal. However, you can avoid this automatic renewal using DoNotPay's free virtual credit card.
Once you sign up with DoNotPay's free trial risk-free product, DNP will generate a random number and credit card information that you will use to subscribe for the Usenet free trial.
Here's how it works:
DoNotPay will generate a random number and credit card information that you can use to subscribe to any service.
Once the free trial expires, the service can't charge the card because there isn't any actual money on that card and the subscription will be canceled automatically.
It's good to use a virtual credit card when signing up for a free trial for the following reasons:
While the credit card number is real, it cannot be used to purchase anything and it can only be used once.
The card will be deactivated after it is used for your free trial subscription. This eliminates the need to provide your credit card information.
A virtual card also eliminates the need to remember to cancel free trials.
As soon as the 14-day free trial comes to an end, Newshosting can no longer charge you an automatic renewal, since the virtual credit cards don't have any funds. The services then no longer become available to you until you subscribe for a fee.
If you decide to cancel your Newshosting free trial account before the trial period lapses, and you have not exceeded your 30 GB download maximum, you won't be charged for the account.
This Usenet free trial with no credit card feature provided by DoNotPay allows you to test Newshosting and its features before deciding to upgrade or not.
How Much Does Newshosting Cost After the Free Trial?
Here is a table summary of Newshosting's Usenet Plans.
| | | | |
| --- | --- | --- | --- |
| Plan | Lite | Unlimited | XL Powerpack |
| Monthly Price | $10.00 | $14.95 | $19.95 |
| Annual Subscription | N/A | $12.95/month ($155.40 Total Payment) | $15.83/month ($189.95 Total Payment) |
What are the Most Common Alternatives to Newshosting?
Below are some of the tried and tested Usenet providers rivaling Newshosting in features and pricing.
Easynews
3 months free
No software needed
The classic plan starts at $9.99 per month (20 GB a month)
Eweka
Unlimited 7-day free trial
Great retention and completion rates
Unlimited downloads
The standard prepaid starts at around $8.82 per month
Pure Usenet
Support Bitcoin payment
Fast European speed
Affordable, easy-to-use Usenet service
$6.56 per month
Giganews
VPN included with unlimited plans
Giganews 1 year - US$12.50/mth
Giganews 6 months - US$14.99/mth
Giganews 1 Month - US$17.99/mth
How Else Can DoNotPay Help?

DoNotPay extends its services beyond getting free trials risk-free. Apart from helping you secure a Usenet free trial with no credit card, DNP's services also include:
If you are looking to try out Usenet's 14-day free trial without charge, DoNotPay has got you covered.  with DoNotPay today to get a Newshosting free trial free of charge and without submitting your credit card information.