Sign Up For UP Faith and Family Free Trials With a Virtual Credit Card

 is an exclusive membership film service delivering the newest and most unique family and spiritual entertainment. Up Faith and Family have a collection of over 500 excellent dramas, family, comedy, premium UP tv series, films, animated movies, and more.
UP Faith and Family offers you a 14-day  to experience their service and decide if it fits you. Like other services offering free trials, UP Faith and Family will require you to fill in your credit card information to charge your card after the 14 day trial period has ended and you haven't canceled your subscription.
Free trials aren't really "free," as businesses try to portray them. That's why DoNotPay has developed a free virtual credit card to help you avoid getting charged after your free trial period expires.
How to Register for a Free Up Faith and Family Trial
You can register for an  by downloading the Up Faith and Family app from your Android or  Apple TV.
Likely, you won't be able to sign in or view content through the installed internet browser on other Smart TVs, such as a Samsung. It could succeed, but UP Faith and Family don't currently support certain browsers.  If you want to give it a shot, here's how to watch UP Faith & Family on your Smart TV's browser:
Launch your web browser on your Television set and go to the UP Faith & Family website.
After you input your address, you will receive an email with a link.
Visit your email account on a different device (a laptop or a smartphone), open the email, and tap on the LOGIN button.
Return to your TV browser, and you should be able to log in.
If these instructions do not work, your Smart TV will likely not be compatible. In this instance, you may try utilizing an HDMI cable to link your computer or smartphone to your TV or projecting via Apple's Airplay or Android's Chromecast.  It's worth noting, though, that Up and Faith video service does not integrate Chromecast devices, which are incorporated into certain TVs.  While this may work, their video player was not designed with this in mind, and they cannot troubleshoot any difficulties that may emerge.
How to Cancel an UP Faith and Family Subscription
To cancel an UP Faith and Family subscription, here are the steps to follow:
You will first sign in to your Up and Faith Family account.
Go over to your Subscriptions and Memberships page.
Tap Manage Subscription next to the membership you want to terminate.
Under Advanced Controls, click the link.  The main membership page appears on the screen.
You may cancel your subscription from this page.
Refunds for online subscriptions are handled as follows:
The termination date in your membership data becomes the final date after you cancel.  UP and Faith Family video service will not be charged you membership fees again, and you will be able to use their services until this date.
There are no early withdrawal penalties if you discontinue your membership.
If you are a new member with a renewal period longer than a month, you are entitled to a full rebate if you terminate your subscription within a week of purchase.
Beyond the reimbursement window, or for memberships with a payment period of a month or less, canceling the subscription disables auto-renewal and ensures that you are not charged again.
UP Faith & Family, video service will inform you when your membership is due to expire if you purchase a six months subscription or more. Before you're billed again, you can update your billing details or cancel your membership.
How Much Does an UP Subscription Cost After the End of Free Trial?
Subscription
Cost
Inclusions
Monthly
$5.99
You can watch some of the most popular series on UPtv, including dramas, inspirational films, children's favorites, family comedy, documentaries, and music.
Annual
$53.99
UP Faith and Family is available on all popular linked TV and mobile devices.
Avoid Automatic Renewal With DoNotPay Virtual Credit Card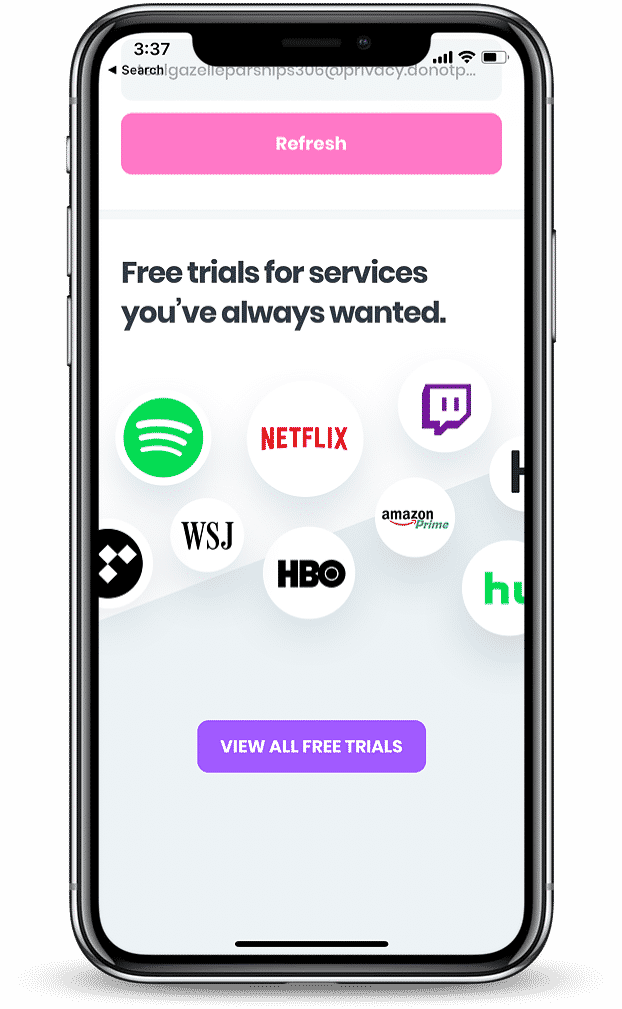 Get yourself a DoNotPay virtual credit card today and never have to worry about your credit card getting charged after the end of a free trial. You'll never pay for an unwanted subscription again, and you won't need to share your credit card every time you want to try a streaming service or subscription. But that's not all you can do with the app.
What Else Can DoNotPay Do?
DoNotPay has several other services besides helping you avoid getting charged after the end of a free trial. Some of the other services we offer include:
Handling credit card issues
Canceling memberships or subscriptions
Disputes over parking tickets
Getting ahead of the phone queue when contacting customer support representatives
Defending against speeding tickets
Taking retaliation against robocalls
Suing individuals and businesses in small claims court
Making a DMV appointment quick and simple
Obtaining reimbursement for flights that have been delayed or canceled
Handling Disputes over parking tickets
Having to deal with bills that you can't afford to pay
Defending yourself from harassment and stalking
Obtaining company refunds and chargeback
Getting rid of spam mail once and for all
Eliminating spam text messages
Try it now!