How to Get a TUDN Free Trial With a Virtual Credit Card

TUDN is an American sports channel only available in the Spanish language. The channel features American sports, as well as other sports from around the world, though the channel is only available in the United States. The company is owned by Univision Communications and is part of their sports division.
This article explores everything you need to know about , and how you can sign up for free trials without using your real credit card.
Does TUDN Offer a Free Trial?
TUDN itself does not offer a , however, Vidgo does. Vidgo is a streaming website that offers several different streaming packages, and all come with a seven-day free trial. There's an English Plus, English Premium, and a Spanish Mas package. 
English Plus - 95 channels
English Premium - 112 channels
Spanish Mas - 30 channels
How Can I Get a TUDN Free Trial through Vidgo?
To get a  through Vidgo, there are a few things you'll have to do. It's relatively easy though and doesn't take up much of your time.
To get a Vidgo free trial:
Go to Vidgo's homepage on their website.
Click on "plans" at the top of the page.
For TUDN, choose the Spanish Mas package and click "free trial"
Enter your name, email address, and phone number.
Create a password.
You'll then have to enter your credit card information in order to obtain a free trial.
Read through the terms and conditions and before checking the box to accept them.
Click "submit" and start your free trial.
Does the TUDN Free Trial Renew into a Paid Subscription?
Yes, the TUDN free trial through Vidgo does renew into a paid subscription if you don't cancel before the seven days are up. The website will not notify you before your free trial is up, and it doesn't mention anything about refunds. With that in mind, it's likely they won't refund you if you forget to cancel your free trial, unfortunately.
Avoid an Automatic Renewal With DoNotPay's Virtual Credit Card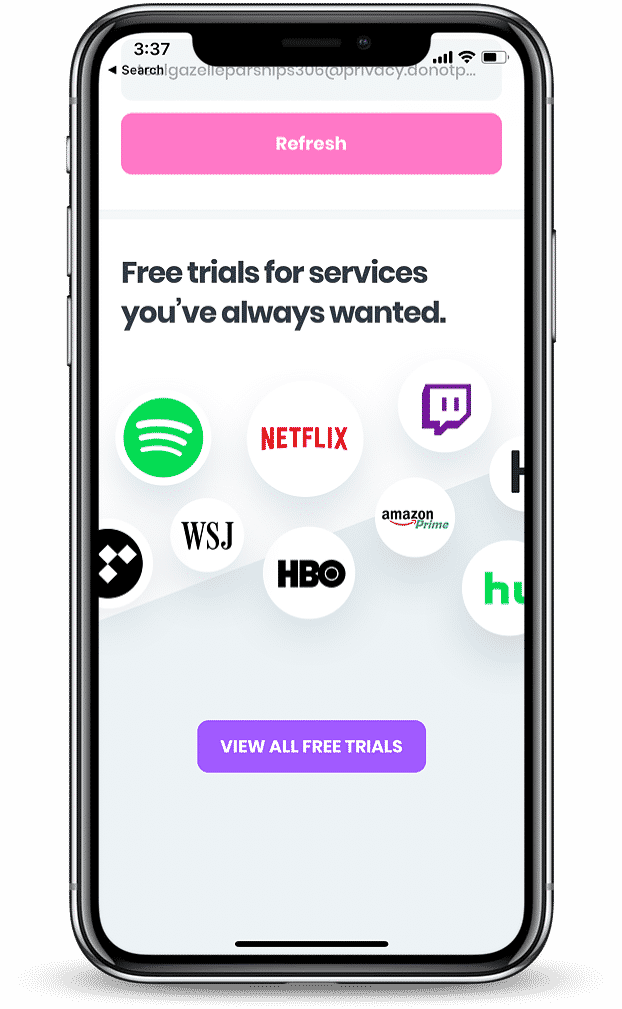 Did you know there's an easy way to avoid automatic subscription renewals? If you've never heard of them before, virtual credit cards are cards that are typically connected to your bank account or normal card, but allow you to set a certain amount of money that can be withdrawn from them.
DoNotPay gives you the opportunity to receive a free, randomly generated virtual credit card that will allow you to sign up for free trials without an extra charge for forgetting to cancel. All it takes is three simple steps.
To get your virtual credit card:
Search Free Trial Card on DoNotPay and enter the company you want a free trial for.
We'll automatically generate a virtual credit card that you can use for that merchant. Copy the card details shown on your screen.
Use the card to sign up for your free trial and sit back to relax and enjoy!
That's all it takes for you to be able to sign up for a free trial without the worry of getting charged for an extra month.
How Much Does TUDN Cost After the Trial?
The cost of Vidgo (used for TUDN) depends on the package you purchase when signing up for the free trial. There are currently three plans to choose from, all having different benefits. 
| | | |
| --- | --- | --- |
| Package | Cost | Inclusions |
| English Plus | $55/month | 95+ channels including live sports, new, and local show favorites |
| English Premium | $79.95/month | 112+ channels with more live sports, news, and shows |
| Spanish Mas | $30/month | 30 channels that include popular Latino sports, news, and entertainment |
Unfortunately, the English packages don't actually include TUDN or other Spanish programs in the plan. You'll have to select Spanish Mas to get any Spanish sports channels included in your package.
Popular Alternatives to Vidgo's TUDN
There are many streaming services that you can use instead of Vidgo, and most of them also offer free trials. There's an endless amount of streaming services out there, so you're sure to find at least one that meets your expectations.
Here are some of the most popular alternatives to Vidgo:
| | | | |
| --- | --- | --- | --- |
| Service | Cost | Inclusions | Free Trial |
| Philo | $25/month | Includes live, streaming, and on-demand for over 60 different channels | 7-day free trial |
| Fubo TV | $33/month for their Spanish channels plan | Includes over 45 channels, all CONMEBOL qualifier matches, and cloud DVR | 7-day free trial |
| Hulu + Live TV | $69.99/month | 75+ channels including live sports, news, and family-friendly channels | 7-day free trial |
| YouTube TV | $64.99/month | Over 85 channels with live sports, three screens, six account per household, and unlimited DVR storage | 2-day free trial |
| Sling TV | $10/month for Spanish TV | Includes 20 channels | 7-day free trial |
Not all streaming services offer sports channels as part of their packages, and even less include Spanish TV, but there are still a lot of alternatives to Vidgo's TUDN subscription out there.
Is There Anything Else DoNotPay Can Do?

The possibilities are nearly endless with the services DoNotPay offers. Whether it's signing up for a free trial risk-free or disputing a parking ticket, DoNotPay has your back.
DoNotPay can help you with:
 and take advantage of the many services DoNotPay offers.