Get Truckstop Free Trial Easily With a Virtual Credit Card

Truckstop has 25 years of experience connecting truckers and brokers together to haul products anywhere. Their load boards are popular, but they cost money to access all the site's features. Can you get a  program before you commit to paying for access?
Before we answer that, let's look at what the site does, how much plans cost, and why DoNotPay can make the process easier.
Is There a Truckstop Free Trial Program?
Truckstop offers load boards that connect companies with freight carriers. Someone with a freight they need hauled can go to these boards and post specifics concerning their load. They will add weight, address where the cargo is, and address where it needs to go. Special instructions, if any, will also be posted along with the rate they're looking to pay for the shipment of their items.
Someone with the rigs that can handle the load at the rate posted will book the shipment and take care of the freight for them. All communications between the two are done through Truckstop's system. To gain access to the boards, you need to pay for a subscription.
As for a free trial, they don't generally offer one. On occasion, they will provide a  for special situations. They've offered, in the past, to give free trials to the first 100 users to sign up during a specific time period. In this instance, they ask for a credit card number, which will be charged at the end of the free period unless you cancel. If you want a sampling of their services, you can contact them for a demo.
How Much Does Their Program Cost?
If you're interested in purchasing a plan for the Truckstop load boards, you'll find several options. There are three available plans each for carriers, brokers, and shippers. Each one has different features that suit your needs. The prices are as follows:
Carriers
Here are the costs for each carriers' plan.
| | |
| --- | --- |
| Basic | $39 per user (up to 3 users on the account) |
| Advanced | $125 |
| Pro | $149 |
The basic provides some ability to post and search the boards. Advanced gets you more features, like broker credit, and also how many days to pay information. Truckstop's Pro version offers route planning as well as rates.
Brokers
Here are the costs for each brokers' plan.
| | |
| --- | --- |
| Basic | $99 |
| Pro | $219 |
| Premium | $349 |
The basic package for the Brokers plan gets you some simple truck searches, decision tools, and the ability to post loads. Upgrading to Pro gets you to freeload tracking,  performance ratings, as well as real-time updates on a load. Premium offers everything the previous plans have, but adds carrier monitoring, and predictive carrier sourcing.
Shippers
Here are the costs for each shippers' plan.
| | |
| --- | --- |
| Basic | $99 |
| Advanced | $160 |
| Pro | $219 |
Basic is the same as what's offered in the carrier, and broker plans. Moving up to the Advanced package gets you credit stop and performance ratings. The highest level, the Pro, offers the ability to post requests with the book it now option, load insights, and real-time updates of a load.
Can DoNotPay Be Used to Help With a Truckstop Free Trial?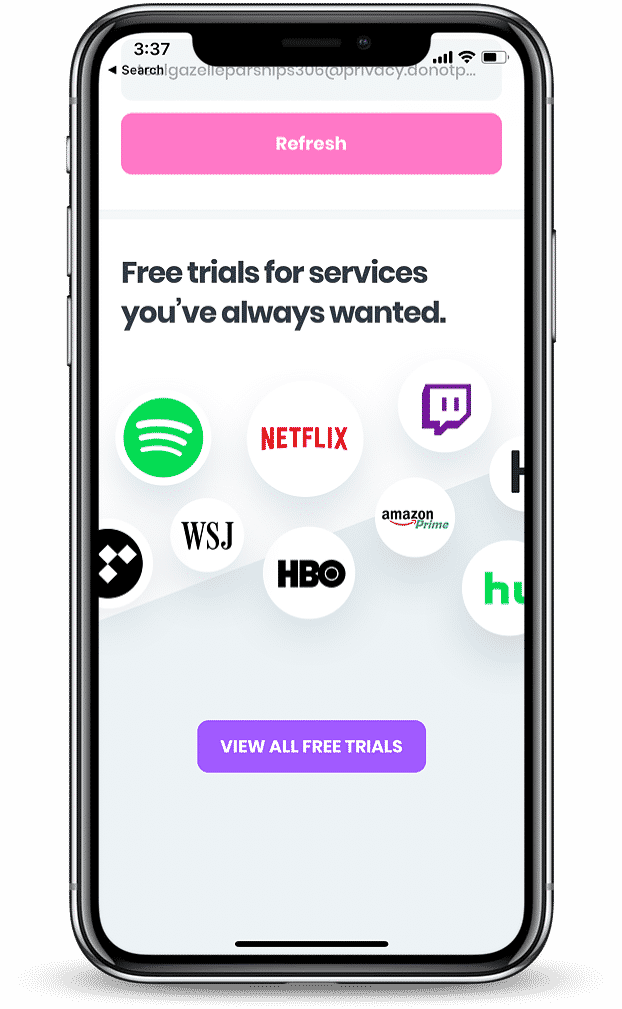 Here's how DoNotPay can be used to access Truckstop's free trial:
In some cases, DoNotPay can help with a free trial, but only if Truckstop has a special going on, where they ask for a credit card number to use a free trial version. However, they don't ask for a credit card most of the time unless you're purchasing a plan for access to the load boards.
If, for example, they offer a trial and want your credit card or debit card information, you can get one of our free virtual credit card numbers. It works much like a credit card would, except for one thing. There's no money connected to it. It's just a random number generated that you can use to access the trial, but once it's been used, it's deactivated.
If you happen to decide you don't want Truckstop, and you forget to cancel, you're not out any money. The auto-renewal will charge the number you give, but it won't work. If the charge doesn't go through, they'll cancel your account automatically.
Why Choose DoNotPay?
You can get free trials and not be charged for using DoNotPay.
DoNotPay saves you time. The time you save by not having to apply for free trials on your own can give you more time with Truckstop.
DoNotPay has a simple process. It saves you from having to complete a slew of tedious paperwork. Sit back and wait for DoNotPay to provide feedback, and you can relax knowing that your interests are being well-served.
With DoNotPay, the process is always successful. We've been put through the wringer and proven to be reliable.
Other Ways DoNotPay Can Help You

While our virtual cards are beneficial, they're certainly not the only way we help our users. In fact, if you check out our site, you'll see tons of areas that we can help. Some of those would include:
Of course, this is only the beginning of all the services we offer. If you have a problem, whether it  or something else, don't hesitate to come to the site and find out just what we can do for you.