How to Get a TNT Free Trial With a Virtual Credit Card

TNT is the home of some of the most iconic dramas in American television. If you like action, mystery, and legal drama, you've found your source for entertainment. However, TNT doesn't have its own streaming platform, so to watch TNT either live or on-demand or streamed from live television, you will first need a television platform service. Major content providers like Netflix, Hulu, and DirectTV then offer channels that expand the content library of each user.
You can find TNT as core content or a paid add-on channel for several on-demand and live television services. If you're looking for a , however, you'll need to find it through these third party providers. Why? There are currently no free trials for TNT alone, but you can get access to TNT for a free-trial period with a little clever account management. With DoNotPay you can also guarantee that you won't accidentally pay the first month after the free trial expires.
Does TNT Offer a Free Trial?
There is currently no , but you can get access to TNT on a free-trial experience through one of the television platform providers. TNT is hosted by several on-demand and live television platforms.
Platforms that Offer TNT and Have a Free Trial
| | |
| --- | --- |
| Service | Trial Offer |
| Sling TV | 7-Day Free Trial |
| Hulu | 30 Day Free Trial |
| Direct TV Stream | 14 Day Refund Period |
| YouTube TV | 1 Week Free Trial |
Each free trial has a slightly different structure because they are offered by different companies. Some include TNT as core content, some will need you to add the package during your free-trial period. Hulu has the longest free trial period for power-streaming a few TNT shows during your access, while DirectTV is a refund period instead of a free trial.
How Can I Get a TNT Free Trial?
In order to get , you'll need to sign up for the free trial of a carrying platform. To do this, make a new account with the platform. Most will automatically provide you with the free trial.  With Sling, you may need to access the Sling TV app on your smart TV to access the free trial.
Once the free trial is active, determine if TNT is core content. If not, add it to your content library, then kick back and enjoy some free TNT television time.
Select Your Television Provider
Make an Account if you must
Select a Subscription Plan
Activate the Free Trial (If Necessary)
Enjoy Free Days of TNT Viewing
Cancel On Time
Does the TNT Free Trial Automatically Renew Into a Paid Subscription?
Yes. Most, if not all, of the platforms that host TNT have a free trial configured to drop customers directly into monthly subscriptions. If you coast through the free trial and want to start paying for the service, automatic renewal can be useful. But it is also an exploitative way to make free trials not-so-free for the majority of people who miss the cancellation deadline.
Keep an eye on what you might be charged when the free trial expires. Some online, live, and on-demand television subscriptions can be surprisingly expensive which can cause a drop-shock to your bank account if it hits unexpectedly.
Avoid Automatic Renewal With a DoNotPay Virtual Credit Card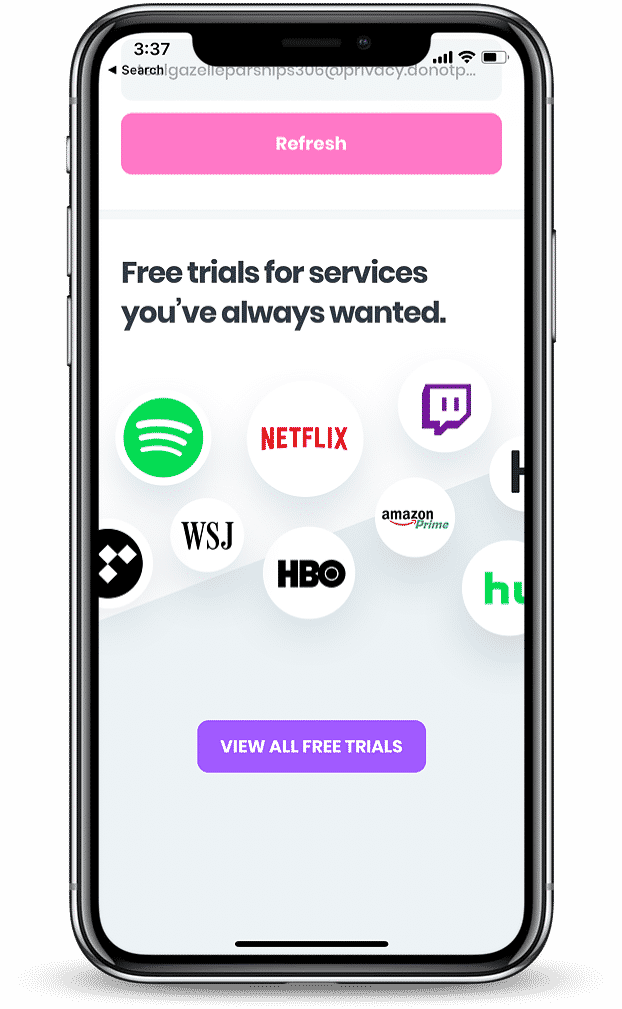 Here, we'll talk about three more points.
Cancel Accounts
Virtual Credit Cards
Refunds and Reimbursement
Getting a free trial of TNT can be tricky. You need to understand the platform you've chosen, how its free trial works, and whether TNT is core content when your free trial begins. If it isn't, will buying the TNT channel interfere with your free trial? Once you know how your plan is in place, how will you protect yourself from the subscription rollover?
The last thing you want is to be charged because you missed the last day to cancel the free trial early. Here is where DoNotPay can help.
Cancel Account
DoNotPay can help you cancel any account at any time. It's all too easy to let the last day of your free trial slip your mind. However, to avoid paying for the first subscription month, you'll need to cancel at just the right time. This is especially important for DirectTV which as a refund instead of a trial. Let us know what and when you need to cancel and we'll make sure that nothing gets in the way
Virtual Credit Card
DoNotPay can also safeguard you from an end-of-trial charge. For free trials where you are not charged until a future date, you can enter a Virtual Credit Card; a generated card number that does not connect to a real financial account. You can enjoy your free trial and when the trial is over, the company will bill the dummy card and your trial will gracefully close without a subscription charge.
Refunds and Reimbursements
Finally, DoNotPay can help you get a refund if you were unjustly charged for the first month after a free trial. For example, if you request to cancel your account a day before rollover, but the cancellation is delayed until after you are charged. DoNotPay will take action to get you a refund.
What Else Can DoNotPay Do?

What else can DoNotPay do to save you time, money, and make your life easier? Here are just a few of the many different services and tools available for you to try.