Get TLC Free Trial With a Virtual Credit Card

The Learning Channel, better known by its acronym "TLC," is a largely popular American TV network. The network is famous for a wide variety of dramatic reality shows, including hits like 90 Day Fiance, My 600 lb. Life, and Here Comes Honey Boo Boo. If you want to watch TLC shows online, like many other sites, you must first input your financial information or link to your TV provider. Try out with no fear of unwanted charges with the help of DoNotPay's virtual credit card!
Does TLC Offer a Free Trial?
If your goal is to watch TLC shows directly through The Learning Channel website, you're unfortunately out of luck. At this current time, TLC does not offer a free trial. To watch TLC through their website, you must sign in with your cable TV provider.
Some people don't have cable TV anymore due to the increased popularity of streaming services and pre-recorded shows. If you don't have cable TV, don't fret - TLC shows can be found across a wide variety of different streaming services. Google-specific shows that interest you and see which services offer them for streaming. You can sign up for a free trial of whatever service provides the show you want to watch.
How Can I Get a TLC Free Trial?
Because TLC does not provide a free trial directly through their website, you ultimately cannot get a free trial exclusively for TLC. However, shows can be found on different streaming platforms such as Hulu and Paramount+. Information about free trials for these services is listed below.
Go to Hulu's website.
Select the plan you're most interested in. Options include the basic Hulu subscription with ads, an ad-free subscription, and a comprehensive package with Hulu + Live TV, Disney+, and ESPN+.
Create your account on Hulu.
Input your financial information to check out and begin your free trial. The trial ends after seven days.
Go to Paramount+'s website.
Choose the plan you'd like. Options include Essential, which provides shows with ads, and Premium, which is ad-free except for a select few shows and live TV.
Create your account on Paramount+.
Choose your payment option. You can pay monthly or annually, and annual subscriptions save you more than 16% in comparison to the monthly payments.
Input your financial information and begin your free trial. The trial ends after seven days.
Does the TLC Free Trial Automatically Renew Into a Paid Subscription?
Because there is no TLC free trial, there's also no automatic renewal into a paid subscription. Watching TLC through their site requires you to already be paying for cable TV. If you choose to access TLC shows through a free trial of a different streaming site, such as Hulu, the free trial WILL renew into a paid subscription and you'll be charged as soon as the trial period ends.
Avoid Charges From Unwanted Automatic Renewal With DoNotPay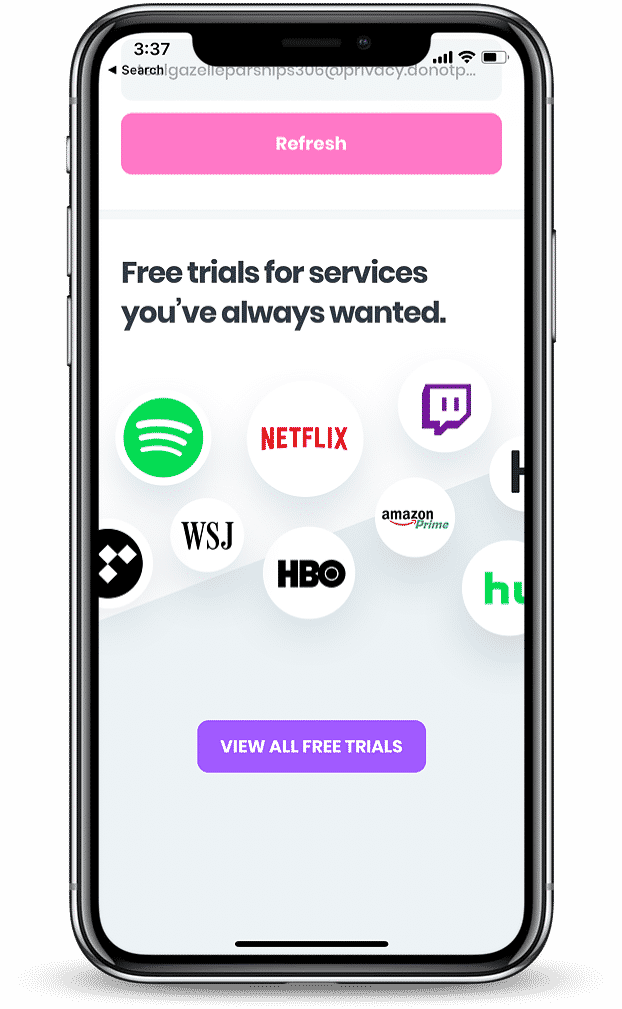 We've all been there: Signing up for a free trial to a subscription site, promising ourselves that we'll cancel it before we're charged, but ultimately seeing an unwanted charge on our credit card bill. Getting charged for subscriptions you didn't even want can be super frustrating, especially considering that most companies won't give you a courtesy warning that your trial is ending before charging you the full subscription price. Thankfully, DoNotPay can provide you with a free virtual credit card, allowing you to sign up for free trials without any worries about unwanted charges.
Virtual credit cards help you do these things:
Don't give out your real financial information
Don't pay for rollover subscriptions after free trials
Explore dozens of free trials without hassle or financial risk
Here's how virtual credit cards work:
Virtual credit cards are used to provide a valid card number to a service you have no intention of paying after the free trial is over.
DoNotPay gives you a temporary, random credit card number.
You copy that number into your free trial sign-up.
The card exists until you use it, then is deactivated without ever accepting a charge.
How Does a Virtual Credit Card Work?
Virtual credit cards let you sign up for free trials without having to concern yourself with canceling the service. DoNotPay provides you with the information of a virtual credit card, including the card number, expiration date, and CCV. You can use these details to sign up for free trials on any site, for any subscription or service you'd like. This virtual credit card will approve charges that are listed as free trials (or related billing pages) automatically, so you'll get access to a free trial without being denied. If the company attempts to charge you for the full subscription, however, the virtual credit card will not approve the charge. Because the card doesn't have actual money on it, any charges that are an actual amount cannot go through. When the charge is denied, the company will most likely contact you about it, allowing you to cancel your subscription without being charged unfairly.
Use DoNotPay's free virtual credit card to sign up for free trials that will allow you to watch your favorite TLC shows without being charged!
Why Use DoNotPay to Get Free Trials and Don't Get Charged
DoNotPay is fast. Applying for free trials independently is time-consuming. Therefore, enjoy your SPSS experience with DoNotPay.
DoNotPay is easy. It helps you avoid filling out many long forms. Wait for the feedback as DoNotPay ensures that your interests are well taken care of.
DoNotPay is successful. We have been tried, tested, and verified.
What Else Can DoNotPay Do?
While DoNotPay's virtual credit card can be extremely useful across a wide variety of sites, this is just the beginning of the services offered! Use the links below to explore topics and see how DoNotPay can help you with everyday problems.