How to Get ThirdLove Free Trial With a Virtual Credit Card

What woman does not wait for the end of the day anxiously to be able to relieve herself of the tight trappings of her bra? Most women settle for ill-fitting and unattractive bras to get the support they need. ThirdLove is a retailer that specializes in women's undergarments for comfort, fashion, and the best fit possible.
Does ThirdLove offer a trial, free or otherwise? Read on to discover how DoNotPay can help you with a  with a virtual credit card number. Do not let forgetfulness cost you extra money overall.
You should use DoNotPay instead because:
They will keep you from being charged for something you don't want
They will save you money
They will deal with customer service if something goes wrong
Does ThirdLove Offer a Trial Period?
ThirdLove offers women the best fitting bras, underwear, and sleepwear. However, it is not a subscription-based service, so there is no . You choose the bras and clothes you would like and return what you don't like. They offer personalized styling services and help find the correct size bra for unique body types.
With the bras and sleepwear, you'll be able to try them on in the privacy of your own home and decide if you'd like to keep them or return them. Keep all the tags and stickers in place, and you can exchange or return the items within 60 days. Underwear must be unworn, still packaged, and complete with tags and stickers to be exchanged or returned.
How to Become a ThirdLove Member
Becoming a part of the ThirdLove family is easy and quick. If you decide that there is something you want to buy, simply add the items to the cart. At checkout, they will ask you to sign in or create an account. They will ask you to:
Sign up by either creating a new account, using Facebook, or using Google.
Enter your personal information including address.
Confirm your email.
Enter your credit card information.
Once you have the information input and everything is correct, you will be able to buy your items quickly and easily.
When Does ThirdLove Charge for the Shipments?
Since ThirdLove does not offer a subscription-based ordering method, items are charged as you purchase them. Prices vary, but they do offer coupons and deals throughout the year! You can take advantage of sales like 7 items for $49 or matching sets on sale. Choosing what to purchase may be harder than finding your correct size, which they can do in their virtual fitting room!
Avoid Charges From Free Trials With the Help of DoNotPay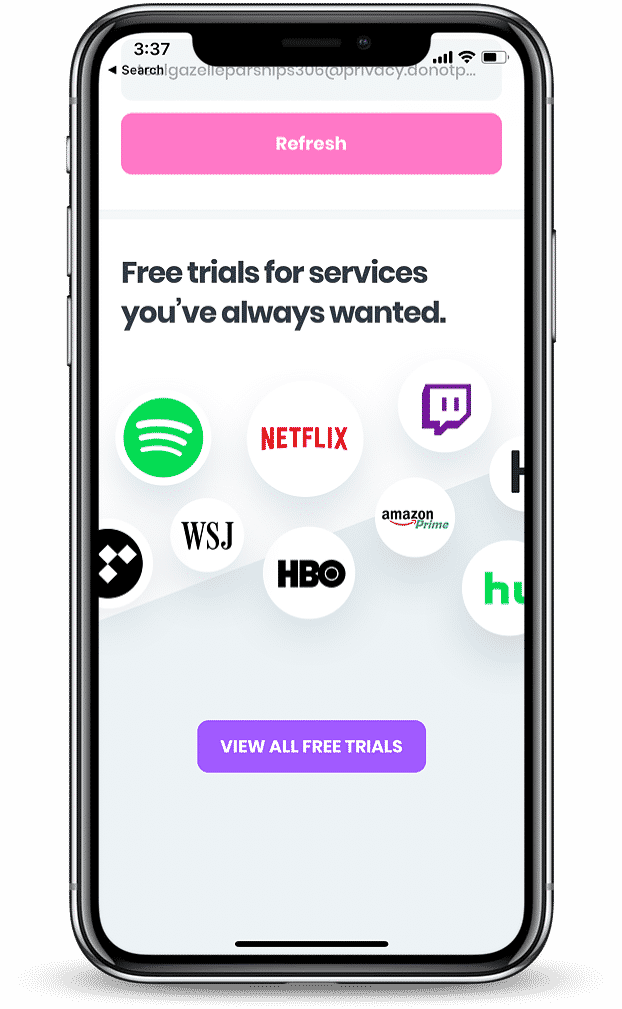 When you sign up for a free trial, some websites will require you to provide them with a payment method before they give you access to their website. If you're not familiar with the website or unsure of the value you'd be getting, then you'd need to keep an eye on the trial length, loin site, and how to cancel the trial quickly.
Avoid the issue altogether with DoNotPay at your side. You can request a free virtual credit card to help you through these situations and avoid the excessive charges on your account. Protect your funds and learn how to avoid the charges quickly and easily. Charges won't get to your account because the virtual credit card does not connect or contain any of your money, therefore if you forget the trial, your funds are safe!
What Does a ThirdLove Charge Look Like?
Charges from ThirdLove will say that it comes from ThirdLove, leaving no doubt about the fees incurred on their website. Also, keep in mind:
Charges will be processed upon purchase, and you will be notified of shipments.
You will have 60 days to request a refund or exchange.
To request a return, simply login in and following the return prompts.
Occasionally, free trials will try to hide their identity to make sure that you do not figure out which website is charging you and cancel your subscription. Always read the fine print when you create accounts, some can charge you fees just for signing up. Some can even sell your information or sign you up for other products and services. DoNotPay can aid with those types of situations with their virtual credit card numbers.
Alternatives to ThirdLove
There are many retailers online that are promising women relief for their painful undergarment situations, especially for those of unique size or shape. Alternative to ThirdLove can include sites like:
Each of these sites provides amazing undergarment options that are designed to help fit the everyday woman, no matter the size.
DoNotPay Has More Solutions for Situations You Might Find Yourself In

Found your favorite bra on ThirdLove? Got a free trial for that subscription service you have been aching to try? Awesome! Now check out some other topics DoNotPay can assist you with!
With almost any situation, you can get sublime assistance with .