How to Sign Up for Tennis Channel Free Trial With a Virtual Credit Card

If your favorite sport happens to be tennis, badminton, or racquetball, then is perfect for you. The channel is owned by the Sinclair Broadcast Group, and primarily airs on American television, but you can stream the channel online too.
Does the Tennis Channel Have a Free Trial?
No, the Tennis Channel does not have a free trial if you go directly through their website. However, Fubo TV does offer a  through its streaming service. The streaming service is very similar to normal cable television, and the trial only lasts for seven days before you're charged the full amount of a subscription.
The benefits included in the free trial depend on the package you click on. These packages are:
Starter
Pro
Elite
Latino Quarterly
How Can I Get a Tennis Channel Free Trial?
By going to Fubo TV's website, you'll automatically be prompted to  if you don't already have an account with them. The sign-up process is relatively easy, as Fubo TV asks for all the normal information that other free trials do. 
To sign for a Tennis Channel free trial:
Go to Fubo TV's website and look for the free trial prompt. It should pop up automatically.
Click the button that says 'Start Your Free Trial'
You'll be prompted to enter your email, create a password, and enter the zip code for the area you live in.
Skim through the terms and conditions to be sure you know what you're agreeing to before clicking 'continue'.
Select the package you wish to get a free trial for.
You'll then be required to enter your credit card information to start the trial.
After that, you'll be able to start watching the Tennis Channel free for seven days. The package does include other channels as well.
Does the Tennis Channel Free Trial Automatically Renew Into a Paid Subscription?
Yes, if you subscribe to a Tennis Channel free trial through Fubo TV, it automatically renews into a paid subscription. They will, however, send you a 24-hour notice before your free trial is up to remind you to cancel if you don't want to continue with the service. Fubo TV will not give you a refund if you forget to cancel your free trial before it automatically renews. 
Avoid Automatic Renewal With DoNotPay Virtual Card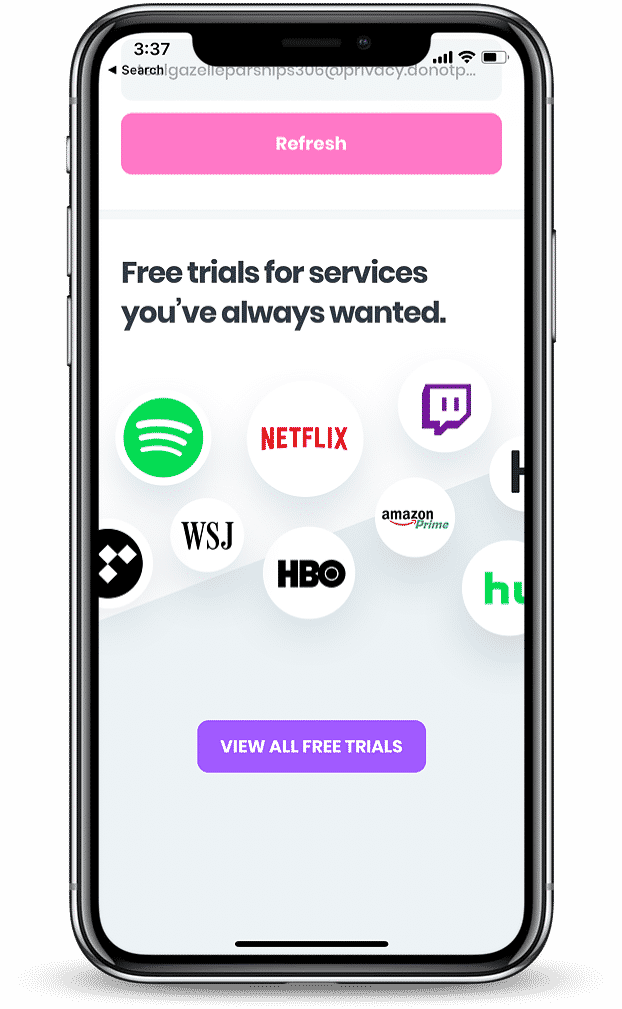 If you're worried about forgetting to cancel your Tennis Channel free trial before the subscription automatically renews, don't. DoNotPay offers a virtual card you can use to sign up for any free trial. While it is connected to your actual card, you can limit the amount of money that can be automatically taken out. With this card, you can avoid renewing your free trial altogether. 
Here's how it works:
Search free trial card on DoNotPay and enter the company you want a free trial for.
We'll automatically generate a virtual credit card that you can use for that merchant. Copy the card details shown on your screen.
Use the card to sign up for your free trial and sit back to relax and enjoy!
How Much Does the Tennis Channel Cost Once the Free Trial Has Ended?
Purchasing the Tennis Channel through Fubo TV gives you four different plans to choose from. The price will be different depending on if you opt for monthly or quarterly payments.
Tennis Channel Fubo TV packages:
| | | |
| --- | --- | --- |
| Tennis Channel Fubo TV packages | Cost (monthly) | Inclusions |
| Starter | $64.99 | 109 channels and up to three screens at once |
| Pro | $69.99 | 109 channels and up to ten screens at once |
| Elite | $79.99 | 153 channels and unlimited screens at once |
| Latino Quarterly | $33 | 36 channels and three screens at once |
What Are the Most Popular Alternatives to the Tennis Channel?
There are several alternatives to the Tennis Channel since many streaming services offer sports channels as part of their package. Fubo TV isn't one that's often mentioned, and a few popular streaming services may cost less money than this one. Alternatives include
| | | |
| --- | --- | --- |
| Other Streaming Services | Cost | Inclusions |
| Tennis Channel Plus | $109.99/annual | Only includes matches shown on the Tennis Channel |
| YouTube TV | $64.99/month | 85 channels |
| Philo | $25/month | Includes the Tennis Channel and 60 other channels; also offers a free seven-day trial. |
| Hulu + Live TV | $69.99/month | 65 channels |
| Sling TV | $45/month | 50 channels |
While these aren't the only alternatives to Fubo TV's Tennis Channel subscription, they are some of the most popular. You may be able to find others online, but most don't include a free trial. 
What Else Can DoNotPay Do?
If virtual cards from DoNotPay don't entice you to use the service, then perhaps some of the many other things DoNotPay can do will. DoNotPay has a wide array of services to provide for you. They can help you with almost any problem including
With such an easy-to-use website that can solve all of your problems, don't miss out on your chance to take advantage of DoNotPay's many services.