Sign Up for Sweat App Free Trial Without Giving Your Credit Card Info

 is a subscription-based app that will charge your chosen payment method on the same day you signed up for each billing cycle. Unless you choose to cancel, your subscription will continue.
You will get full access to all available features and programs inside the Sweat app, regardless of the membership option you pick.
Does Sweat App Offer a Free Trial?
Yes. Sweat provides a  for new subscribers. The trial is an excellent chance to become acquainted with the Sweat community. The trial gives you access to all the Sweat app's programs and materials, just like a regular membership. You can access the Free Trial via their website or the Sweat app.
How Can You Get a Sweat App Free Trial?
To get started, go to www.sweat.com or download the Sweat app from the App Store or Google Play, then register using the 'Free Trial/Monthly billing' option as your membership term.
Unless you cancel within the trial, your membership will automatically convert to a monthly subscription with Sweat after the trial period. Please follow the procedures in the accompanying support article if you want to switch to a different payment plan after the trial period.
Does Sweat App Free Trial Automatically Renew Into a Paid Subscription?
Yes. Your free trial will automatically turn to a paid subscription unless you cancel before the end of the trial period. Your Sweat subscription can begin with  for a set amount of time, which will be stated when you join up.
Free trials are only accessible to new Sweat members and are at Sweat's exclusive discretion; if you sign up for another free trial, you will be charged the average subscription amount right away.
To avoid future charges, you can cancel your .
The following applies when canceling your Sweat app subscription:
They recommend canceling at least 24 hours before your next payment to ensure that they process cancellations on time.
There will be no refunds for the remaining subscriptions if you cancel your membership.
After canceling your membership, you will use the Sweat app for the rest of the monthly cycle you have paid.
You can go back to your iOS or Android app or go to the website to revive your membership once it expires.
Keep in mind that your subscription will not be canceled if you delete your account or the app.
Unless the law requires it, the company does not issue refunds or credits for change of mind, new subscription periods, accidental purchases, medical circumstances, or any other comparable cause or incident.
Avoid Automatic Renewal with DoNotPay Virtual Credit Card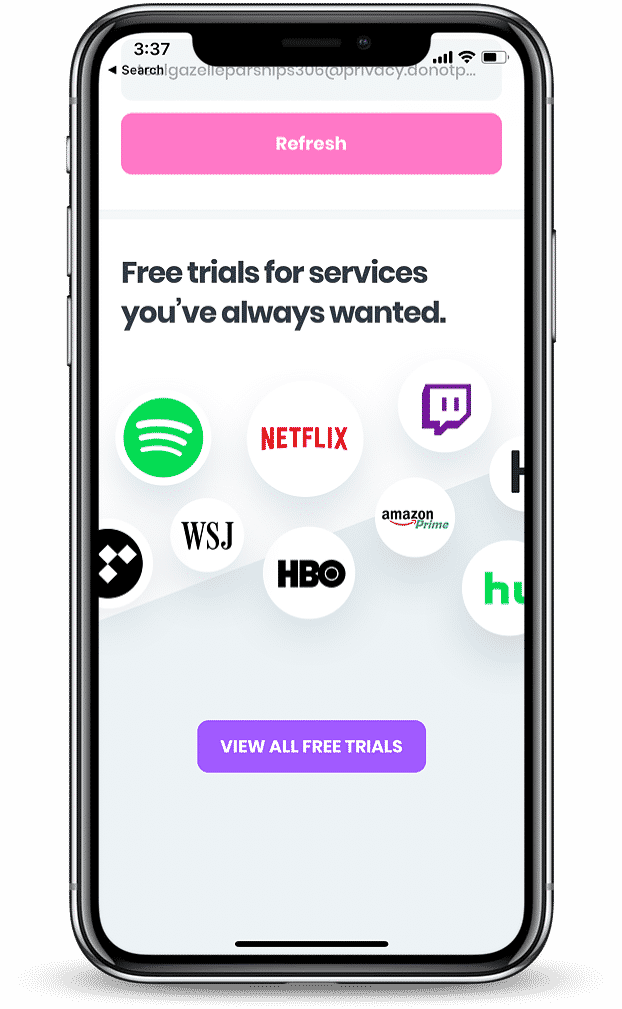 How often have you signed up for a free trial, entered your credit card information, and then instantly forgotten about it? You've been paid for a service you never use, and you've entirely forgotten about it! You notice membership for that new streaming service, the fitness program you've never used, or the VPN service you've forgotten about as you look through your transactions.
This situation is well-known around the world. Instead of using your actual credit card when signing up for a free trial, use a virtual credit card to avoid wasting money.
The Free Trial Card, invented by DoNotPay, is an innovative and handy method to save money and time.
What Is DoNotPay's Virtual Free Trial Card and How Does It Work?
A virtual credit card generates a temporary account number using a random credit card generator, making it impossible for a fraudster to use it. Because the virtual card is typically limited to one transaction, one merchant, or one spending amount that you choose, it cannot be used for illicit transactions.
You can use any address or name, as well as the virtual credit card number and expiration date supplied by the DoNotPay app while using the DoNotPay Free Trial Card.
It gives you free credit card numbers, and you may use the VCC to join up for a free trial of any service. It's pretty much like a cheap credit card.
The DoNotPay app provides a temporary email address that you can use to join up with these services. The application will create a random email account and send messages to it, obliterating any tracking information about your location and other companies' information to market their products to you.
It shows that you will be fully protected when you join up for services. Your email address will be safeguarded as well, keeping you off email marketing lists used by companies to promote their services and convert leads to paying clients.
Virtual credit cards help you do these things:
Don't give out your real financial information
Don't pay for rollover subscriptions after free trials
Explore dozens of free trials without hassle or financial risk
Here's how virtual credit cards work:
Virtual credit cards are used to provide a valid card number to a service you have no intention of paying after the free trial is over.
DoNotPay gives you a temporary, random credit card number.
You copy that number into your free trial sign-up.
The card exists until you use it, then is deactivated without ever accepting a charge.
How Much Does Sweat App Subscription Cost After the Trial?
Here are the various monthly plans:
| | |
| --- | --- |
| Subscription plan | Monthly cost |
| Option 1 | $20 a month |
| Option 2 | $55 for three months |
| Option 3 | $120 for a year |
What Will Sweat App Subscription Charges Look Like on My Statement?
Because your credit card statement will show the charges, here is an example:
Purchase From sweatapp.com
SWEATAPP. COM *ICFTECHN 800-893-8871 CA
Payment to sweatapp.com
SWEATAPP. COM 800-893-8871 CA
SWEATAPP. COM *LATOURAINE 800-893-8871 CA
Authorization to sweatapp.com
SWEATAPP. COM *MGBILLIN 800-893-8871 CA
SWEATAPP. COM *LATOURAINE
What Are the Most Popular Alternatives to Sweat Apps?
At-home fitness streaming apps are popular for a reason: they provide the same intensity as in-person courses without traveling to the gym, making it incredibly convenient to fit a workout into your schedule. However, knowing which ones are worthwhile can be challenging, with many fitness applications to choose from. Here are some of the Sweat App alternatives:
Service provider
Cost
Benefits
Beachbody On Demand
$99/year

Wide variety of classes.
Easy to navigate.

Tone It Up
$13/month or $84/year

Great for beginners.
Workouts are available at a variety of levels.

Grokker
$15/month

It offers courses on stress relief.
It offers over 80 programs.

Peloton App
$13/month

Hasvaried workout categories.
It has a sense of community.
What Else Can DoNotPay Do?

You can open DoNotPay, which can help you with almost anything! Including:
Getting compensation for delayed or canceled flights
Getting rid of spam text messages
Scheduling a DMV appointment is fast and easy.
Disputing traffic tickets
Canceling subscriptions or memberships
Getting rid of spam mail forever
Dealing with issues with credit cards
Signing up for free trials risk-free
Getting revenge on robocalls
Contesting parking ticket
Protecting yourself from stalking and harassment
Fighting speeding ticket
Getting refunds and chargebacks from companies
Never provide your credit card details for any free trial application. You can enjoy actual free trials while protecting yourself from unwanted charges by using DoNotPay's virtual credit cards. Get in touch with DoNotPay today.