Everything You Need to Know About the Sussex II State Prison
, sometimes spelled as "Sussex 2 State Prison," was built in 1999. It is a level 4 facility that houses inmates with long sentences, often life terms. It also houses inmates with behavioral problems that need to be transferred to higher security facilities.
Given the nature of the inmates, Sussex II State prison lacks education and vocational training opportunities compared to other prisons. Inmates who were transferred for bad behavior need to spend a minimum of two years at Sussex II before being considered for re-transfer.
Sussex II State Prison Contact Information
Address

24427 Musselwhite Drive

Waverly, VA 23891-2222

Phone Number
(804)-834-2678
Warden
Beth Cabell
How to Contact Inmates at Sussex II State Prison
1. By Phone
Consider these requirements:
Inmates are allowed to make outgoing calls only. Calls may be made by calling collect or by using GTL. A GTL account must be set up to receive calls on a cell phone.
GTL will charge a connection fee and a per-minute fee.
Calls are limited to 20 minutes in duration.
2. By Mail
Consider these requirements for addressing a letter to an inmate and writing a prisoner a letter:
As Sussex II State Prison is a level 4 security facility, there are tighter restrictions as to what you can mail inmates.
Inmates can only receive three pieces of paper per letter that must measure 8.5" x 11".
Photos are prohibited.
Exceptions to these rules may be granted if they are necessary to communicate with an inmate's lawyer. Any exception must be first approved by faculty staff.
Address all letters to:

Inmate Name, ID Number (7 digits) Sussex II State Prison 24427 Musselwhite Drive Waverly, VA 23891-2222
3. Sending Money
Consider these requirements:
Inmates can receive funds via MoneyGram, online transfer, mail, or over the phone.
Online deposits can be made with JPAY.
For MoneyGram Deposits, go to any MoneyGram kiosk location at a CVS or Walmart. Be sure to have the prisoner ID number handy and use the received code 5189.
Over-the-phone deposits are managed by JPAY. Call 1-800-574-5729 to make a transfer by phone.
Mail deposits are also managed by JPAY. You will need to get a money order from the United States Post Office and make it payable to "JPAY." In the memo section, include the inmate's name and ID. All mail deposits must include a Money Order Deposit Slip. Mail the deposit slip and money order to:

JPAY P.O. Box 278170 Miramar, FL 33027
4. Visitation
Consider these requirements for inmate visitation:
Visitation at Sussex II is exceptionally difficult given its security status. But visiting is by no means impossible.
The first step is to submit a visitor application. These usually take 30-90 days to be approved and expire after 36 months.
Once approved, you can start planning your visit.
All visitors must bring a government-issued photo ID.
Visitors are subject to being searched, which may include a metal detector. Cars may also be searched.
Leave cell phones, tobacco, and lighters in your car.
VADOC has a strict dress code for visitation. It is advised to dress conservatively and to not wear a work uniform. Bring a second set of clothes just to be sure your visit doesn't get canceled.
Prisoners are able to receive visitors on Saturdays and Sundays. Due to the security level of Sussex II, visiting hours are not published. You will need to call the facility to be informed of visitation hours. They can be reached at (804)-834-2678.
Steps to Take Before Contacting a Prisoner at Sussex II State Prison
Most forms of contact require knowing a prisoner's ID.
You can use the Virginia Department of Corrections offender locator tool to find their ID number.
This site is known for being slow and crashing. If you need any help, you can use DoNotPay's Find an Inmate product.
Difficulties You May Have Contacting Loved Ones in Sussex II State Prison
Some difficulties you may encounter while writing letters to inmates include:
Trying to work with the Virginia Department of Corrections can be incredibly frustrating, especially for inmates at Sussex II State Prison.
Families of the incarcerated are often overlooked.
DoNotPay can help.
How DoNotPay Can Help
We can help you:
Write a Prisoner Our write a prisoner digital tool allows you to write a letter online. We'll handle all the printing and shipping and will make sure everything is compliant with Sussex II's rules.
Find Prison Pen Pals We can help you get in touch with an unknown prisoner at Sussex II to become Pen Pals.
Inmate Visitation We know all the ins and outs of the strict visitation rules at Sussex II. If you have any problems scheduling a visitation, DoNotPay can help.
How to Use DoNotPay to Connect With a Prisoner
You can by following these five easy steps:
1. Locate the Connect With an Inmate service on DoNotPay.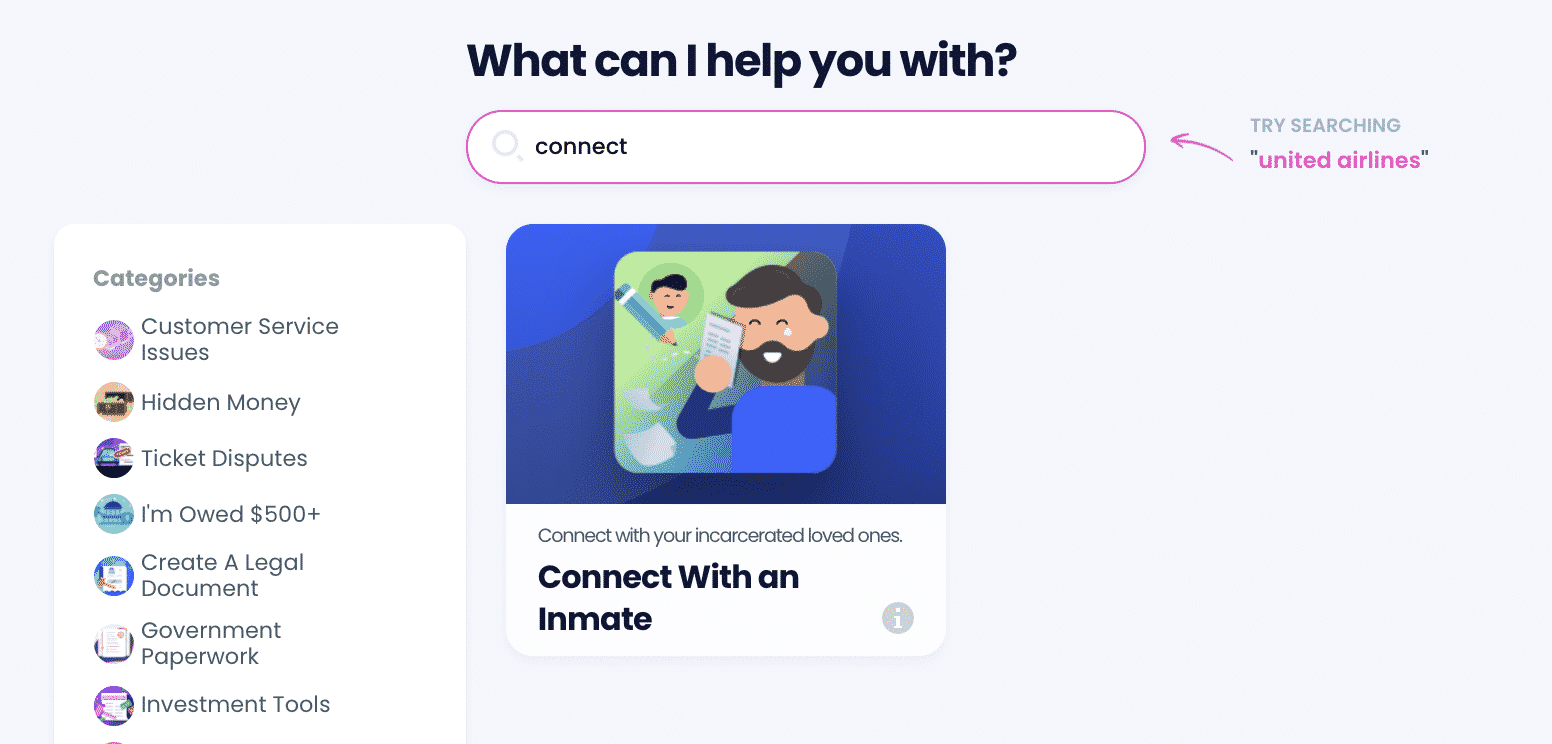 2. Choose whether you want to locate a loved one, create a virtual mailbox, or send a personalized letter.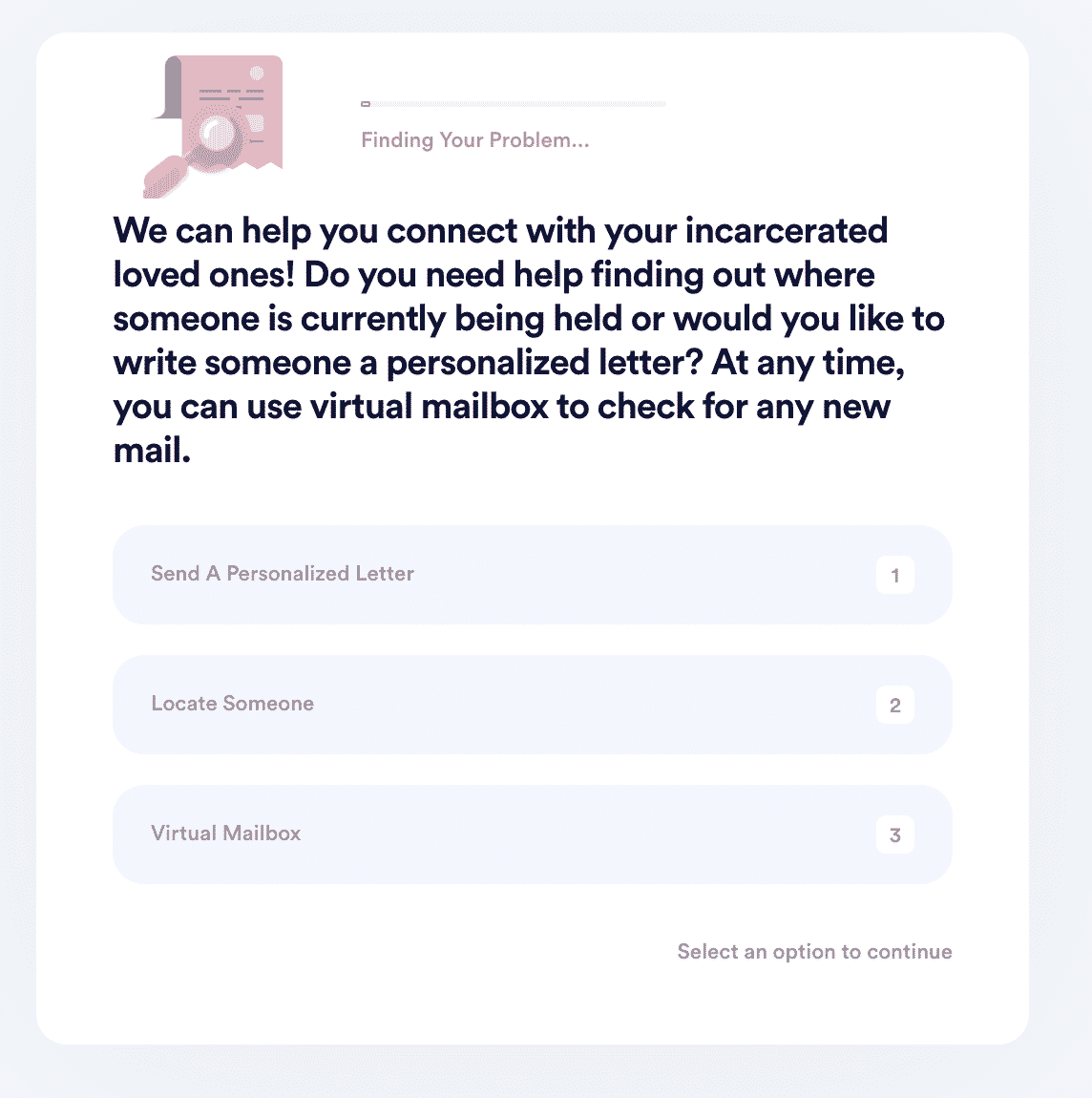 3. If you want us to find your loved one, provide his or her personal details and the state they are located in. We'll then conduct a search on the appropriate state database.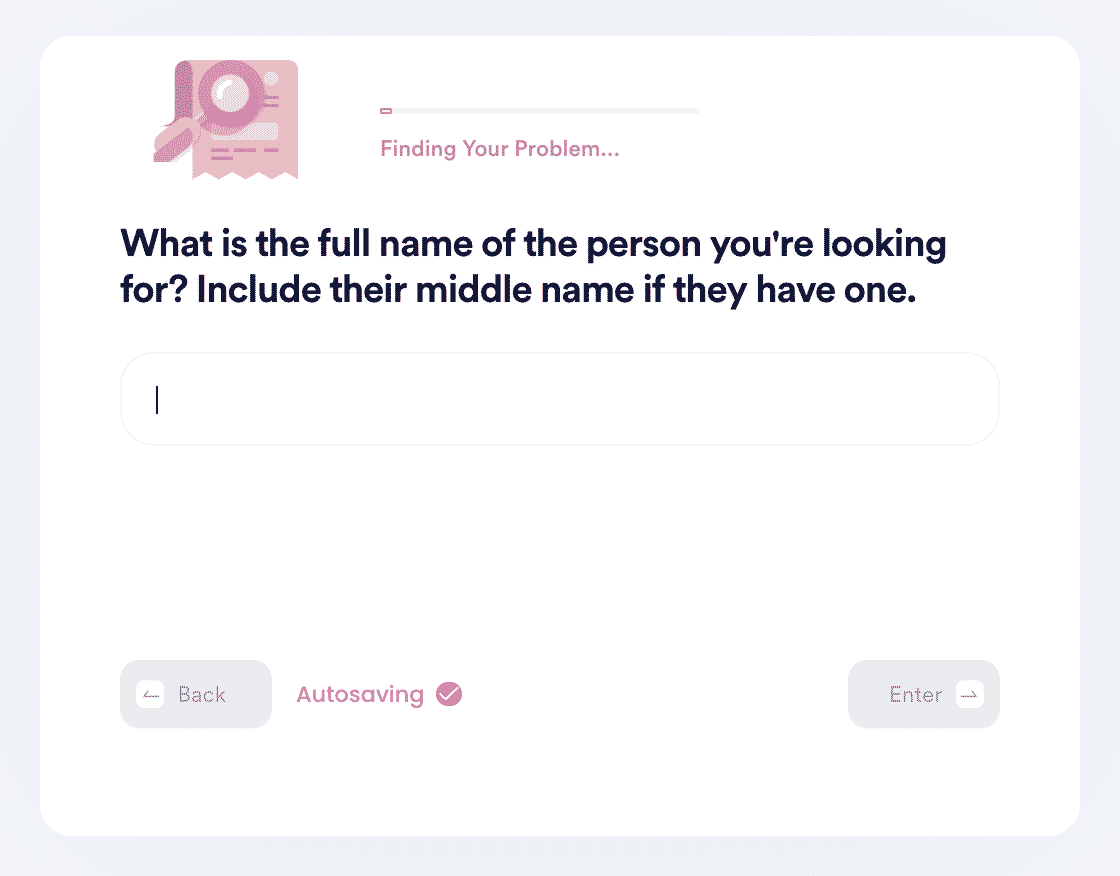 4. If you want to create a virtual mailbox, just provide your full name! We'll set one up for you so you can easily receive incoming mail from your loved one.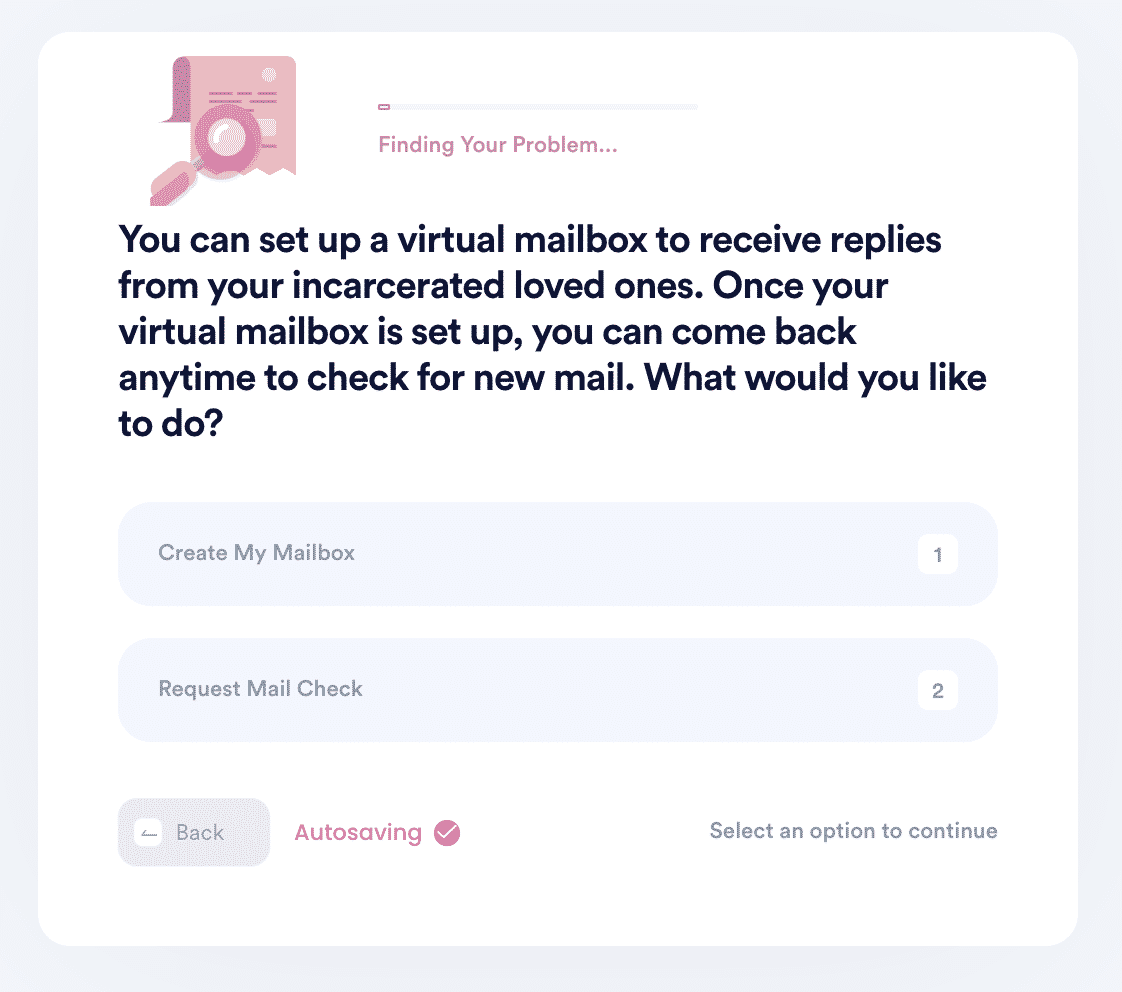 5. If sending a personalized letter, tell us which facility your loved one is located in and what you would like to say to them. You can even include a photo! Your letter will be delivered automatically - just wait 10 days for it to arrive to your loved one!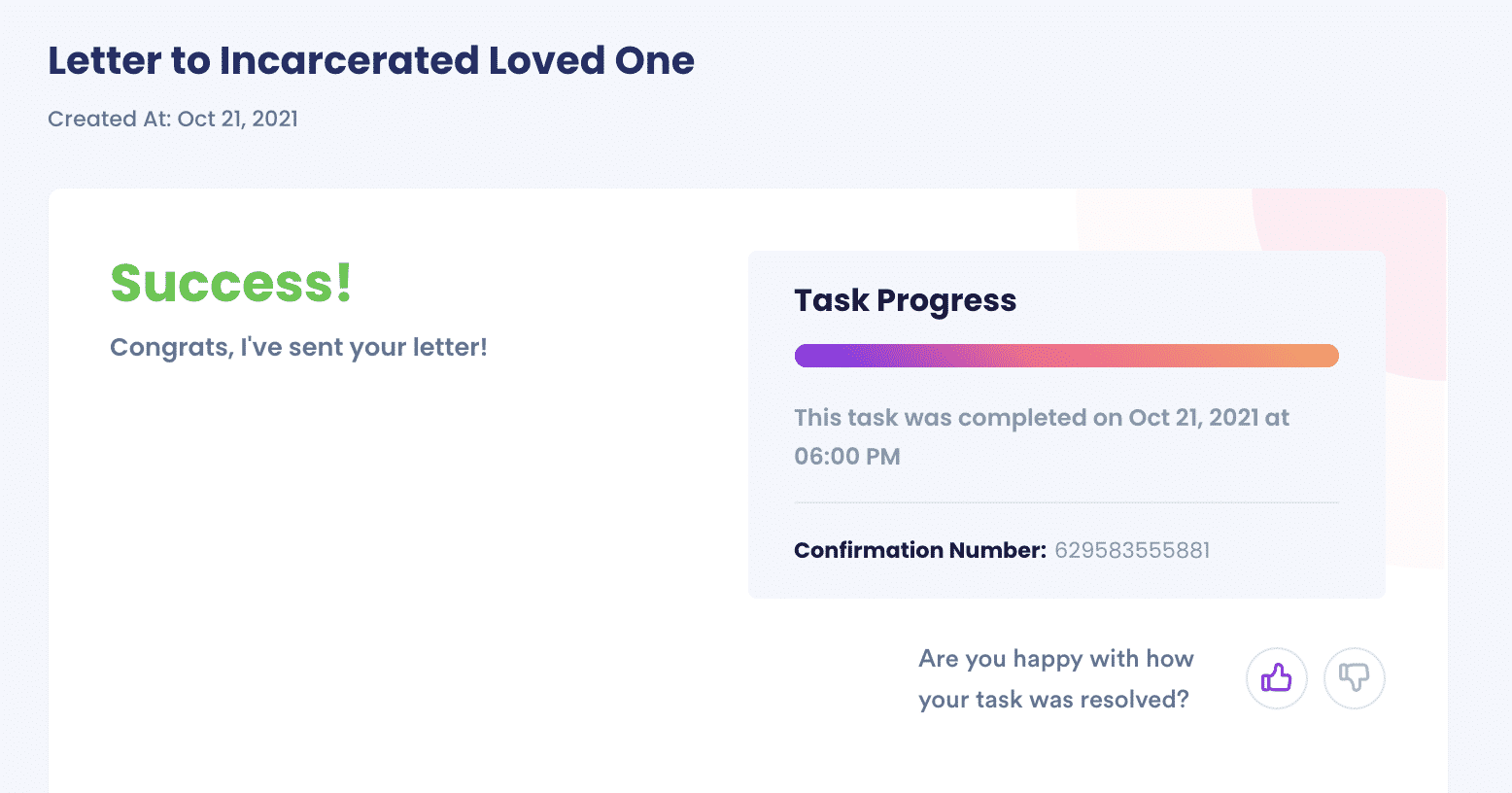 What Else Can DoNotPay do?
DoNotPay can help with legal matters like:
Our additional services include:
Sign in to DoNotPay today!