How to Get a 7-Day Surfshark Free Trial Without Giving Your Credit Card Information

A VPN is a very useful thing to have.  VPN stands for Virtual Private Network,  a special network of peer-shared resources that allow you to "hop" your IP address from one place to the next. Some use VPNs to browse the internet privately with a masked IP address. Others use VPNs to access content only available to IPs in another country.
Surfshark is a great VPN service with a combination of browsing features that make VPN use smoother and more enjoyable than most options. If you're looking for temporary access or to try out a VPN, then the  is a pretty tempting opportunity. DoNotPay can help you navigate the maze of promotional offers for the best possible price and service.
Does Surfshark Offer a Free Trial?
Here we'll cover three main points .
The 7- Day Free Trial on Mobile
The 30-Day Money-Back Guarantee
The 24 Months for 82% Discount
Surfshark offers a 7-day free trial available through your mobile app. During this time, you can explore and make use of all of their online browsing and user resources along with convenient VPN web-surfing traffic direction of your internet activities. But did you know that there are also other deals available?
For example, if you sign up for 24 months - two solid years - the cost of your monthly subscription is cut in half. Choose this deal, and they will also offer you free additional months at part of your plan. But this is the opposite of a free trial, as you'll pay the full $56.76 up front and enjoy the savings over time.
With or without the free trial, you can also claim a 30-day money-back guarantee if you decide Surfshark isn't for you.
How Can I Get a Surfshark Free Trial?
If you want 7 days of Surfshark VPN free to try, you'll need to activate your free trial for mobile. This is a special trial only available for users on a mobile Android or iOS device. After this or without the free trial, you can also claim a money-back guarantee for the first 30 days of your service.
Download Surfshark from Your App Store
Select 'START FREE TRIAL' Instead of Login
Enter Your Email and Register the Account
Select the 12-Month Plan
Enjoy 7 Days of Free VPN
Does the Surfshark Free Trial Automatically Renew Into a Paid Subscription?
Yes. The model leads directly into your first subscription payment. You will be directed to select the 12-month or 24-month deal. When your Surfshark free trial completes, you will be charged upfront for the full year (or two) of your chosen subscription.
Avoid Automatic Renewal With DoNotPay Virtual Credit Card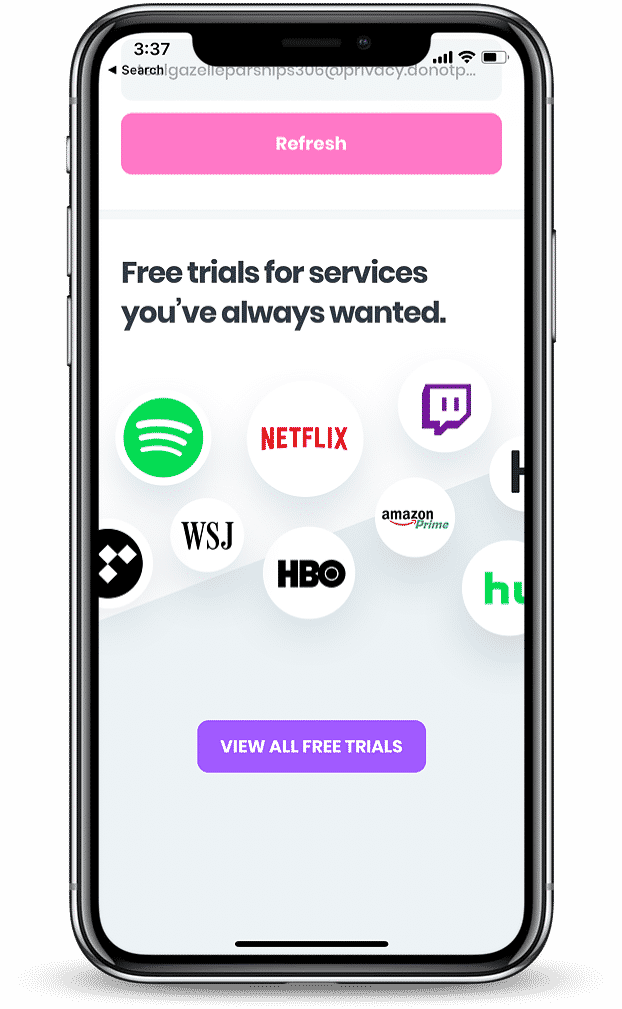 Ready to try your seven days of Surfshark without committing to paying for two years of Surfshark? DoNotPay can help. We know that free trials can be a hassle to navigate, from registering your payment card for something "free" to remembering to cancel in time. For free trials like Surfshark, we figured out the best possible solution for a free trial that is really free: a virtual credit card.
What if you could enter a dummy card number instead of your own so that when the free trial is over, you can't be charged or forced into a subscription? Now you can. A virtual credit card is a randomly generated string of numbers that will be temporarily accepted as a valid card - until a payment is charged.
In other words, it's a card you can enter when signing up for free trials that won't authorize payment when the trial is over. Your finances stay safe and you don't get tangled up in a subscription until you decide if you truly want to subscribe.
You can get all the free virtual credit card numbers you need from the DoNotPay free trials product.  Enjoy free trials that are truly free.
How Much Does Surfshark Cost After the Trial?
SurfShark charges for subscriptions upfront, in a lump charge for your selected span of months. When your free trial expires, you will be charged entirely for the subscription you chose. Use the table below to compare costs.
Subscription
Price
1. One-Month Subscription
2. SIx-Month Subscription

$6.49 /mo
$38.94 lump charge

3. Two-Year Subscription

$2.30 /mo
$59.76 lump charge
What Else Can DoNotPay Do?

DoNotPay was founded on the idea of making life more affordable and easier for everyone. Our services run the gamut from resolving parking tickets to finding scholarships and everything in between. What else can we do to help this year?