How to Get Sundance Now Free Trial Without Giving Your Credit Card Info

Many companies offer free trials of their services as a way to gain more customers. The online streaming platform Sundance Now is one example of this, providing new users with a .
The only problem is that these offers typically require credit card information to activate and are sometimes purposefully difficult to cancel in time. Luckily, DoNotPay can help. We will tell you everything you need to know about Sundance TV free trials and how to get yours without being charged. 
Does Sundance Now Offer Free Trials?
Yes, the on-demand streaming service  does offer free trials for new members. The free trial period lasts seven days and allows users to cancel at any time. There are two types of free trial memberships offered and users must select one when signing up.
Sundance Now Annual Membership Trial
The seven-day trial of Sundance Now's annual membership, if not canceled, results in a charge of $59.99. This is the cost for one year of membership and it is billed in one payment upfront if the user doesn't cancel before the end of the trial period.
Sundance Now Monthly Membership Trial
The monthly membership of Sundance Now, if not canceled before the end of the trial period, results in a charge of $6.99. This charge will reoccur monthly until the user cancels.
How Can I Take Advantage of Sundance Now's Free Trial?
To sign up for a free trial of Sundance Now, users should complete the following process:
Visit Sundance Now's website and scroll to the bottom of the page.
Select which type of membership you're interested in, either annual or monthly.
Click "join free for 7 days".
Create an account by entering your email address and password and clicking "next".
Enter your credit or debit card billing information and submit.
The free trial process cannot be completed without entering a credit card number. 
Does the Sundance Now Free Trial Become an Automatically Renewing Paid Subscription?
Yes, if you do not cancel your l on time, it will automatically renew into a paid subscription. Users have until the end of the trial period to cancel.
If you forget to cancel your membership, Sundance Now's refund policy, as of July 13, 2020, states that you may be entitled to a refund. Monthly memberships can be issued a refund if the user requests it within two days of being billed. Annual users who request refunds within seven days of being billed are also eligible for a refund.
Guarantee You Never Pay for Free Trials with DoNotPay's Virtual Credit Card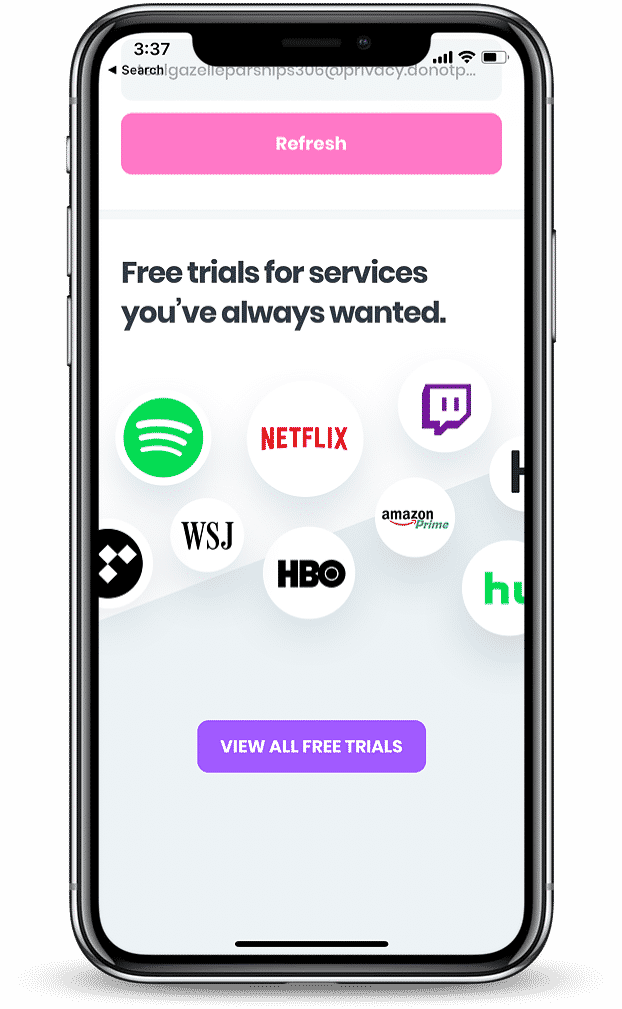 Life can get busy, and unfortunately, it's all too common to forget to cancel a free trial in time and end up paying for a service you don't want. Luckily, DoNotPay can ensure this never happens to you again. You can take advantage of as many free trials as you want and never pay a dime by using DoNotPay's Virtual Credit Card. 
Here's how it works:
DoNotPay generates a random credit card number, expiration date, and CVV for you to use when signing up for a free trial.
Since there is no actual money connected to the Virtual Credit Card number when your free trial ends, you can't be charged and you will be automatically unsubscribed from the service.
You can take advantage of more free trial offers by using our Virtual Credit Card for as many services as you like.
Learn more about DoNotPay's Virtual Credit Card by visiting this page.
How Much Does Sundance Now Cost After the Trial Period Ends?
After completing the free trial, Sundance Now users will be charged according to which billing period they selected during the sign-up process:
| | |
| --- | --- |
| Subscription Plan | Cost |
| Annual membership plan | $59.99, charged once per year |
| Monthly membership plan | $6.99, charged once per month |
What Are Some Alternatives to Sundance Now?
If you're interested in online streaming services for entertainment, you have many options to choose from! Here are some of the most popular alternatives to Sundance Now:
Netflix
Cost: Basic membership: $8.99/month, Standard membership: $12.99/month, Premium membership: $15.99/month
Benefits: Unlimited streaming of TV shows and movies, including Netflix Originals titles, streaming on multiple devices, and downloading to watch offline. No commercials.
Hulu
Cost: Ad-supported: $6.99/month, Ad-free: $12.99/month, Ad-supported Hulu + live TV with Disney+ and ESPN+: $69.99/month, Ad-free Hulu + live TV with Disney+ and ESPN+: $75.99/month
Benefits: Stream movies and TV shows on-demand, either with or without ads, depending on the price you choose.
Disney+
Cost: $7.99/month or $79.99/year
Benefits: Access to ad-free movies and TV shows from Disney-owned production companies, unlimited downloads on up to 10 devices, the ability to watch on four screens simultaneously
What Does DoNotPay Help With?

DoNotPay takes care of many situations you might not have the time or desire to handle yourself. Some of the ways we can make your life easier include:
If you want to save money and protect your credit card information, give DoNotPay's Virtual Credit Card a try today! We can help you get free trials for any service without having to worry about being charged.