How to Sign Up for Sun Nxt Free Trial Without a Credit Card

Sun Nxt is an online video streaming platform that offers entertainment content, including movies, series, and soap operas. It mainly targets local and diaspora Indian customers and has content in all the major south Indian languages. Customers can access content by subscribing to the service. Many customers subscribe to the free trial but forget to cancel their subscription.  offers a Virtual Credit Card that you can use for the  and avoid incurring unnecessary charges.
Does Sun Nxt Offer a Free Trial?
Yes.  offers a free trial to new customers during sign-up.
The duration of the free trial depends on the offer and ranges from 7-days or 30-days free trial.
The company may extend discounts and special offers to new customers in the form of coupons as a part of the free trial.
The free trial does not feature some of the premium content available on the paid subscription plans.
How Can I Get a Sun Nxt Free Trial?
Visit the Sun Nxt official website and create a user account.
Click on the Premium subscription option. You will find the type of free trial offer available at that particular time.
Click on the free trial and continue.
Then enter your credit card details and wait until the subscription is confirmed to start streaming content for free.
Does the Sun Nxt Free Trial Automatically Renew Into a Paid Subscription?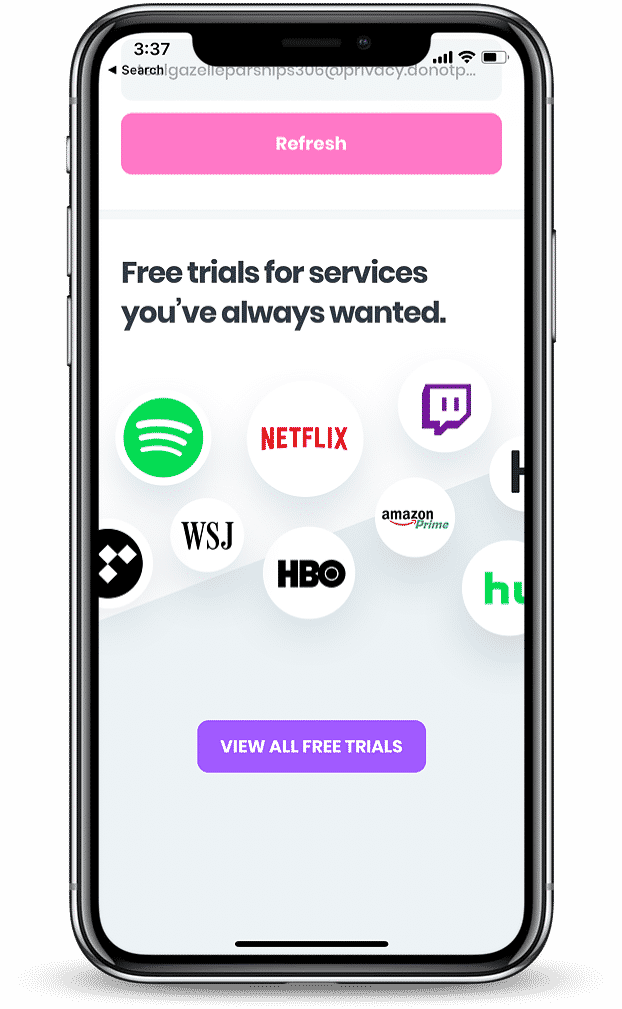 Yes. The free trial automatically becomes a paid subscription at the end of the trial period. The company charges the new user the amount applicable to their chosen subscription plan. However, subscribers may cancel their membership at any time before the expiry of the trial period without incurring charges.
Sun Nxt does not refund customers who forget to cancel their subscription at the end of the trial period. The company continues to provide content to such customers till the end of the month. Such customers are not entitled to other forms of compensation.
Avoid Automatic Renewal With DoNotPay Virtual Credit Card
Many Sun Nxt users forget to cancel their free trial subscription and continue to pay for a service they don't use. DoNotPay has an ingenious way of overcoming this problem. DoNotPay has a Virtual Credit Card that generates a random number and other credit card information you can use to subscribe to Sun Nxt.
Once the free trial expires, the company won't charge you because there's no money on the card. Plus, you will get unsubscribed automatically without needing to cancel.
How Much Does Sun Nxt Cost After the Trial?
Sun Nxt has monthly, quarterly, and annual subscription plans for its customers. Indian customers can subscribe to the basic and premium plans, while international users can only access the premium plan. The prices vary with jurisdiction.
Basic Plan
The basic plan allows users to access the platform with only one mobile device and features ads. Subscribers do not have access to download and casting options.
Premium Plan
Premium allows users to enjoy ad-free streaming and access the platform on mobile devices and large screens. Subscribers can stream content on four devices simultaneously.
Premium subscription plan prices:
| | |
| --- | --- |
| Monthly | $21.99 |
| Annual | $199.99 |
Sun Nxt also offers free plans which integrate free content with third-party advertisements. The transactional video-on-demand model allows subscribers to pay a fixed amount for specific content. Additional plans allow users to access limited content. Typically, the free subscription promotions require users to pay Rs 50 per month and are often limited to Indian customers.
What Will Sun Nxt Charges Look Like on My Statement?
0672 SUN NXT ITEM TEMPE AZ
CH Transaction - SUN NXT FEES
SUN NXT FEES PPD
0439 SUN NXT NEW YORK NY
ACH Withdrawal SUN NXT
SUN NXT TYPE: CLUB FEES ID: 1710602737 CO: SUN NXT
0282 SUN NXT
ACH WITHDRAWAL - SUN NXT
SUN NXT/CLUB FEES
0183 SUN NXT DALY CITY CA
AUTOMATIC WITHDRAWAL, SUN NXT FEES PPD
SUN NXT TYPE: CLUB FEES CO: SUN NXT
What Are the Most Popular Alternatives to Sun Nxt
Several streaming services that rival Sun Nxt in terms of content, coverage, and pricing. Some of the most popular ones are:
Hulu
Hulu is famous for original content and a variety of programs, including sports and friendly prices. 
Plans:
Hulu: $6.99/month for an ad-supported streaming library
Hulu (No ads): $12.99/month. Users can stream content without ad breaks
Hulu + Live TV with Disney + ESPN $69.99/month high-quality on-demand content and live streams of sports, news, and entertainment channels
Hulu (No Ads) + Live TV now with Disney+ and ESPN+ $75.99/month offers everything on the streaming library plus live TV with no ads
Amazon Prime Video
Amazon Prime features an extensive collection of music, movies, and TV series at a lower price than most competitors.
Amazon Prime membership: $12.99
Amazon Video membership: $8.99
HBO Max
HBO is a standalone streaming platform that features popular TV series, blockbuster movies, and HBO original content.
Basic: $7.99/month
Standard (no ads): $11.99/month
Netflix
Netflix is the most popular streaming channel due to its variety of original and diverse content and affordable prices.
Basic Plan: $9.99/month
Standard: $15.49
Premium: $19.99
What Else Can DoNotPay Do?
Our services are not limited to free trials. DoNotPay can help you with almost any service, including: