Sign Up For StreamYard Free Trial With This Virtual Credit Card

StreamYard is a live streaming studio that allows you to record and stream HD audio and videos from your browser. When using this cloud-based solution, your streams will be unique and customizable since you can easily add colors, overlays, logos, and images. It's no surprise that StreamYard is a popular streaming solution among podcasters and YouTubers.
Like with any service, it's good to sign up for a to check out if StreamYard is the right fit.
Does StreamYard Offer a Free Trial?
Yes, StreamYard offers a when you sign up.
With the free trial, you'll still be able to elevate your streaming experience to a whole new level. Nonetheless, you won't get the full suite of features that paying subscribers can access. Some of the features and capabilities you'll enjoy with the StreamYard free trial include live broadcasting, multi-streaming, customizable branding, Chroma keying, and audience engagement. The free trial will still allow you to make your streams appear professional.
How Can I Get a StreamYard Free Trial?
Signing up for the StreamYard free trial is super easy, and these are the steps to follow:
Visit the StreamYard website and click on the "Get Started" icon to create an account.
Key in your email address, then enter the six-digit code sent to you.
When the code is accepted, the StreamYard site will display a welcome message.
Depending on the streaming platforms you use, StreamYard will ask you to add up to six platforms, including YouTube, Twitch, Periscope, Facebook, and LinkedIn.
Start creating your broadcasts.
Like most streaming platforms, StreamYard requires you to provide your payment card details when you create an account. Before you start streaming, you'll provide your billing information, including payment card details, full name, phone address, and ZIP code.
After entering your billing information when signing up for the StreamYard free trial, you won't be charged until the trial period ends. Also, StreamYard reserves the right to cancel the free trial at any time and without notice.
Does the StreamYard Free Trial Automatically Renew Into a Paid Subscription?
Yes, on the last day of the StreamYard free trial, you'll get billed for the subscription you selected during signing up. However, StreamYard will provide you with prior notice 24 hours before the free trial ends so that you terminate your subscription before getting billed. You can still access the service after canceling your subscription until the free trial period ends.
If you fail to cancel your subscription and StreamYard deducts money from your bank account, you can lodge a refund request. However, the streaming service only considers refund requests on a case-by-case basis. Moreover, refunds are at the discretion of StreamYard.
Avoid Automatic Renewal With DoNotPay Virtual Credit Card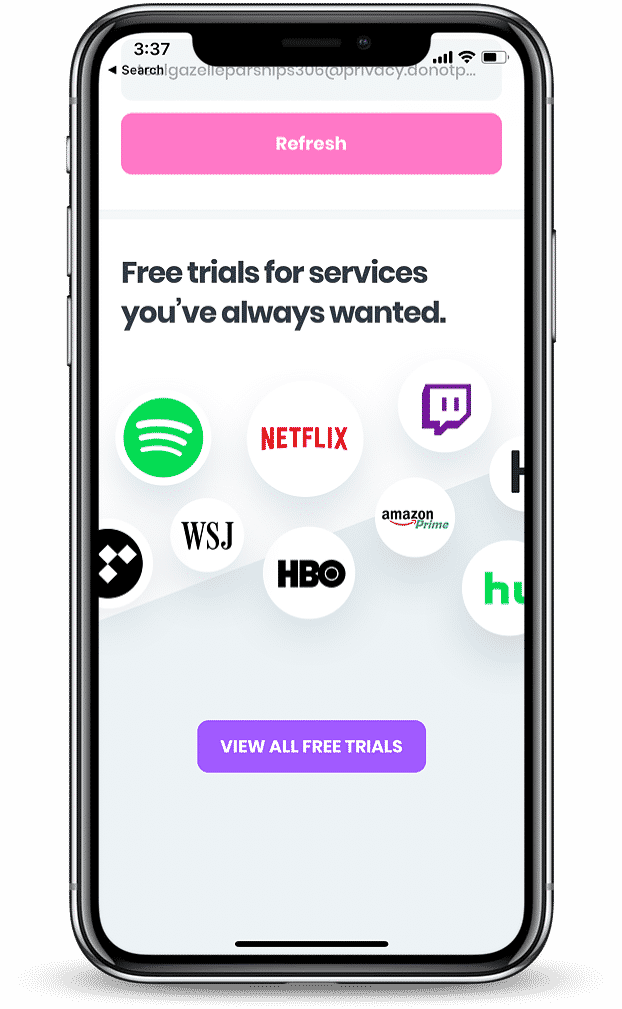 While it's common for Internet-based services like StreamYard to offer free trials, 50% of subscribers forget to cancel the free trials. Most end up getting charged for services they don't want. When you use DoNotPay to create your StreamYard free trial account, you won't have to worry about auto-renewals and risk losing money.
DoNotPay generates a virtual credit card, which you use to sign up on Streamline. This credit card isn't linked to any bank account, and therefore, doesn't have any money on it. You can use it to sign up for any service without the risk of losing money or providing your credit card payments to people you hardly trust.
Here's how it works:
Search Free Trial Card on DoNotPay and enter the company you want a free trial for.
We'll automatically generate a virtual credit card that you can use for that merchant. Copy the card details shown on your screen.
Use the card to sign up for your free trial and sit back to relax and enjoy.
StreamYard won't auto-renew your subscription when the free trial ends. Instead, they'll drop you from their subscriber list upon realizing that the free credit card provided to you by DoNotPay isn't linked to any bank account. With the DoNotPay credit card, you don't have to worry about canceling your subscriptions on losing your cash.
How Much Does StreamYard Cost After the Trial?
StreamYard is available in two plans, Basic and Professional.
Plan
Features
Monthly Fee
Basic

Unlimited streaming
10 on-screen participants
Custom RTMP destinations
Logo
Overlays

$20
Professional
Everything in Basic, plus:

Full HD (1080p)
Individual audio recordings
Multi-Stream (8 destinations)

$39
What Will StreamYard Charges Look Like on My Statement?
When StreamYard deducts money from your bank account, your statement might read like:
| | | |
| --- | --- | --- |
| POS PUR STREAMYARD.COM 1MO PLAN 7075598362 NY US | CHKCARDSTREAMYARD.COM 1MO PLAN 7075598362 NY US | CHECKCARD STREAMYARD.COM 1MO PLAN 7075598362 NY US |
| POS Debit STREAMYARD.COM 1MO PLAN 7075598362 NY US | POS REFUND STREAMYARD.COM 1MO PLAN 7075598362 NY US | PURCHASE STREAMYARD.COM 1MO PLAN 7075598362 NY US |
| PRE-AUTH STREAMYARD.COM 1MO PLAN 7075598362 NY US | CHKCARD STREAMYARD.COM 1MO PLAN 7075598362 NY US | Visa Check Card STREAMYARD.COM 1MO PLAN 7075598362 NY US MC |
| POS PURCH STREAMYARD.COM 1MO PLAN 7075598362 NY US | Misc. Debit STREAMYARD.COM 1MO PLAN 7075598362 NY US | PENDING STREAMYARD.COM 1MO PLAN 7075598362 NY US |
What Are the Most Popular Alternatives to StreamYard?
Some of the notable alternatives to StreamYard include:
Melon
Be.Live
Streamlabs
Restream
Cloudcast
OneStream
What Else Can DoNotPay Do?
Besides helping you sign up for a StreamYard free trial without risking your money, DoNotPay can help you sort everyday issues, including:
Do you want to know how else DoNotPay can help you? !