Sign Up For Stan Free Trial With a Virtual Credit Card

Streaming service Stan offers tons of movies, series, and sports rebroadcast for its viewers. Stan is the Australian version of popular streaming services like Amazon, Netflix, and others. Since Stan understands the importance of free offers, the Australian internet service offers a free trial for you to stream your favorite TV programs.
You have to sign up on Stan's website to start using their service. In this article, you'll learn how to avoid getting charged after getting a .
Does Stan Offer a Free Trial?
Yes, trial for their new customers. After that, you will pay a monthly fee to access their premium content. All you need to start the Stan free trial is a compatible device and internet connection. With zero ads and full access to Stan features, you have more to gain with this free trial.
How Can I Get the Stan Free Trial?
Getting started with the Stan free trial is easy. Once you're 18 and over and reside in Australia, you're good to go with an email address and credit card. All you need to do to start the free trial are on the list.
Go to the Stan homepage
Enter your email address
Tap on "start your free trial"
Follow the pop-up to choose your preferred Stan free trial plan
Select the premium plan to enjoy all its features
Provide your details, password, credit card information
Accept the service agreement terms
Explore Stan premium content
Does Stan Automatically Renew Into a Paid Subscription? 
Stan already has your payment details when you sign up for the free trial. So, you will start to pay a monthly fee immediately after your free trial ends. To avoid unauthorized billing, cancel your 30-day free trial before it expires.
How Much Does Stan's Service Cost When the Free Trial Is Over?
If you selected the premium plan, you'll pay a monthly fee of $19 after your 30-day free trial ends. Customers on basic and standard plans pay $10 and $14 per month, and HD and 4K streaming are unavailable for those on the basic plan.
| | |
| --- | --- |
| Membership plan | Monthly cost |
| Basic | $10 |
| Standard | $14 |
| Premium | $19 |
How Can I Cancel Stan's 30-Day Free Trial?
Make sure you cancel your free trial before it expires to avoid getting charged. To do that:
Go to Stan's website
Move the mouse to your profile name
Choose manage account from the dropdown
Scroll to subscription information
Tap on "cancel my subscription"
Click on "continue to cancel"
Tap the OK button to complete the cancellation process.
How Can You Stop Paying Subscription Charges Even When You Forget to Cancel Your Stan 30-Day Free Trial?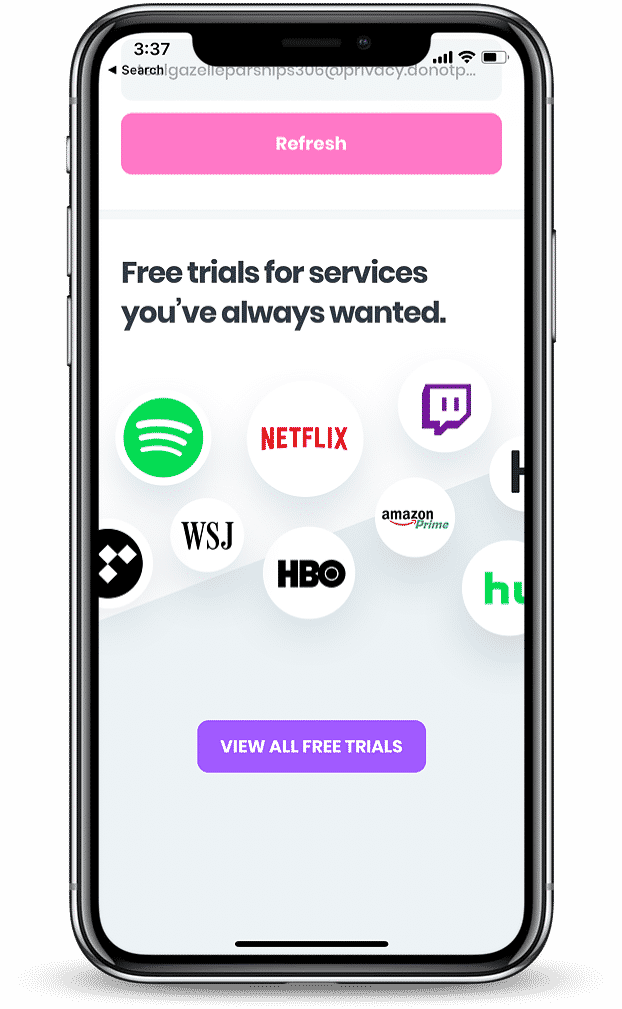 DoNotPay virtual credit cards offer a more convenient way to avoid paying subscription fees when your Stan free trial ends.
It's possible to sign up for a free trial, add your credit card information, and then forget about it. Since you failed to cancel your subscription, you'll start paying fees when your free trial ends. You can replace your actual credit card with a virtual type to avoid spending money.
Since we're likely not to follow every free trial we sign up for, a DoNotPay virtual credit card is a reliable way to save money.
The DoNotPay virtual free trial credit card looks like a standard credit card to any service, and it also comes with a unique number, expiry date, and CVV. You don't need to use your real name or address when signing up with this card.
Some Facts You Should Know About the DoNotPay Virtual Credit Card
DoNotPay virtual credit card prevents unauthorized payments from your bank account.
Protect your credit information
Credit card is safe when the site is under attack
Zero dollars lost
How Can I Use the DoNotPay Virtual Credit Card?
Even when you forget to cancel your subscription, you won't get charged with this virtual card. You can only transact once with this card; so, you don't have any business with canceling a free trial. Go ahead with any free trial you want, signup, enjoy the service, and never get charged.
If you don't want to give your credit card information when signing up for free trials, get help with DoNotPay. Follow these simple steps to protect yourself:
Search free trial card on DoNotPay and enter Stan as the company name.
We'll generate random credit card information for you.
Copy the card details shown on your PC screen.
Sign up for Stan's free trial with the card.
Relax and enjoy your free trial
What else can DoNotPay do?
DoNotPay does a lot to help solve customer problems. First, we can help you enjoy Stan's free trial without exposing your credit card details. Since your card information was never there, you won't have to worry about losing your money when the free trial session ends. Thanks to the DoNotPay virtual credit card.
If you don't like the services you get from any company, you can rely on DoNotPay to help you cancel your subscription. You can  services to see other ways we can help you with:
Contact DoNotPay to start using our Virtual Credit Card to enjoy Stan 30-day free trial.