Get Spyic App Free Trial Easily With This Virtual Credit Card

Spyic is one of the better-known spying apps for both iPhones and Android devices. Spying on a phone or tablet is something that sometimes has to happen. Maybe you have a mischievous preteen getting into things they shouldn't. Or perhaps you have a company phone used by several employees. When you need to know what's going on with a phone at all times, you need a spy app like Spyic. But is Spyic the right device spying and tracking app for you? Does it have all the right features, a dashboard you can understand, or a reasonable payment structure?
If you're looking for a , you've come to the right place. DoNotPay can help you get the temporarily free Spyic experience you need to be sure you've found the right spy app for your needs.
Does Spyic Offer a Free Trial?
No, but it does have a money-back guarantee window. Spyic is an app designed to help you keep track of activity on a phone or mobile device. It has a fairly high-priced payment structure which is why a free trial is certainly of interest. While they do not officially offer free tracking time with the Spyic app, they do offer a money-back guarantee like many subscription services.
Spyic has a 60-day money-back guarantee. If you cancel your Spyic subscription and/or account before the end of two months, you will be fully refunded the cost of your Spyic subscription payment.
How Can I Get a Spyic Free Trial?
There is no Spyic free trial, but you can - if you cancel before those two months are up. For someone who only temporarily needs to track a phone, this is a pretty good deal. But you need to cancel your subscription within the window - and cancel it completely - in order to actually get access for free.
You will need to make an account, then buy a subscription, then cancel that subscription to get your Spyic free trial experience.
Create a free Spyic account
Your email becomes your login ID
Sign up for a Spyic paid subscription
Install or access Spyic on the target device(s)
Explore Spyic features and functionality
Cancel your Spyic account before 60 days
You can sign up for basic and premium, for one device or up to three devices tracked. You can sign up for one month, three months, and twelve months for all three account types. The 60 day guarantee applies to all accounts.
Why Can't You Find the Spyic App or Website?
Having trouble finding Spyic? So did we! Spyic may have a reputation as a decent spying app, but it's also untrusted by Chrome, Edge, and most reputable browsers. The app also isn't available on the Google Play Store for Android or the Apple Store for iPhones. It does show up on search results but if you try to visit Spyic.com (the official site) you are likely to get a DNS error in your browser. We're not sure exactly what Spyic.com did to receive this treatment, but it is nearly unfindable and unreachable right now.
The only way we found to even reach the Spyic site through a normal browser is using a free proxy website (like Croxy Proxy). A proxy site essentially loads the page on a separate server and shows you a version that can't reach your computer.
Why is it so distrusted? We don't know. But if you want to find Spyic.com to try this app, try these steps:
Navigate to CroxyProxy.com
Enter "Spyic.com" into the URL form and click "Go!"
Let Croxy Proxy load Spyic.com for you
It will load in a proxy frame with the Croxy Proxy header at the top of the page
Be careful with your browser and information.
We are unsure why Spyic is getting hostile website treatment and it may be a security risk.
Does the Spyic Free Trial Automatically Renew Into a Paid Subscription?
Yes, in a way. The Spyic free trial is really a money-back guarantee. You sign up with a paid subscription and, yes, after 60 days that payment will not be refunded. The next time a billing period rolls around (depending on whether you chose 1, 3 or 12 months) you will be charged the renewed subscription fee.
Avoid Automatic Renewal With DoNotPay Virtual Credit Card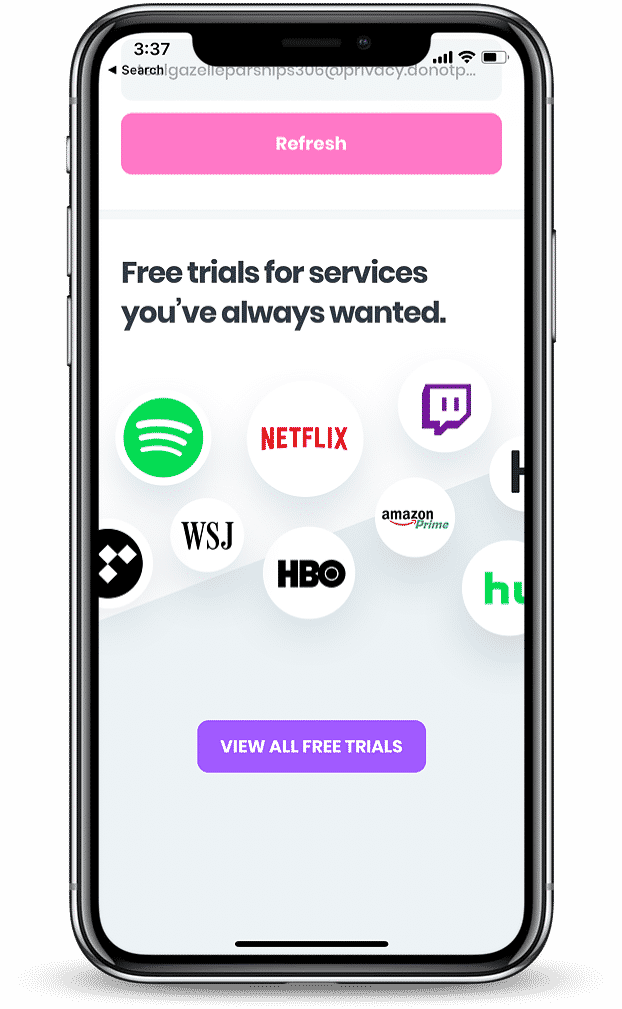 Spyic has a clever way of encouraging users to pay while providing the half-measure of an almost . If you need to take care of your Spyic account briskly before the guarantee period is over, DoNotPay can help you cancel the subscription and/or cancel the entire account with ease. As for real free trials, we have a great solution for those as well.
Want to start a free trial without getting charged for a subscription at the end? DoNotPay can help by generating a virtual credit card. A virtual credit card is a randomized yet system-accepted credit card number that you can enter when signing up for free trials instead of your personal payment information. The card appears valid but is not connected to any payment account. When the free trial tries to roll over into a paid account, the payment will bounce and you will be both subscription and cost-free - having enjoyed your entirely free trial without the account-canceling hassle.
You can generate as many free virtual credit cards with DoNotPay as free trials you want to try. Unfortunately, it won't work in the case of Spyic because they charge first, and then invite you to cancel if you want a refund.
How Much Does Spyic Cost After the Trial?
Spyic comes in several available tiers, more than usual for a subscription service. First, there are three levels of service, then there are three durations to choose from. The cost of Spyic varies from $70/month to $120/year.
Package
Cost
Benefits
Basic

$40 for 1 month
$60 for 3 months
$100 for 1 year

One device with limited feature list
Premium

$50 for 1 month
$70 for 3 months
$120 for 1 year

One device complete feature list
Family

$70 for 1 month
$100 for 3 months
$200 for 1 year

Three devices with complete feature list
What Else Can DoNotPay Do?
DoNotPay is here to make your life easier, and in more ways than just free trial cards and cancellations. Here are just a few more ways we can save you time, money, and hassle this year.