Get SpyBubble Free Trial Securely With This Virtual Credit Card

If you are constantly on the internet, chances are you may have bumped into ads from companies offering free trials for anything from increasing your muscles to getting whiter teeth. While free trials are not illegal, consumers should take extra caution before blindly signing up.
Having said that, it is very important to understand how these free trials work to avoid being scammed. DoNotPay can help you subscribe to a without committing your money. Read along to find out how.
What Is SpyBubble?
SpyBubble is a monitoring application designed to keep an eye on kids' activities online. The application allows parents to protect their children from online predators and bullies. This software has a set of monitoring features such as media files and tracking calls, that enable you to view your child's activities online, wherever you are. This application can also be used to spy on a cheating partner. You can use the application with both Android and iOS devices. SpyBubble is also compatible with any browser.
How Does SpyBubble Work?
This application works in background mode, meaning that it is almost impossible for someone to detect the app on their phone. Once the application is installed on your child's device, it begins collecting data on your child's activities on the internet. This information is thereafter sent to your SpyBubble account and can be accessed remotely at any time.
It is worth noting that before downloading the app, you will first have to create an account with SpyBubble and purchase a subscription.
Is SpyBubble Legal?
Spy apps in general have been approved to be used in the market on the condition that they are not used for any criminal activities. The following are examples of instances where spy apps can be used:
To monitor children's activities on the internet
To monitor a company-issued device provided that the employee signs a consent form
To monitor a device believed to help in a criminal investigation.
However, one thing to note about SpyBubble is that, in addition to monitoring online activities, the application records phone conversations. In most states, this is illegal. It is, therefore, important to check the laws of your state or county before purchasing this software.
Does SpyBubble Offer a Free Trial?
No, SpyBubble does not offer a free trial, but it has an option to . You can find this on their website. To access the demo version, however, you will have to sign up for the 60-day money-back guarantee option. The demo version works the same way as the real version. As mentioned, the signing up process will require your billing information. If you are satisfied with the service, you will be billed a one-time payment. If you are not satisfied with the service, you can request to get a refund.
How Much Will I Pay for SpyBubble?
SpyBubble offers two plans, Basic Premium Plan and Pro Premium Plan with the following features;
Plans
Price
Benefits
Basic
$25/month

Calls
Emails
GPS locations
SMS and MMS
Multimedia files
Emails
Browsing history
Installed applications
Contacts

Premium
$59/month

$99 (3 months)

$168 (12 months)

All of the Basic features
Revolutionary Call Listening feature (Listen to call made to and from the target phone)
Most Popular Alternatives to SpyBubble
We all know that SpyBubble is one of the most powerful and easy-to-use spy software in the market. While this application is trustworthy and good at what it does, there are other alternatives to it, such as:
1. Google Family Link
What is better than an application from a giant like Google? Google Family Link is ideal for parents who want to spy on their kids' activities constantly online. The application has advanced features. In addition to letting you monitor your child's online activities, the Google Family link also enables you to manage apps on your phone and suggest new ones.
2. FlexiSPY
FlexiSPY is also another powerful spy software. It gives you control of features like the microphone, key log, and camera. What is more, you can use the application to monitor social media sites such as Facebook, Instagram, and WhatsApp, just to mention a few.
Use DoNotPay Virtual Card to Avoid Automatic Renewal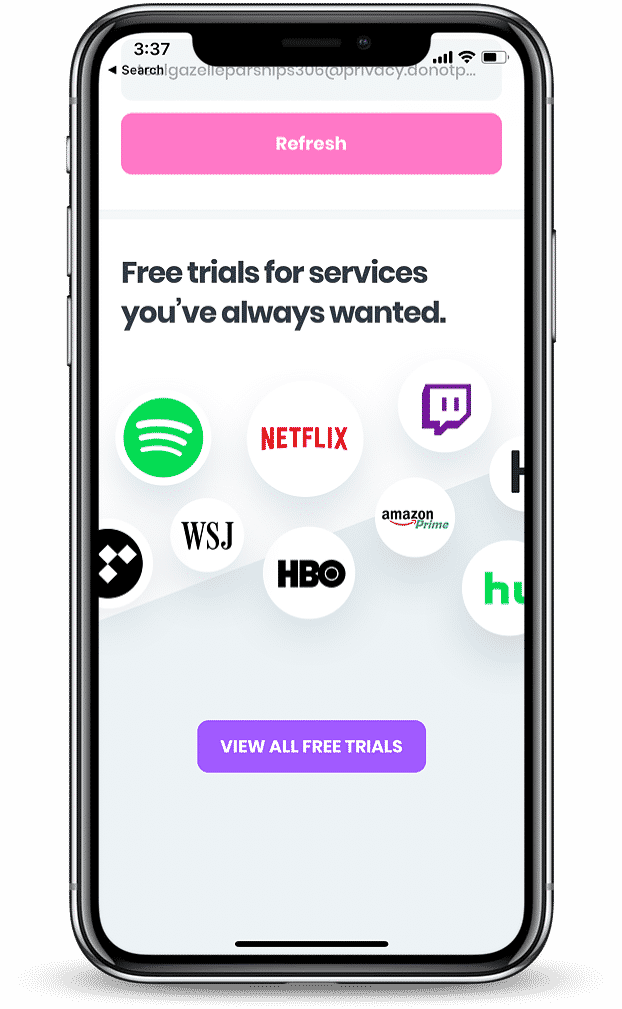 It is common to sign up for a free trial and forget to cancel it on time, thus ending up incurring unwanted expenses. It is equally easy to miss information in the fine print and also end up making unexpected payments. To avoid all this, you can use DoNotPay's Virtual Credit Card.
If you want to sign up for a free trial without being charged for it, DoNotPay has got you covered in 3 easy steps:
Search for free trial card on DoNotPay and enter the company you want a free trial for.
We'll automatically generate a virtual credit card that you can use for that merchant. Copy the card details shown on your screen.
Use the card to sign up for your free trial and sit back to relax and enjoy!
*The card will be deactivated and not usable once it's been used once.
Benefits of Using DoNotPay's Virtual Credit Card:
The following are the main perks of using DoNotPay's Virtual Credit Card:
You will get a new card number every time you sign up for a different trial.
Because the card has no money, it will be impossible for a company to automatically charge you at the end of the trial period.
You will be protected from cybercriminals because you will not use your real credit card or even your real name to sign up for the trial.
You will have the power to only pay for services you need.
What Else Can DoNotPay Do for You?
DoNotPay can offer you many other amazing services, which include, but are not limited to:
Sign up with today to get started.