How to Get SportsAccess Free Trial With a Virtual Credit Card
People have used their  to find countless sporting events that they likely would not have been able to find had it not been for the existence of this wonderful program. There are so many sporting events taking place all around the world at any given time that it is simply not possible to air them on all television all the time. Thus, many events end up being streamed on the Internet. This is great news for sports fans, but it is not always easy to find those events.
That is what people use SportsAccess for. DoNotPay can help you get the free trial of Sportsaccess that you need to start viewing your favorite sports no matter where they are on the Internet.

What Is SportsAccess?
This is the premier program for discovering the sporting events that you want to watch on the Internet quickly and easily. What  does is:
Scours the Internet looking for the sporting events that you want to watch
Updates you when there is an event that you have been meaning to watch
Can take you to the various sites to start watching your sporting events live
Does cost you anything beyond the SportsAccess subscription fee to enjoy
There are simply some can't miss sporting events that you don't want to take a chance on not being able to see. If you don't have access to the particular channel that they happen to air on, you could miss the heart-stopping action. Instead of taking that risk, why not consider looking at SportsAccess as your go-to service for discovering all of the events that you need to watch today?
Can You Get A Free Trial? 
Yes. It is challenging to imagine that a website that offers as much access as SportsAccess does would be interested in providing people with a  of their service, but that is exactly what they do. They understand that the public is longing for the opportunity to sample what they have to offer and see if it is worth it.
The table below explores the free trial.
To receive your free trial you will:

Set up an account with SportsAccess
Select the "free trial" option
Put in your identifying information and credit card number (more on this later)
Enjoy 2 days of free access to SportsAccess
You can start viewing the games you want to see right away for free if you follow these steps. That said, you may have noticed that you only get 2 days of free access to the platform if you sign up for the free trial.
That is not a very long time at all, and you might find yourself somewhat frustrated if you forget to cancel after that short period and are then charged for a full month of the service. It can happen easily, and you don't want to let yourself become the victim of that. Thus, you should consider DoNotPay's virtual credit card offering. 
Virtual Credit Cards Are Here
Virtual credit cards were invented by DoNotPay to protect consumers from unwanted charges. If you use our credit card, you will gain access to the following benefits:
Brand new credit card numbers with each online purchase you make
The chance to avoid outsized fees and irritation that can come with a standard credit card
More of an anonymous status than if you used a card directly tied to your name
Greater freedom and flexibility to sign up for the types of services that truly benefit you
A better chance at getting the services you need right when you need them
No more auto-renewals
The DoNotPay virtual credit card has been designed with the user in mind right from the start. You can enjoy its many benefits when you sign up, and you can put your worries behind you when you sign up for yet another free trial of some kind of service. You don't need to live in fear of auto-renewals any longer. Sign up for all of the free services you want with this card.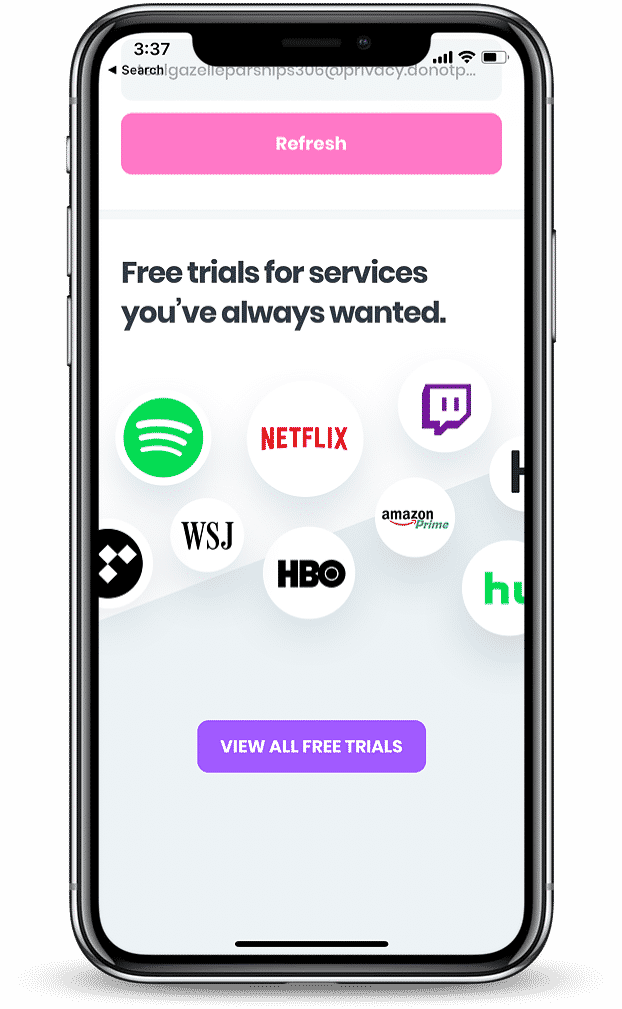 What Other Ways Has DoNotPay Helped People? 
It is fair to say that DoNotPay is one of the best companies for helping people get the results they want out of the various tasks that they have to take on in the course of their day. It is pretty common for people to say that they don't like to deal with the following:
Any time you need legal help, help with paperwork, or an attorney on your side, try DoNotPay.