How to Get Splunk Free Trials With a Virtual Credit Card

If you need real-time data analytical software, then Splunk software might be the right fit for you. What's better, the software is available on a free trial to clear up any reservations you might have regarding the product. And best of all,  allows you to access Splunk free trial without having to surrender your credit card information.
Does Splunk Offer a Free Trial?
Yes,  service, and you can switch to a paid subscription if you like the software. You can use the cloud-hosted environment within the first 15 days and then use it for the production deployment that lasts 60 days.
Splunk is a software business that creates Web-based tools for searching, monitoring, and analyzing machine-generated data. Its free trial version only offers the Splunk cloud platform and Splunk enterprise.
Splunk free trial has the following features:
The free license gives minimal access to Splunk Enterprise features.
The free license is for a single-instance, stand-alone installation.
You can index 500 MB each day with the Free license. You'll be issued a license violation warning if you go above that limit.
If several licensing violations are noticed, the free license will prevent you from further searches.
The paid subscription version has the following features:
Unlimited access to Splunk Enterprise features
Complete data index daily
Access to Splunk cloud platform
Access to Splunk SOAR and enterprise security
Access to Splunk observability cloud and application performance monitoring
Access to Splunk infrastructure monitoring and IT service intelligence
How Can I Get Splunk Free Trial?
You can  using the following procedure:
Create an account and login into Splunk web.
Add your details, including company, occupation, and payment options.
Click the products section on the platform.
Select "Splunk Cloud" or "Splunk Enterprise" according to your preference.
Download your free trial preference.
Start the free trial after the installation, as it runs for 60 days.
Does Splunk Free Trial Automatically Renew Into a Paid Subscription?
Yes, Splunk has auto-renewal if you added payment options like credit cards during the subscription. If you agree to Splunk's general terms and services, the company reserves the right to renew your subscription after the trial period is complete.
Avoid Automatic Renewal With DoNotPay Virtual Credit Card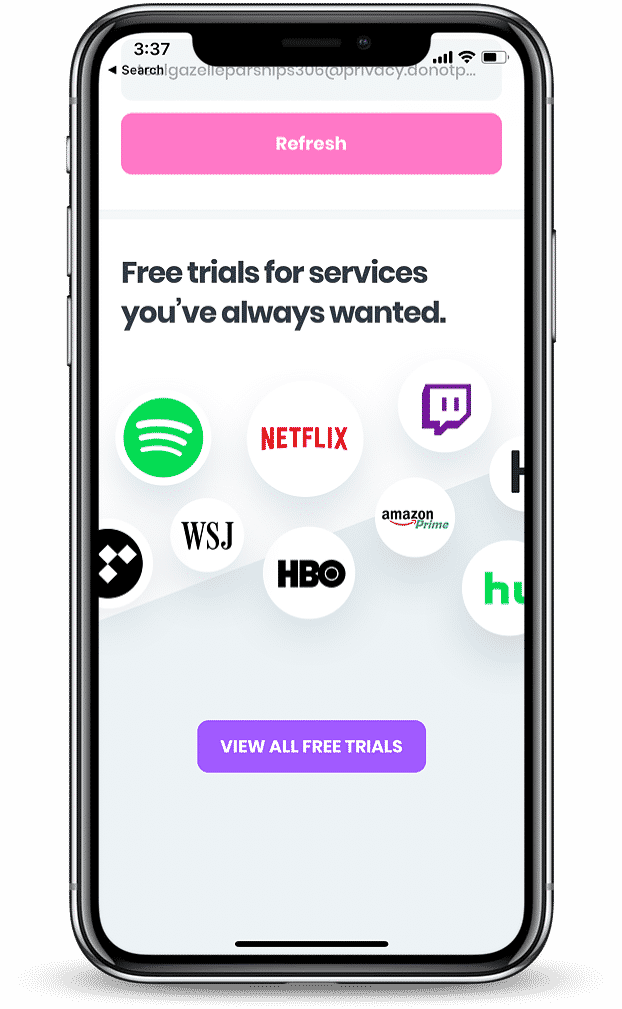 How many times have you signed up for a free trial, entered your credit card information, and forgotten about it? It is easy to forget about free trial versions like Splunk with a 60-day trial because of the long period.
While many companies promise not to charge your card during the free trial time, your card is vulnerable to charges once the trial period ends. They take advantage of the fact that most people don't cancel their trials on time, allowing them to charge your card many times before you realize you're a paying client.
Is It Possible to Sign Up for Free Trials and Not Get Charged?
You can sign up for free trials without getting charged.  provides you with virtual cards for free trials. You may sign up for free trials using DoNotPay's virtual credit cards since they can dodge verification, and you will never be charged because the cards don't perform any transactions.
What Is DoNotPay's Virtual Credit Card?
Virtual credit cards are temporary credit card numbers generated randomly by various firms. They may sign up for free trial services or conduct secure internet transactions utilizing phones. They're linked to your genuine credit card, but they're filled with simulated data.
DoNotPay will offer you a free virtual credit card if you log in and apply for the card. DoNotPay's virtual credit card works when you:
Visit DoNotPay's website, look for a free trial card and input the name of the firm you'd want to try for free.
DoNotPay will automatically produce a virtual credit card for you to use with that merchant. Copy the card information that appears on your screen.
Sign up for your membership premium with the card, then sit back and relax!
Note that the card can only be used once to prevent automatic renewals on your credit card.
How Much Does Splunk Subscription Cost After the Free Trial?
Duration
Subscription Cost
Splunk IT Solutions
1 month
$40

$240

$480

Splunk Observability Solutions
1 month
$65

$130

$260
What Will Splunk Subscriptions Look Like in My Statement?
Splunk subscription charges will appear on your bank statement, like other subscriptions. It will be as follows:
| | |
| --- | --- |
| SubscriptionFromSplunk.co | SPLUNK.COM*IMTYUGHN 944-482-478 CA |
| DebitFromSPlunk.co*$40 | PaymentOzempico.co |
| OZEMPICO.COM*VGBILLIN 988-792-658 CA | OZEMPIC.CO*ILRIXI |
| HBO DIG SV | HBONOW (846) 798-935 |
| (846)-879-935 CA GOOGLE *HBO DIG SV INC | MIJ*NetflixNow NY |
| NETFLIXNOW*IGRKCNHT (898) 473-9969 | NETFLIX.COM $19.99 (898) 473-9969 |
What Are the Popular Alternatives to Splunk?
Analytical Software
Charges
Features
LogDNA

Standard plan $1.5/GB per month
Enterprise plan $3/GB per month

A full feature 14-day trial
Hybrid multi-cloud feature
Prioritizes speed and accessibility
Offers a private cloud

Elastic Stack

Standard $16/month
Gold $19/month
Platinum $22/month
Enterprise $30/month

Data security alerts
Third-party alerting actions
Searchable snapshots

Sumo Logic
Monthly plans for $108 per/GB
Covers various services such as Google Cloud, Azure, AWS, and Docker.
What Else Can DoNotPay Do?
Free trials are not our only specialty. You can open DoNotPay and find help with any of the following:
Get free trials for Splunk and other platforms by signing up with DoNotPay.