How to Get a Sony LIV Free Trial With a Virtual Credit Card

Sony LIV is a streaming television channel based in India and is primarily available in that region. Sony LIV on its own is not available in the US. However, you can find Sony LIV as a channel on the content library of Sling TV. Right now, Sony LIV can be added to your Sling TV service for $10 or less alone or as part of a package content deal.
Of course, if you're not sure if Sony LIV is a channel you're interested in - or are visiting the US temporarily - you may be looking for a handyto explore before committing to a monthly subscription.
Getting a Sony LIV Free Trial Through Sling TV
Are there free trials for a Sony LIV subscription? Technically, yes. But they are all in India. Free trials for Sony LIV are typically offered through partnerships. For example, you can get 6 months of Sony LIV through Paytm, Times Prime, Mi TV, and Xiaomi devices.  are extremely common in India and are a popular partnership to make.
Sony LIV Free Trials in India
Paytm First
Times Prime
Mi TV
Xiaomi
Flipkart SuperCoins
Sony Live Free Trials in the US
Through many apps and services, you can find discounted or free subscriptions to Sony LIV. But here in the US, Sony LIV is only available through Sling TV and there are not any free trials or brand partnerships focused on the India-based media channel at this time. However, it is extremely affordable to add to your streaming subscriptions through Sling TV.
How Can I Get a Sony LIV in the US?
Watching Sony LIV in the US has become easier since Sling TV picked up the channel as part of an international content expansion. Members of the Sling TV service can watch Sony LIV shows and movies by adding the channel subscription to their sling account. There are two ways to get Sony LIV through Sling TV. You can buy the channel individually or purchase the Desi Binge package of four channels popular in India.
Product
Price
Package
Sony LIV on Sling TV
$6 per month
Desi Binge on Sling TV
$10 per month

Sony LIV
Voot
Eros Now
MyOne
Manage Your Free Trials With DoNotPay Virtual Credit Card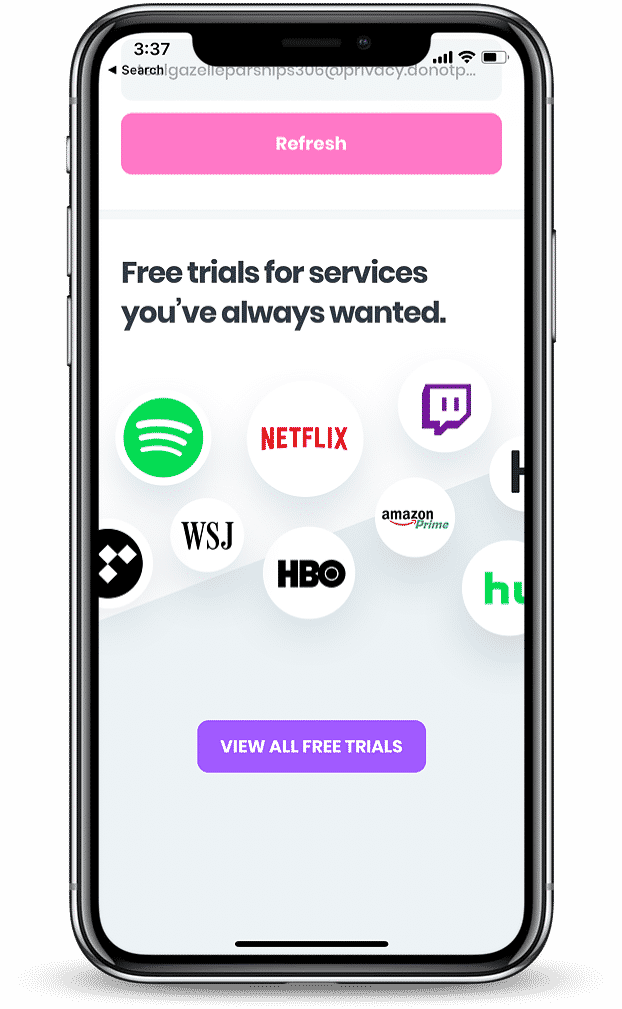 When you are experimenting with a new subscription, it's important to be prepared to manage the account in case you do or don't decide to continue using the service. If you were looking for a free trial because you want a short-term experience, you need the ability to quickly cancel the service and stop charges to your payment card. For example, we can help you cancel your Sling TV account should that become something you want.
Cancel Any Account
Virtual Credit Cards
Direct To Customer Service
File a Complaint
Get Refunds and Returns
If you were looking to dip your toe into Sony LIV content and decide if the mix of shows is right for you, then the ability to cancel at will is part of the experience.
If you do find a free trial you want to explore, you can protect yourself from that first rollover subscription cost with a virtual credit card. It's all too easy for a free trial deadline to slip your mind. A virtual credit card makes it impossible for you to be billed without deciding to go through with the subscription.
When the free trial asks for your payment information, head to DoNotPay for a free virtual credit card number. This one-use card will be accepted as valid but does not connect to any financial account to draw from. This way, the rollover trap simply does not work while you test out free trials that are truly free.
Why Use DoNotPay to Get Free Trials and Don't Get Charged 
DoNotPay is fast. Applying for free trials independently is time-consuming. Therefore, enjoy your SPSS experience with DoNotPay.
DoNotPay is easy. It helps you avoid filling out many long forms. Wait for the feedback as DoNotPay ensures that your interests are well taken care of.
DoNotPay is successful. We have been tried, tested, and verified.
What Else Can DoNotPay Do?

What else can DoNotPay do to make your life easier this year? Whether you are traveling, working on your career, or crossing items off your to-do list, DoNotPay has dozens of services that can make your daily tasks easier. Deal with parking tickets the easy way. Cancel online accounts and have your data deleted to protect your personal information. Skip the hold music for expedited customer service.
DoNotPay can do it all for you, taking the tedium out of even your most challenging personal chores. Explore our vast selection of services, products, and tools to discover new and interesting ways we can help you.