Sign Up For SmartDraw Free Trial Securely With This Virtual Credit Card

SmartDraw is an enterprise-grade diagramming service that is powerful and easy to use. The diagram and chat tool helps businesses manage their diagramming process via predefined templates to create organizational charts, infographics, mind maps, network designs, and more. The SmartDraw free trial allows you to access the service's full functionality for seven days.
Does SmartDraw Offer a Free Trial?
Yes, offers a seven-day free trial available on any device and accessible on a web browser. The free trial offers you SmartDraw's full functionality. However, all exports and printouts from SmartDraw's Trial Edition have a watermark unlike in the purchased version.
How Can I Get a SmartDraw Free Trial?
You can get your SmartDraw Trial Edition by visiting cloud.smartdraw.com and signing up. You can sign up using your email address and a password or using your Google account. Once you sign up, you agree to SmartDraw's Terms of Service and its Privacy Policy. You don't need to leave your credit card information when signing up.
Does the SmartDraw Free Trial Automatically Renew Into a Paid Subscription?
No. SmartDraw does not automatically renew your free trial into a paid subscription. You only give out your credit card information when purchasing the service and not when signing up for the free trial. Therefore, you don't need to worry about canceling your free trial to avoid an automatic paid subscription and charge.
SmartDraw's terms and conditions do not mention any refund policy.
Avoid Automatic Renewal Using DoNotPay Virtual Credit Card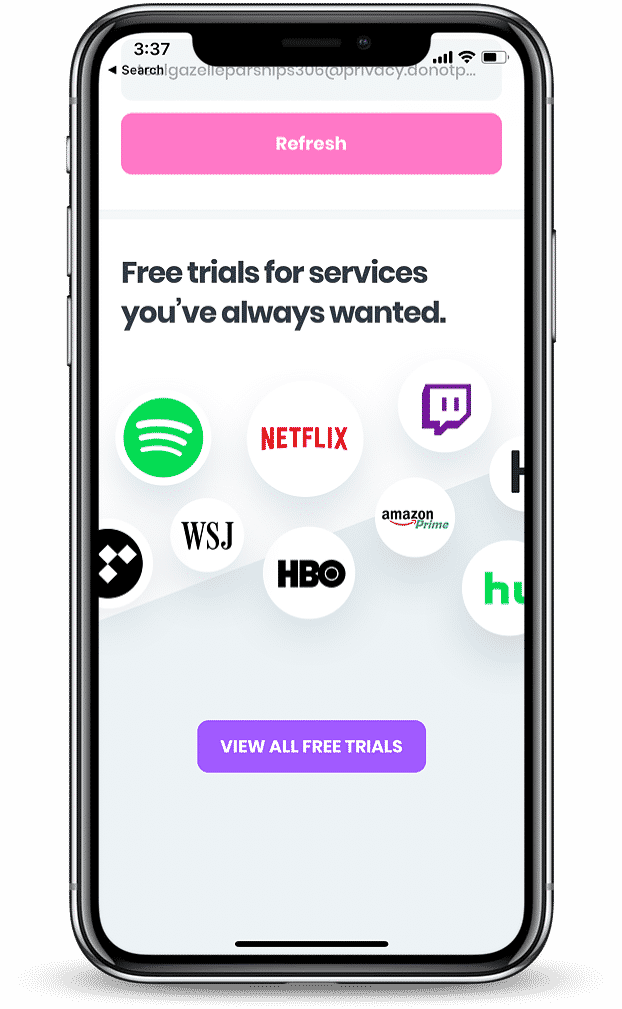 Free trials are enticing because they allow you to enjoy a service for a period – free of charge. So, whether it's a subscription service like SmartDraw free trial, streaming service like Hulu, or membership like Amazon Prime, companies offer free trials to get customers to sign up. However, there is a caveat. They almost always require customers to enter their credit card information.
The companies promise not to charge anything to your card during the free trial but will start charging you once it's over and you failed to cancel the free trial. These companies are counting on the fact that most customers forget to cancel their trials, leading to automatic charges on their cards several times before they realize they are paying subscribers.
Fortunately, DoNotPay offers virtual credit cards to help you sign up for free trials without worrying about entering your credit card information. The free virtual credit cards bypass authentication but don't process any charges. They allow you to protect your credit card information while you enjoy free trials and you don't have to worry about canceling them on time because you won't get any unwanted charges.
Furthermore, you can access DoNotPay on any web browser, making it a convenient and safe option you can use on any device.
What Are Virtual Credit Cards?
Virtual credit cards are unique and randomly generated to bypass any online authentication when signing up for free trials. You connect them to your actual credit card when generating them but they produce fake credit card information. They contain randomly-generated virtual credit card numbers, expiration dates, and Card Verification Values (CVVs).
Virtual credit cards work similarly to your standard chip credit card. When you use them, the merchant receives the single-use token that expires after use. Therefore, fraudulent merchants cannot misuse your credit card.
How Much Does SmartDraw Cost After the Trial?
Your access to the SmartDraw Trial Edition ceases after the lapse of your free period after which you will need to purchase the service. SmartDraw has three plans:
Subscription Plan
Cost
Benefits

Individual

$9.95 (per month, billed annually)

Team (5-user minimum)

$5.95 (per month, billed annually)

Team administrative controls
Premium support
One shared team folder
Ability to consolidate accounts
Document retention and control

Site

$2,995 (billed annually)

All features in the team plan
SSO
Custom company theme
Multiple shared folders
What Are Other Popular Alternatives To SmartDraw?
Diagramming software is a popular and widely used technology with several solutions available for people who want to try different solutions and features. Many people prefer popular software with an easy-to-use interface and software solutions with multilayer. Below are some popular alternatives to SmartDraw:
| | |
| --- | --- |
| Software | Comparison to SmartDraw |
| Lucidchart | It's more usable, better at support, and better at meeting requirements |
| Microsoft Visio | It's better at meeting requirements but more expensive |
| Creately | Has over 50 diagram types. It's better at meeting requirements and offers better support |
| EDraw Max | Provides users with a workspace for creating 280 types of diagrams |
| OmniGraffle | Helps professionals explain complicated ideas clearly and precisely |
Cost Comparison
Software
Cost

SmartDraw

Individual - $9.95 (per month, billed annually)
Team - $5.95 (per month, billed annually)
Site – $2,995 (annually)

Lucidchart

Free
Individual - $7.95 (per month)
Team - $6.67 (per user per month)
Custom

Microsoft Visio

Visio Plan 1 - $5 tax exclusive (per user, per month)
Visio Plan 2 - $15 tax exclusive (per user, per month)

Creately

Free
Personal - $3.25 (per month, billed annually)
Team - $2.75 (per user, per month, billed annually)
Enterprise - $15 (per user, per month)

EDraw Max

Perpetual License (Individual) - $159 (one-time payment)
Lifetime License (individual) - $199 (one-time payment)
Subscription License (individual) - $99 (annually)
Perpetual License (Business) - $179 (one-time payment)

OmniGraffle

Standard for Mac - $149.99 (one-time payment)
Pro for Mac - $249.99 (one-time payment)
Standard for iOS – 59.99 (one-time payment)
Pro for iOS – 119.99 (one-time payment)
What Else Can DoNotPay Do?
can help you with almost anything you need online, including:
Disputing traffic tickets