How to Start a SmartCredit Free Trial Without Giving Your Credit Card Info

SmartCredit is a monitoring credit service that was founded in 2003 by ConsumerDirect. The company provides a platform you can use to insure yourself against identity theft. One of their main services is the credit report service, which makes it easier to read and understand your reports much better compared to a traditional report.
SmartCredit also has a wide range of other services, from alerting you any time a transaction is made with your credit card to generating your insurance score to scanning websites & data brokers who might be misusing your data. This article explores everything you need to know about SmartCredit,, virtual credit cards and more.
Does SmartCredit Have a Free Trial?
Yes, . When they are on offer, they give up to 7 days free trial subscription. Normally, they display the total number of trial days during your Membership enrollment process before you sign up for their membership. According to their service agreement, the free trial gives you full access to all products and features, but you'll be limited on the total number of Actions and Credit Score updates.
How Can I Get a Smart Credit Free Trial?
Smart Credit free trials are pretty straightforward. To sign up for the free trial, you need to;
Go to the SmartCredit website
Click on the "Get started now" button
You will then be taken to another page where you'll be required to fill the membership form.
The three mandatory steps are:
Registration. You'll be asked to enter your name, email address, and password.
Identity Verification. You will need to provide your social security number, birth date, street address, zip code, and phone number.
Membership plan. You'll now have to choose one of their two membership plans that will be activated once your trial period ends. You will also have to enter your credit card information.
After you've completed the three steps, you'll be sent a welcome confirmation email by do-not-reply@e.smartcredit.com, where you'll be given access to your SmartCredit account immediately.
Does the SmartCredit Free Trial Automatically Renew Into a Paid Subscription?
Yes, SmartCredit will automatically renew into a paid subscription. This happens if you do not cancel your membership before the trial period ends.
If you don't want to pay for SmartCredit, make sure to cancel it within the trial period, or else you will be billed monthly according to the Membership plan you selected during registration.
Avoid Automatic Renewal With DoNotPay Virtual Credit Card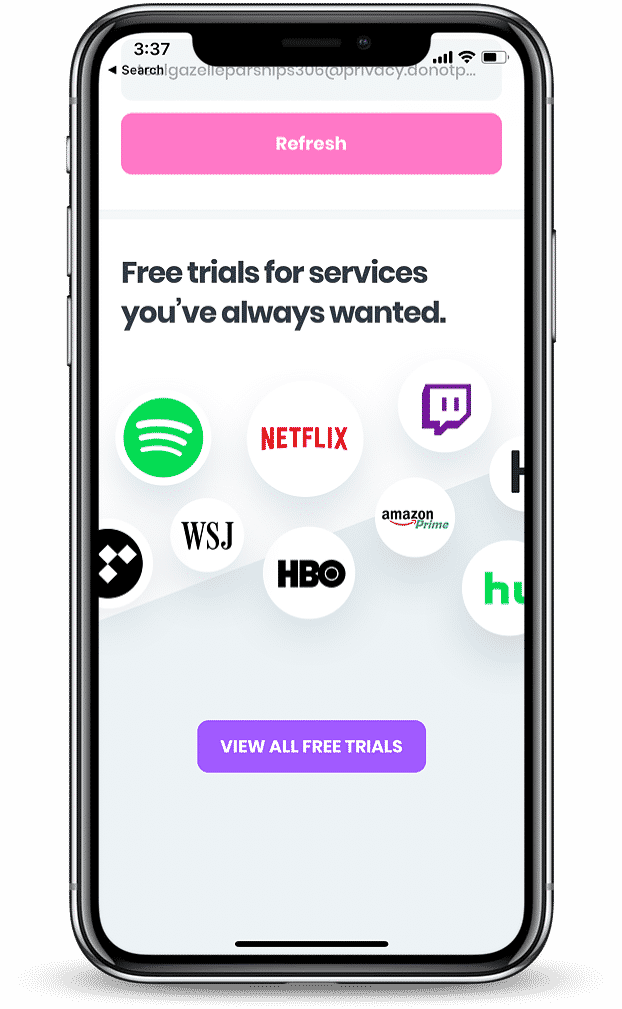 More than often, people forget to cancel their free trial and end up getting charged for a service they don't use. If you're one of those people, you can save your money and time by using DoNotPay to cancel your SmartCredit subscription automatically. You don't have to carry a log of information on all the accounts you have free trials for; DoNotPay will do that for you.
If you simply don't want to give your credit card information to SmartCredit, DoNotPay offers a virtual credit card that will help you avoid automatic renewal.
DoNotPay will generate a random number and credit card info that you can use to subscribe to the SmartCredit membership, the same way you would with your chip credit card. Your credit card information, real names, and email address will be hidden. That way, you will be protected from companies' email marketing lists that are normally used to advertise services and convert leads to loyal customers.
One awesome feature about the free virtual credit card is that, once the free trial expires, the service can't charge you because there's no money on that card, so you get unsubscribed automatically.
How Much Does Smart Credit Cost After the Trial?
After the trial period, if you do not cancel your subscription, you will be charged. The table below explores membership costs.
| | |
| --- | --- |
| Premium Membership | $19.95/month |
| Basic Membership | $13.95/month |
What Are the Most Popular Alternatives to Smart Credit
If you're looking for alternatives to Smart Credit, the most popular services are;
Experian
Equifax
TransUnion
All three of these companies offer a free trial that allows you to access their credit score monitoring service. However, after the trial period is over, you will be charged monthly fees unless you cancel your subscription.
If you're looking for a more affordable credit monitoring service, Credit Karma is an excellent option. It's completely free to use, and it includes access to your credit score and credit report from TransUnion and Equifax. The problem with Credit Karma, however, is you'll have to share your spending habits with them, which they then use to charge companies to provide targeted advertisements to you.
What Else Can DoNotPay Do? 
DoNotPay can help you with almost anything. Including:
Disputing traffic tickets
Fighting speeding tickets