How to Get a Slacker Radio Free Trial With a Virtual Credit Card

Slacker Radio is now known as LiveXLive, but it still offers a ton of streaming music, live performances, podcasts, and more. But if you try a paid subscription with a , will you get stuck paying for it?
If you really don't want to pay for full access to LiveXLive, you can sign up for a basic subscription, which is free. However, the ads on the service may convince you to try a paid subscription. But at the end of the free trial, you run the risk of paying for a subscription you may not want. Don't worry. DoNotPay can help you dodge that charge with our unique free virtual credit card.
Can You Get a Free Trial of LiveXLive?
 you can get a free trial. The free trial period lasts for 30 days, and it gives you full access to the Plus level subscription. This eliminates the third-party ads that you have to deal with if you have a free Basic subscription. It also allows unlimited forward skips, while the Basic program has a six-song skip limit.
What Do I Do to Get a LiveXLive Free Trial?
Signing up for a free LiveXLive Plus free trial is simple. It's automatically given when you subscribe to the Plus subscription. Simply follow these steps:
Go to the LiveXLive website here.
Click on "Start Free Trial"
This will take you to a sign-in page. If you don't have a LiveXLive account, you'll have to make one. This is the free Basic account, and it's quick and easy to sign up for.
When you sign in, you'll be directed to a purchase page that asks for your credit card information.
Fill in the credit card information, click "Complete Payment," and you're done!
Will the LiveXLive Plus Free Trial be Automatically Renewed Into a Paid Subscription?
At the end of the 30 days, your subscription will automatically become a paid Plus subscription. You will be charged $3.99 per month until you cancel it.
If you want to cancel the subscription before you are charged, you'll want to be careful about when you do it. If you cancel too early, the remainder of your free trial will end. But your card might be charged a few days before the end of the 30 days, so you may want to sacrifice those final few days just to be on the safe side.
If you do miss the cancellation window, you will have to cancel your LiveXLive subscription, which will take a few more steps.
Shut Down Automatic Renewals With a DoNotPay Virtual Credit Card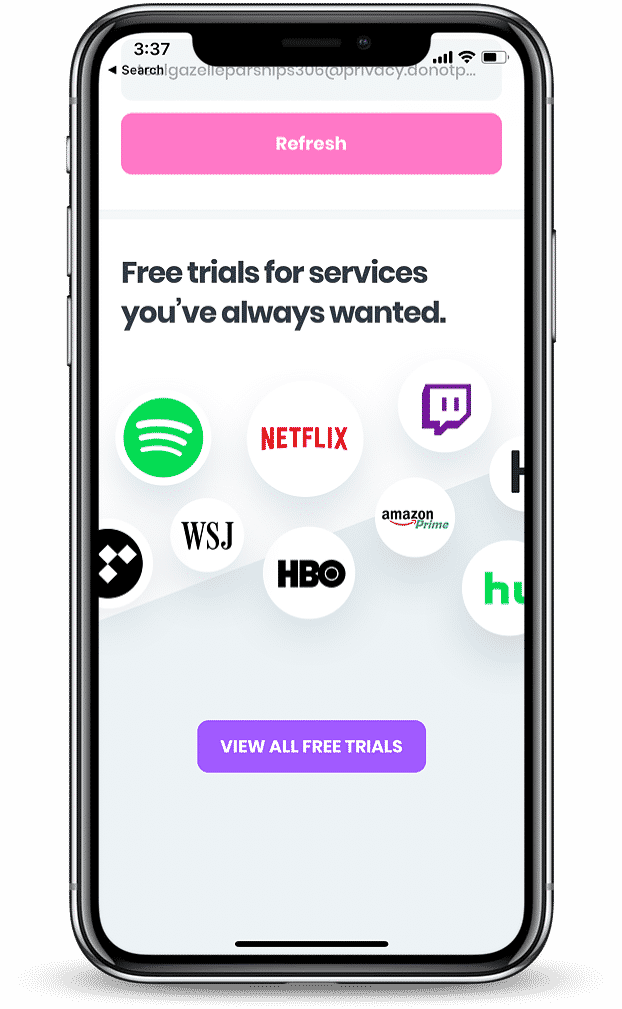 Free trials rarely end up being free. People often forget to cancel them before they automatically renew, with an unexpected charge to their credit card. But we do have a way for you to protect yourself from these surprise bills and keep your free trial truly free.
DoNotPay can provide you with virtual credit cards to use whenever you sign up for a free trial. Here's how it works:
When you request a virtual credit card, DoNotPay creates a random credit card number and all the information you need to verify it.
Use this virtual credit card to sign up for any free trial you're interested in.
At the end of the free trial period, the company will try to charge your card for the paid version of the service.
Because there is no money associated with the card, the charge will be denied, and you will be automatically unsubscribed from the service.
You can forget about keeping track of cancellation dates if you have DoNotPay.
How Much Does LiveXLive Cost After the Trial?
How much you'll pay to listen to music on LiveXLive depends on which subscription plan you have. There are three options to choose from:
Plan
Cost
Features
Basic
Free

128 Kbps streaming audio
six-song skip limit
basic listening capabilities.
Includes advertisements in both audio and banner formats.

Plus
$3.99/month

320 Kbps
zero skip limits
no ads

Premium
$9.99/month

Same as Plus and you can also cache music for offline listening on mobile devices.
Able to play songs and albums on-demand.
What Are Some Popular Alternatives to LiveXLive?
LiveXLive isn't the only music streaming service available. Here are a few other options and how they stack up by price:
Spotify
Cost: Ranges from free for basic service to $19.99/month for a family account
Apple Music
Cost: From $9.99 to $14.99/month. Students can pay $4.99/month
YouTube Music
Cost: Annual plan: $99.99 Family plan: $14.99/month Student plan: $4.99/month
Pandora Radio
Cost: Free to $9.99/month
Amazon Prime Music Unlimited
Cost: Annual membership $79 for Prime members. Monthly $7.99 for Prime members, $9.99 for non-members.
DoNotPay Can Help With Music and More
Trying out music streaming subscriptions without getting roped into paying isn't all we do. At DoNotPay, we specialize in giving you the information you need to fight back against organizations that know how to make things as frustrating as possible. Here's a short list of the many ways we can make your life easier:
There's way more where that came from! Give us a try, and see how it feels to have someone on your side in these fights.