How to Get a Sky Sports Free Trial With a Virtual Credit Card

If you're a sports enthusiast that loves to watch your favorite sports games in real-time, you may want to try out . But unfortunately, they don't offer one.
Sky Sports is one of the most popular subscription television sports brands with a wide selection of action-packed sports channels. Whether you enjoy live coverage of soccer, golf, Formula 1, or love to sit back and watch horse racing or cricket, Sky Sports offers unparalleled programming options for even the most avid sports enthusiasts.
Which Sports Are Available on Sky Sports?
 offers dedicated sports channels for each type of sport, which makes it easier to find all for your favorite sporting events. Sky Sports offers 11 channels (all in HD), including:
| | | | |
| --- | --- | --- | --- |
| Sky Sports Main Event | Sky Sports Premier League | Sky Sports Football | Sky Sports Cricket |
| Sky Sports Golf | Sky Sports Racing | Sky Sports F1 | Sky Sports NFL |
| Sky Sports Arena | Sky Sports News | Sky Sports Mix | |
Does Sky Sports Offer a Free Trial?
No. Sky Sports doesn't offer a . There are several ways to watch Sky Sports, but one of the most flexible ways is through NOW Broadband, Sky's standalone streaming service.
With NOW, you can get a Sky Sports TV membership on a daily or monthly basis and enjoy a 7-day trial of Now Boost, which gives you Full HD viewing at 50 frames per second and immersive surround sound.
The NOW Boost free trial doesn't have any upfront charges, but it auto-renews after your 7-day free trial at £5 a month, unless canceled. (Be sure to check the daily exchange rate to know how many US dollars that equals today.)
You will need to provide credit card information at the checkout to finish setting up your free trial. The standard payment options accepted at NOW are MasterCard, Visa, or American Express. But you can avoid that with a virtual credit card from DoNotPay, and we'll talk about that in a moment.
How Much Does Sky Sports Cost?
With Sky Sports broadband, you only pay for the sports you love. Viewers will be able to choose whatever channels they're interested in watching without taking ones they won't watch, meaning you can personalize your Sky Sports deal to suit you and not pay unnecessarily for the channels you won't use.
How much you'll pay for Sky Sports depends on how many channels you opt for:
Choose one Sky Sports channel for £18 a month
Choose two Sky Sports channels for £22 a month
Complete Sports Pack for £30 a month
If you want to watch Sky Sports through Sky TV, these costs are added to your existing Sky TV subscription. The cheapest option for just Sky and no extras costs £22 per month with two sports streams attached while adding three more will set you back another £26 each time, but if you choose to own all Sky Sports channels via the Complete Sports Pack for £30 a month, then it's an 18-month minimum subscription. You can have all Sky Sports plus BT Sport for £55 a month. Again, check out exchange rates to see what those costs are in US dollars.
If you want to enjoy your favorite sports on the go on your mobile phone, the Sky Sports Mobile TV app is actually the cheapest way to get all your favorite sports. Though it might give you fewer channels than other services, a Pack 1 subscription costs only £5.99 per month, which includes Sky Action, Arena, Premier League, and News channels. A Pack 2 subscription costs £10.99 to get all the above plus Sky Sports F1, Sky Sports Cricket, Sky Sports Golf, and Sky Sports Football, which is a cheaper option to get a Sky Sports subscription.
If you don't want to get stuck in a contract, you can opt for Sky Sports on NOW Broadband. This flexibility means you can dip in and out whenever you want to without paying any cancellation fees.
Day Sports Membership gives you access to every Sky Sports channel for a day, plus a 6-month Mobile Month Membership.
Monthly Sports Membership on NOW is £33.99 a month, giving you access to all 11 Sky Sports channels and includes a 7-day free trial of NOW Boost.
Avoid Automatic Renewal With DoNotPay Virtual Credit Card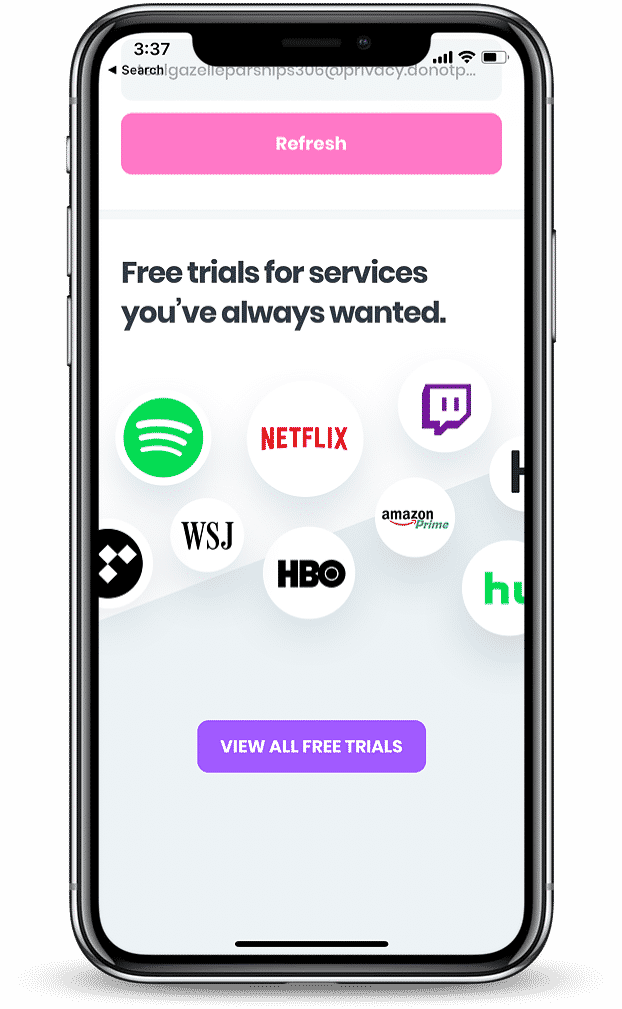 While free trials allow you to test drive a product or service before committing to a monthly or annual subscription, you need to remember to cancel them before the trial period is over. However, keeping track of all your subscriptions and free trials can be challenging even for the most retentive. If you want to make sure you don't end up paying for anything, it's essential to cancel your Sky Sports NOW Boost free trial before the end of your 7-day trial. 
One of the best ways to ensure you don't get charged is to use DoNotPay's Virtual Credit Card. Here is how it works:
DoNotPay generates a random number and credit card info, including an email address.
The DoNotPay VCC doesn't link to your actual physical credit card, so you don't have to worry about your private information or unauthorized charges.
The card allows you to set charge limits and monthly use limits. This flexibility allows you to set the charge limit for the card to a value below whatever the monthly charge for the free trial will be.
Once the free trial expires, Sky Sports can't charge you because there's no money on that card, so you get unsubscribed automatically.
What Else Can DoNotPay Do?
DoNotPay comes in handy in so many situations. Whether you want to fight speeding tickets, get rid of spam text messages, schedule a DMV appointment fast and easy, contest parking tickets, sue people and companies in small claims court, DoNotPay can help. Our award-winning service can also help you: 
While , you can always take advantage of the NOW Boost free trial and enjoy your favorite sports in Full HD. You can count on DoNotPay to ensure you don't get charged after the free trial is over.