How to Start Your Shipt Free Trial With a Virtual Credit Card

Shipt is a versatile local delivery service. Making an order through Shipt sends a driver to the store of your choosing, then they purchase your items and bring them to your door.  Buying a Shipt subscription provides free delivery on orders over $35 for the duration of your subscription. In terms of delivery app prices, this means you pay the cost of your order and a small service markup, but save about $10 per while your subscription is active.
Of course, the best way to get discounted deliveries is with a free trial and, with Shipt, there are a few ways to do this. How can you get a ? Can you start a Shipt free trial without committing to paying for a subscription later? With DoNotPay, the answer is simple and easy.
Does Shipt Offer a Free Trial?
Yes. Shipt often partners with other brands to . While there is not a direct Shipt free trial right now, there are two different partner-deals that can get you one to six months of Shipt deliveries for free.
Target Partnership Shipt Free Trial
Target Circle members  can get six months of Shipt free trial, one of the better free trials on the market right now. You'll want to access that free trial through your Target account online.
Non-members can also get a Shipt free trial through Target, but the length will be only one month, a sixth of the value in return for a Target loyalty membership. It's the kind of partner deal that earns new customers for both brands.
Visa Consumer Credit Shipt Free Trial
There's another free trial type offer available to Visa Consumer Credit Cardholders. Those who enroll their credit cards with Shipt will get free trial months with Shipt based on which card you have.
Eligible Visa Cards Include
Up to 3 years of free Shipt membership
3 months of free Shipt membership
Then 9 months of membershio at 50% off
All other Visa US Consumer Credit Cards
1 month of Shipt free membership
How Can I Get a Shipt Free Trial?
Getting a Shipt free trial depends on which partnership you want to take advantage of. There are two ways to get a Shipt free trial at the time of this report.
How to Get the Target Shipt Free Trial
Navigate to Target.com.
Log Into Your Target Circle Account.
or Make a New Target Circle Account.
Find the Shipt partnership link.
Sign up for the Shipt Free Trial.
Get 6 Months Free Shipt Delivery.
How to Get the Visa Shipt Free Trial
Navigate to Shipt.com.
Log Into Your Shipt Account.
Enroll Your Visa Card.
Enjoy 1-3 Months of Free Shipt Delivery.
Does the Shipt Free Trial Automatically Renew Into a Paid Subscription?
Yes. Most of the Shipt partnership trials renew into a paid membership. When you start a free trial with Visa, you are essentially registering your credit card which can become your primary payment method. When you register through Target, you will start a Shipt account to get your free trial. Both will roll the free trial months into a paid yearly subscription membership.
Avoid Automatic Renewal With DoNotPay Virtual Credit Card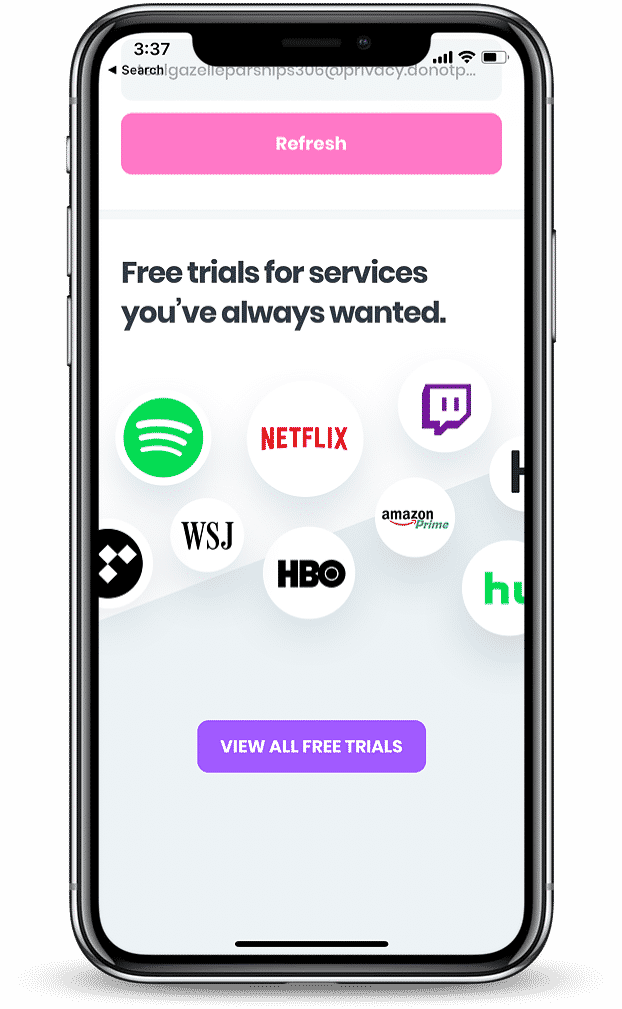 Most of the time, there is only one way to stop a free trial before they charge you: to cancel the trial and possibly your account associated with it. We can help you cancel your Shipt account, but there's also a better way. You can prevent Shipt from charging you for a subscription after a free trial by using a virtual credit card. 
What is a virtual credit card? It's a randomly generated string of numbers that you can put in the place of a payment card. However, when the virtual card is charged, it can't deliver payment. Therefore, at the end of your free trial, no subscription is created and isn't impacted by the requirement to pay or maintain your account. You can get as many free virtual credit cards as free trials you want to start with no strings attached and no commitment to a subscription after your trial.
How Much Does Shipt Cost After the Trial?
Be careful with a Shipt free trial. There are only two pricing models and the trial does roll over into a paid membership
| | |
| --- | --- |
| Pricing Models | Cost |
| Shipt One-Time Cost | $10 |
| Shipt Annual Cost | $99 |
What Else Can DoNotPay Do?

DoNotPay was designed to make life easier. From free trials to small claims court and everything in between. We can notarize documents, find college scholarships, and get rid of Robo-callers. Check your to-do list. We're sure to have a few more ways we can help from our dozens of useful services and online tools are available.