How to Get SharePoint Free Trial With a Virtual Credit Card

Collaborating with people can be a challenge, even with all the technological advancements we've made over the years. Thankfully, more and better solutions continue to be created every day. Microsoft's SharePoint feature is one of these, offering people the ability to create their own custom websites on a closed intranet server, enabling collaboration in a secure and easy-to-use way.
Given how much other services that make websites cost, though, you might be wondering if there's any way to use SharePoint without paying. DoNotPay is here to explain the ins and outs of a  and show you how to avoid getting charged if one runs out.
Does SharePoint Offer a Free Trial?
 on its own does not currently offer a free trial version of its services. However, as most Microsoft products do, it can integrate seamlessly with the rest of the Office 365 suite of programs. Office 365 does have a free month trial, and that trial includes SharePoint as part of its bundle of programs. In addition to SharePoint, you'll also get to use the premium versions of programs like the following:
Delve
Yammer
Teams
OneDrive
And more
How Can You Get a SharePoint Free Trial?
As we explained, SharePoint cannot be used for free all on its own, but it can be used as part of the Office 365 suite. Office 365 gives users a month to try things out before they need to pay. If you'd like to use SharePoint or any of the other Office programs, here's how you can sign up for your trial:
Click the "Try 1-month free" button on the Office 365 webpage.
Sign in to your Microsoft account, or create a new one if you need to.
Select your plan, then click the "Next" button.
Review your order, then confirm.
Download your programs and start working.
Avoid Automatic Renewal With DoNotPay Virtual Credit Card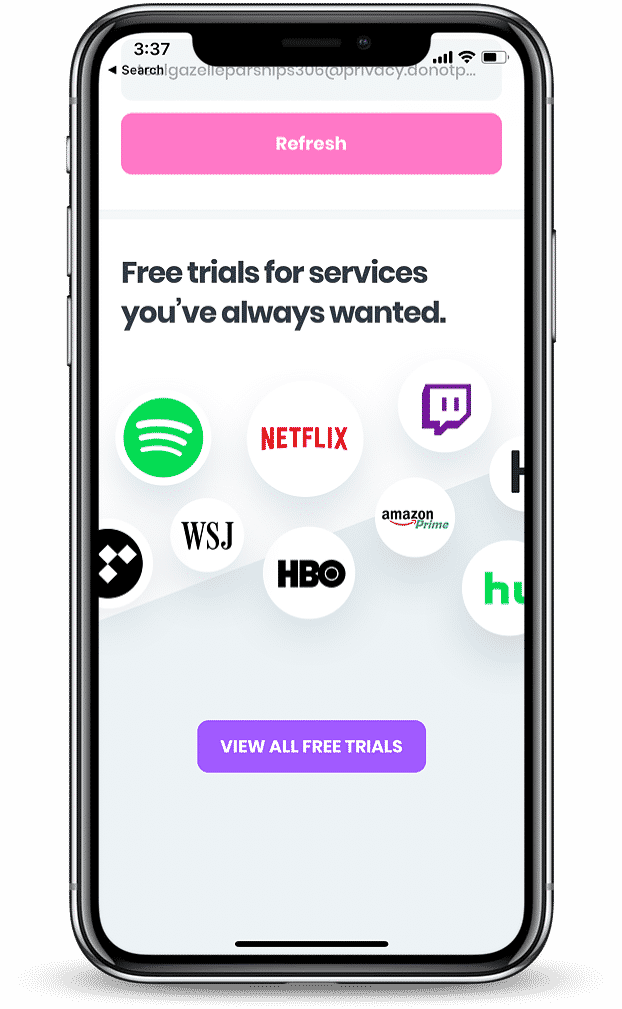 If you want to use SharePoint or another program's free trial but aren't too keen on paying those hefty subscription prices (especially for a big team), you'll have to remember to cancel that free trial when your month is up. That's easier said than done, though, as anyone who's found an unexpected charge from a streaming service they forgot to stop can tell you.
This kind of normal human forgetfulness costs people combined millions of dollars each year, to the point that many companies consider it a part of the business to trick their customers into losing money this way. To ensure that this can't happen to you, try using DoNotPay's free virtual credit card service when you sign up for free trials.
When you use our virtual credit card, you can protect your information from companies and ensure they can't keep charging you for things that you don't want. We do this by randomly generating a working credit card number, plus card information, that you can plug in when you check out on a site. It works just like a normal card, except for the fact that there's no money backing it up. That means that once your free trial ends and the new billing period begins, they won't be able to charge you, and the subscription will end automatically.
How Much Does SharePoint Cost?
If you decide to keep using SharePoint after the free trial, or if you purchased a subscription to SharePoint separately, you'll obviously have to keep paying. SharePoint has three tiers of service you can get, all of them subscriptions. These are:
| | |
| --- | --- |
| Plan 1 | Features limited versions of SharePoint, OneDrive, and Lists and costs $5 per user per month. |
| Plan 2 | Features full versions of SharePoint, OneDrive, and Lists and costs $10 per user per month. |
| Office 365 E3 | Features full versions of SharePoint and several other programs and apps and costs $20 per user per month. |
What Are the Most Popular Alternatives to SharePoint?
One of SharePoint's main benefits is how it seamlessly works with the rest of the Office suite. In that regard, there isn't really an alternative out there. However, there are plenty of similar programs you can use for collaborating with others, many of them free. Some options would be things like the following:
Discord
dotCMS
Huddle
eXo
Depending on what you need to do, you should have a ton of affordable or free programs that you can use.
What Else Can DoNotPay Do?
If your problems extend beyond understanding SharePoint free trials, DoNotPay can still help you out. We offer a ton of other services to our users, some of them being:
No matter what might be troubling you, we can help. Give DoNotPay a try today to start simplifying the problems in your life.