How to Tell if Someone Uses Your Email Address for Sending Spam Emails? Learn With DoNotPay
If you are receiving numerous complaints regarding emails you have never sent or see countless bounce-back emails lying in your inbox, you were probably an innocent victim of spoofing or hacking.
Read on to learn more about recognizing the telltale signs that your email address has been spoofed or hijacked.
Spoofed Email Address Used to Send Email Spam
Email spoofing is disguising an email address to appear as a familiar one. It is one of the most common forms of cyber-attack. Why? Because it is surprisingly easy to spoof an email address.
The problem is that any server can be set up to send emails from any domain, and there are even online spoofing services that allow you to send (spam) emails using any email address.
Email Scammers tend to spoof to hide their identity and avoid spam emails bouncing back to their real address.
According to Forbes, scammers send 3.1 billion domain spoofing emails a day. Both fascinating and scary, right?
Fortunately, there will be signs that your email address has been spoofed. You'll know if you see the following in your inbox:
Bounce-back emails

Replies to emails you know you never sent
The good thing is, the spammer that spoofs your email address does not have access to your account.
Hijacked Email Address Used to Send Email Spam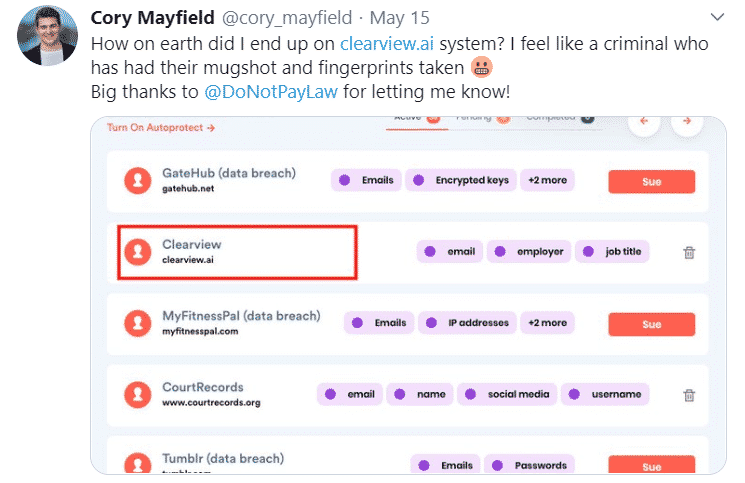 Email hijacking, or hacking, is a more severe problem because your entire identity can be compromised as the criminal does have full access to your account. They can read your email and spam others, including your contacts.
In case you still have access to your account, you can tell they are sending spam from your address if you see bounce-back messages that did not find recipients, replies to those messages, or scam email messages addressed to your contacts in your Sent folder.
Most likely, you won't even know that this is happening because you won't have access to your account, as hackers will have already changed the password.
How Do Spam Email Senders Get Hold of My Email Address?
Email spoofing and hijacking are rampant these days. There are various programs and online services whose sole purpose is to scavenge the internet for email addresses. They can do it by searching through:
WHOIS records

—scammers search for domains and IP addresses and can see who they belong to

Mailing lists

—some of them are illegitimate and even allowed to sell your email address

Online posts

—anything you have posted online that contains your email address can be a source for the hackers
To learn how you can protect yourself, please refer to the "Life Hack" section below.
How to Stop Spammers From Using Your Email Address?
If you are accused of spamming, but you have no idea why there is not much you can do.
In the case of spoofing, the only recourse you have is telling people that the third-party has done it, and it's hard to identify them because of various techniques they use to cover their tracks.
As for hijacking, as soon as you realize that someone is using your account to spam others, try to change your password. If it succeeds, you have fixed the problem. If not, the scammer has already changed the password, and you will have to contact your mail service to see if they can help you recover your account.
DoNotPay Doesn't Give Way to Scammers

Even if you are not a victim of hacking or spoofing, your inbox is probably full of spam mail. Don't lose heart over it.
Your virtual assistant, DoNotPay, is on a mission to help clients quench their thirst for revenge on spam emails and assist them in stopping and reporting spam emails as well as email abuse.
To take DoNotPay up on the help it offers, all you have to do is access the app from any and take the following steps:
Go for the

Spam Collector

option

Enter your email address to link it to our app

Pass the spam email on to

spam@donotpay.com

the next time you get one
We will take you off that mailing list at once. Your virtual lawyer DoNotPay will check if there is a class-action lawsuit against the sender. You can join the suit if the spam email you received is illegal. In the event of a successful settlement, you can get excellent compensation.
In case you are tired of sifting through your inbox and deleting spam emails, check out how to block them on Android or iPhone.
Life Hack: Secure Your Email Address so It Can't Be Used to Send Spam Emails

You can do a few things to avoid having your email address getting spoofed or hijacked.
Though they don't guarantee complete safety, these precautionary measures maximize your email address protection against spoofing or hijacking. Check out the table below for dos and don'ts regarding email security.
| | |
| --- | --- |
| Dos | Don'ts |
| Change your password frequently | Use the same password for multiple accounts |
| Use your primary email address for trusted contacts | Use your primary address for subscriptions |
| Run virus scans on your devices regularly | Post your email address in blogs or other posts |
| Use a two-step verification | Use insecure public Wi-Fi |
DoNotMail Also Sweeps Your Physical Mailbox Clean

If you are fed up with combing through your physical mailbox and disposing of the junk mail you find, rest assured there is a simple and neat solution.
Other than helping you unsubscribe from emails and stop receiving them, DoNotPay also offers an elegant solution for your paper spam and junk mail problem—DoNotMail.
DoNotMail feature is one of the DoNotPay's latest additions designed to eliminate this humdrum but incessant problem.
The benefits it offers are:
Guaranteed removal of junk mail

User's full control over their mailbox

Protection from scams

Environmental sustainability
If you would like to try it out, the only thing you should do is take a snapshot of your junk or spam mail, forward it to us, and lay back as we do the rest.
To send us the photo, follow the steps below:
Scroll down the

DoNotPay

homepage and select the

DoNotMail

option

Click the

Enroll Now

button

Upload the photos
The spammers won't even think about sending you such paper mails ever again. You might even get compensation if you enroll in the class-action lawsuit against them. Why not have your cake and eat it too?
DoNotPay Works Its Magic Every Day

Apart from helping you fight spam email and unsubscribing from mailing lists, your virtual assistant DoNotPay can help you with a bunch of other mundane yet persistent issues.
If you are an ardent gamer, but not completely satisfied with Fortnite or League of Legends, you will be ecstatic to know that you can get a refund with DoNotPay's help. If you are not satisfied with your purchase from Origin or Epic Games Store, you know what follows—DoNotPay swoops in!
You just have to log in to your DoNotPay account from any , and we can assist you with:
Challenging traffic tickets

Fighting speeding tickets