Get All Senator Jon Tester Contact Information Here
Read this article to get all the contact details for Senator Jon Tester, Montana's Senior Senator currently serving in the 117th US Congress.
You may also wish to use DoNotPay which helps you prepare a formal and professional presentation for Senator Tester in minutes.
Who is Senator Jon Tester?
Born Raymond Jon Tester in 1956 (August 1), Senator Jon Tester currently holds the Senior Senator delegate position for Montana in the 117th US Congress. Before being elected as senator in 2007, Senator Tester had previously held the positions of Montana's State Senate President, Chairman of Senate Indian Affairs, and the member of the Democratic Senatorial Campaign Committee  and Senate Veterans Affairs Committee.
A former music teacher, Senator Tester's early life was set in Havre, Montana, where he lived and earned a bachelor's degree in Music from the University of Providence, before returning to plant and livestock agriculture.
Tester is pro-LGBT, pro-Abortion, anti-DREAM Act, pro-Obama care, pro-Gun rights, and pro-fracking.
Contact Senator Jon Tester
Here are the addresses and phone numbers of Senator Jon Chester's district and federal offices:
Office Address
Phone Number
Fax
1
Billings

Judge Jameson Federal Building. 2900 4th Avenue North, Suite 201, Billings, MT 59101.

406 252 0550
406 252 7768
2
Bozeman

Avant Courier Building, 1E Main Street, Suite 202, Bozeman, MT 59715.

406 586 4450
406 586 7647
3
Butte

Silver Bow Centre, 125W Granite, Suite 200, Butte, MT 59701.

406 723 3277
406 782 4717
4
Great Falls

119 1st Avenue North, Suite 102, Great Falls, MT 59401.

406 452 9585
406 452 9586
5
Helena

208, North Montana Avenue, Suite 104, Helena, MT 59601.

406 449 5401
406 449 5462
6
Kalispell

8, Third Street E, Kalispell, MT 59901.

406 257 3360
406 257 3974
7
Missoula

130 W, Font Street, Missoula, MT 59802.

406 728 3003
406 728 2193
8
Washington, D.C.

311 Hart Senate Office Building, Washington, D.C. 20510.

202 224 2644
202 224 8594
You can also follow Senator Tester on Facebook, Twitter, Youtube, and Flickr.
See Other Frequently Contacted Montana Office Holders
Here are other government officials representing Montana you can reach out to:
| | |
| --- | --- |
| Officeholder | Office Held |
| | Montana's 25th and current Executive Governor. |
| | Montana's current serving Lieutenant Governor. |
| | The current serving junior senator delegate for the state of Montana in the 117th US Congress. |
| | The current serving Secretary of State of Montana. |
| | The present serving Attorney General of the state of Montana. |
| | State representative currently serving in the 117th Congress. |
Here's What Senator Jon Tester Can Do for You
There are many reasons people can contact Senator Jon Tester for. You can contact Senator Jon Tester if:
You have been affected by a natural disaster such as a wildfire and need assistance
You wish to apply for the Senate page program which teaches high school students about government
You want to be an intern for Senator Jon Tester
You need assistance with your casework
You need to contact a federal agency and resolve issues relating to tax, social security, immigration, and small businesses
You have a nominee for the US military academy
If you need assistance with visiting Washington, D.C., or permission to visit the Federal Capitol building
Need an authentic government flag
In Case You Need Help Contacting Senator Jon Tester
Petitions and applications to government officials involve a meticulous process that takes time and effort. If you wish for action to be taken on your request, you would have to put it in formal writing for proper documentation. 
DoNotPay helps take care of all the formal processes involved and sends your request to the desired government representative in minutes.
Reach Out to Senator Jon Tester with DoNotPay
DoNotPay offers a fast and reliable way to get across to public officers in the US. You'll have a safe and professional contact service delivered in minutes when you:
1. Search "contact representative" on DoNotPay and select the Contact Your Government Representative product.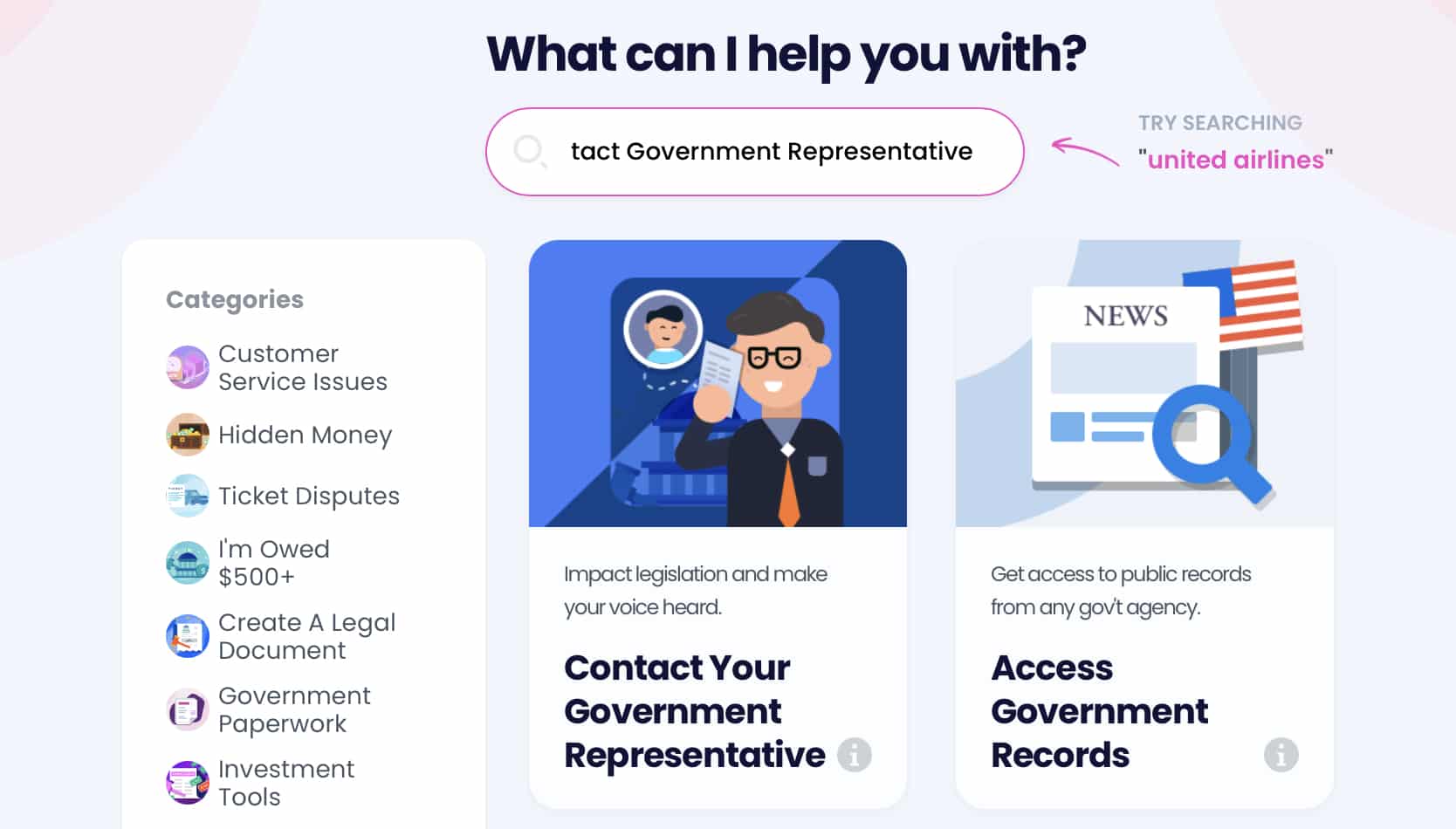 2. Choose whether you want to contact your Senator, House Representative, Governor, President, or Mayor.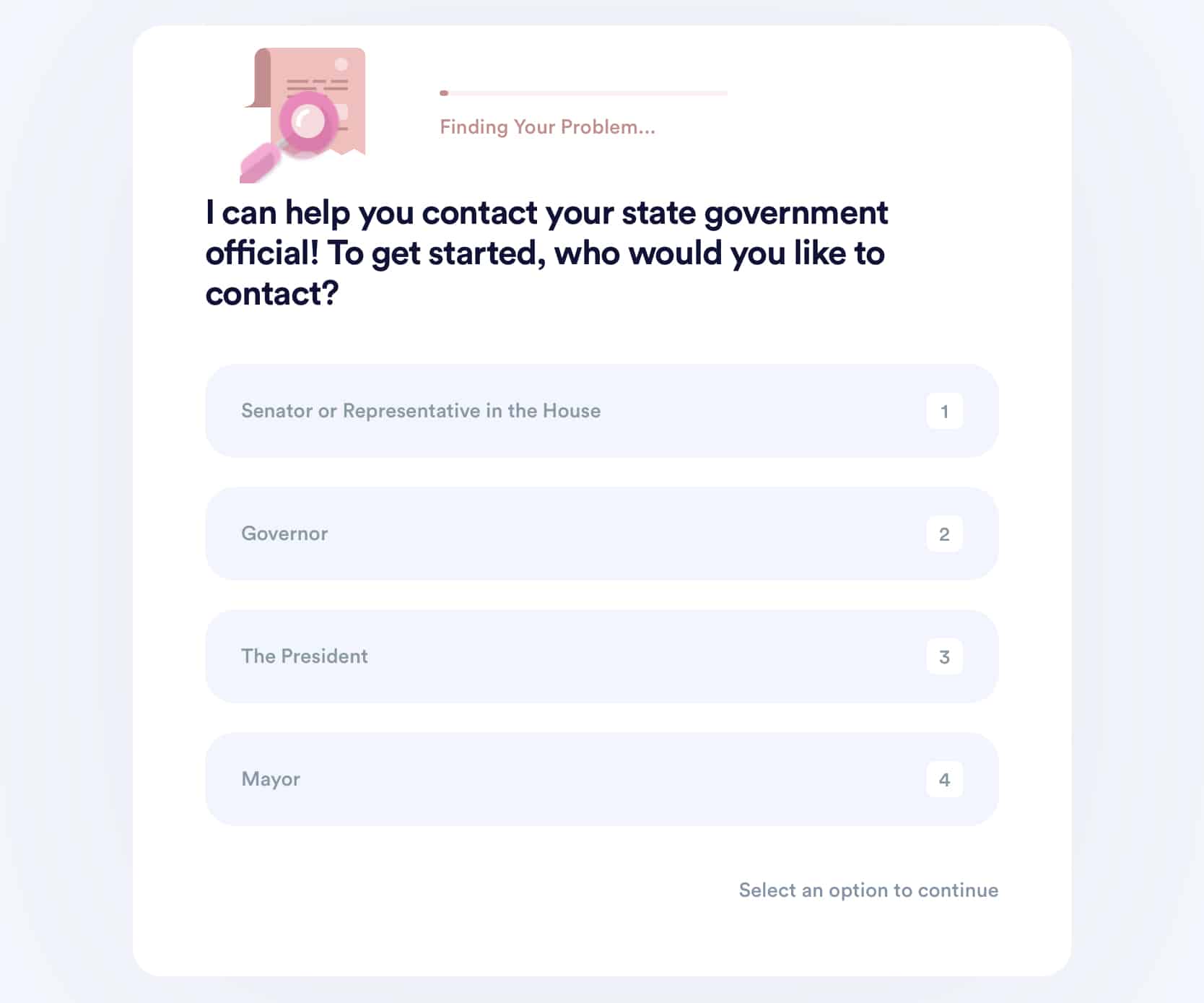 3. Tell us why you are contacting your representative, state which bill or issue you're concerned about, and what you're urging the representative to do.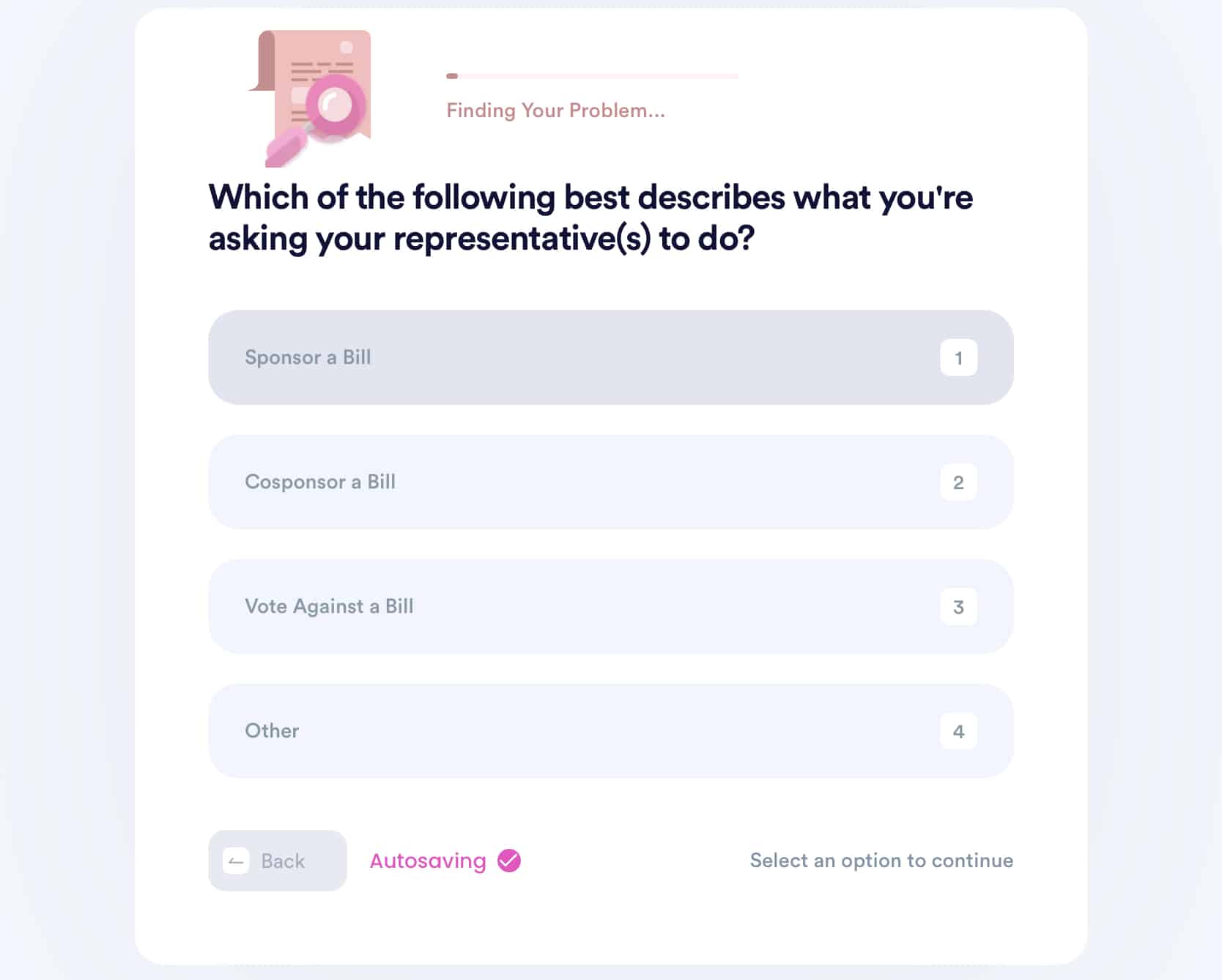 Sit back and relax! DoNotPay will deliver your message and handle the rest for you. Our bots will fill the contact forms on your legislator's website on your behalf.
What Else Can DoNotPay Do?
The AI-powered robot lawyer can help you with day-to-day issues such as cancellation of subscriptions, tax exemptions, appealing of parking tickets, and so much more with just a few clicks! Take a look at what else we can offer: