How to Get Scruff Pro Free Trials Without Giving Your Credit Card Information

Numerous companies, such as software companies, offer something called freemium. A freemium allows you to use the free version for a period before you become a paid subscriber.
However, the catch is that you have to provide your credit card details.
Even though companies do not charge you for the free trial their systems automatically start charging your credit card (remember you gave them your details?) after the free trial ends.
They capitalize on people's poor memories. People often subscribe to free trials, and then forget about it until they find charges on their cards. By the time you cancel the subscription, chances are that they have charged your card twice.
Fortunately, you can get  and avoid having your credit card charged.
Does Scruff Pro Offer a Free Trial?
No. You can use the Scruff app for free, but you can upgrade to Scruff Pro for $19.99 per month or less. The price depends on your location and the frequency of your renewals. The free version allows you to access all features for free, but you can pay for the Pro version to see what they offer, then opt-out.
The Pro version unlocks unlimited chat history, advanced filters, and searches, ad-free browsing, sending and receiving videos, browsing incognito, etc. The Pro subscription is valid for a month, 90 days, or 12 months, depending on the period you are interested in.
Assuming you want to give the , you have to cancel the subscription at least 42 hours before the system rolls you over into the next month's payment.
How Can I Get Scruff for Free?
Scruff is a dating app for the LGBTQ community. The Scruff app is free on iOS and Android, and registering is straightforward.
All you need to do is download the app on Google Play or the Apple Play Store and follow the prompts. However, you must have a valid email address to open the account.
You immediately get access to the free app and all its related features. If you want to try out the pro features, you have to pay for it and remember to unsubscribe 24 hours to start the following month's subscription.
Does Scruff Free Trial Automatically Renew Into a Paid Subscription?
No, you can use the free trial indefinitely. However, you can manage your subscription by turning off auto-renewal on your device.
To Cancel on Android
Launch the Scruff app
Tap on the Menu
Tap on "Manage Scruff Pro"
Select "Manage Subscriptions"
Tap on Subscriptions
Tap on Scruff
Select "Cancel"
Confirm that you wish to cancel the subscription
Auto-renewal is immediately canceled, but the current subscription remains active until it expires.
To Cancel Subscription on iOS
Go to Settings, then iTunes and App Store
Tap on Apple ID, which is your email
Tap on "View Apple ID"
Tap on Subscriptions and click "Cancel Subscription."
Avoid Automatic Renewal With DoNotPay Virtual Credit Card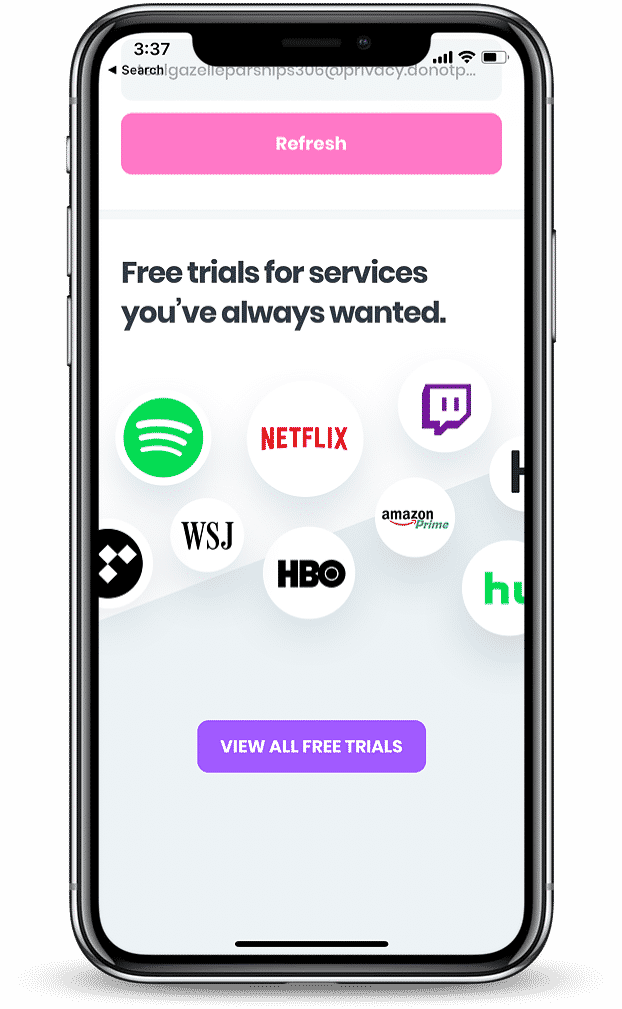 As mentioned earlier, most people sign in for free trials and forget to cancel the subscriptions, leading to unnecessary charges on their credit cards.
DoNotPay offers the use of virtual credit cards that save you from the auto-renewal headache. You can use the DoNotPay virtual credit card to sign up for the Scruff Pro subscription for just one month before you decide if you want to subscribe for longer.
Here's how it works:
DoNotPay generates virtual credit cards, which are just random numbers. You can use these virtual credit cards to purchase a one-month trial period on Scruff to unlock the Pro features.
The virtual credit card connects to your actual credit card but has a fake card number, expiry date, and CVV. This card allows you to transact without revealing sensitive banking data.
You can link the CVV to one vendor and set a maximum cash limit to ensure Scruff does not automatically renew the subscription.
You cannot reuse these virtual cards as they deactivate after one use. It means you can sign up for Scruff pro and not worry about having to remember to unsubscribe before the month ends. Scruff cannot access your banking details as you signed up incognito; thus, they cannot charge your credit card.
To get a free virtual credit card:
Search for a free trial card on DoNotPay and enter the company you want a free trial for.
We'll automatically generate a virtual credit card that you can use for that merchant. Copy the card details shown on your screen.
Use the card to sign up for your free trial and sit back to relax and enjoy yourself!
How Much Does Scruff Pro Cost?
Scruff offers different plans:
| | | |
| --- | --- | --- |
| Type | Length | Amount |
| Pro | 1 month | $14.99 per month |
| Pro | 3 months | $13.33 per month |
| Pro | 12 months | $10 per month |
What Else Can DoNotPay Do?
DoNotPay can help you solve various problems such as: