How to Get a Scentbird Free Trial Securely With a Virtual Credit Card

, so it's only natural that people would want to use perfumes and colognes to change that. Unfortunately, many of these products cost extraordinary amounts of money. Scentbird has set out to change that by offering cheap subscription perfume without the overhead of other brands. That said, paying for a subscription service after a free trial ends isn't very fun either, so let DoNotPay show you have to keep from getting charged on a Scentbird free trial.
With your free trial you will get:
The ability to try something brand-new without charge
Peace of mind that you won't be charged
Does Scentbird Offer a Free Trial?
offers a free month of subscription to any new subscribers who sign up. Since you get one new scent each month, that means a free bottle of perfume sent straight to your house just for joining. The only thing you have to pay to get your free trial is $3 for shipping and whatever tax is charged in your state; otherwise, it's completely free.
How Can I Get a Scentbird Free Trial?
It's very easy to start your Scentbird free trial. Just follow these steps to start one:
Head to the free trial page and start the quiz.
Take the scent quiz to see which selection matches your preferences best.
Create an account at the end of the quiz.
Select the scent among the recommended ones, or check out any of the other scents available.
Head to checkout, put in your information, and pay the $3.
Does the Scentbird Free Trial Automatically Renew Into a Paid Subscription?
Yes, your Scentbird free trial does automatically renew into a paid subscription. By taking the free trial, you've signed yourself up as a Scentbird subscriber. Every month after your first, you'll be charged like normal for your next bottles and anything else you add to your queue.
Avoid Automatic Renewal With DoNotPay Virtual Credit Card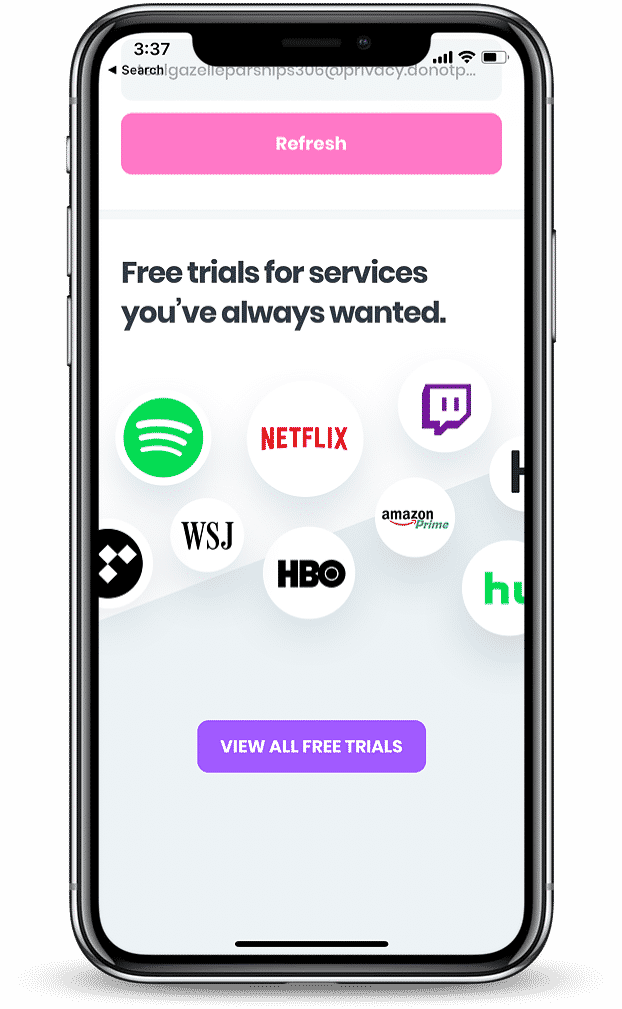 As nice as it is to smell good, you might not have the money to keep up with a Scentbird subscription each month. If you've wanted to try out this service but don't want to risk forgetting and getting charged once the trial expires, you could use DoNotPay's free virtual credit card service to sign up.
When you use our virtual credit card, none of your information actually gets sent to the merchant. We generate a fake number and information that you can put down like a regular credit card. The difference, however, is that our card doesn't have any money on it. Unless you put funds on the card, there's nothing for a subscription to charge, meaning they'll automatically unsubscribe you once the charge fails to go through after the end of your free trial.
To learn more about our virtual credit card and all, it can do for you, check out the service here.
How Much Does Scentbird Cost After the Trial?
After your free trial, new Scentbird orders will cost $15 per month. Adding more options (different-colored bottles is a popular one) will increase the price, but $15 is the base price for a new bottle. There are also options to get two bottles per month for $25 and three bottles per month for $35, plus other subscriptions for makeup products, skincare, and more with the same pricing tiers as the perfume. You can also buy your entire queue at once if you want. If you need to, you can also skip a month at a time instead of canceling outright (though we can also help with that if you need it).
What Will Scentbird's Charges Look Like on Your Statement?
If you sign up for Scentbird, you'll see that charge show up on your credit card statement. Your initial charge for the free trial will be the $3 shipping plus whatever tax is charged in your state. After that, any new charges will be $15.95 for one scent, plus tax, with no additional shipping charges or other fees.
What Are the Most Popular Alternatives to Scentbox?
If you're not into Scentbird's selection of perfumes and cologne, you might be interested in trying an alternative subscription scent service. However, keep in mind that many of these options don't offer free trials like Scentbird, so it might not be as good of a value unless you really like what the other service has to offer. If you'd like to explore your options, here are some of the most popular:
Scent Box
Perfume Surprise
The Fragrence Club
Scent Trunk
Margot Elena
What Else Can DoNotPay Do?
DoNotPay has the resources to help you do way more than just cancel your . We also provide:
Whether you're saving on Scentbird, lowering taxes, fighting spam, or something else, DoNotPay has your back. Give us a try today to get started.