How to Get the SAS Free Trial Without Giving Your Credit Card Information

There is so much benefit you can get from the . Whether you are a statistician, data scientist, or business analyst, you must know how much SAS could be an essential tool.SAS is a statistical and analytical software package designed by the SAS Institute. It is used for managing data, undertaking advanced analytics, multivariate regression, business analytics, fraud investigation, and predictive analytics.
Analysts consider SAS the sole provider that excels in fraud, data management, decision making, case management, and data science. SAS analytics systems turn data into knowledge, enabling customers globally to make daring breakthroughs that propel growth.
While free trials accord you cost-effective access to premium services such as SAS, there are a few challenges. In some cases, when you fail to cancel your subscription on time, your service provider may charge you as a paying customer. Luckily DoNotPay is here to offer an easy way to get around this.
Does SAS Offer a Free Trial?
for all its learning and development modules. It's a risk-free method to try out several comprehensive SAS Learning modules and see how they may sharpen your analytical skills.
SAS Free Trial Features
SAS offers free trials on all its modules:
JMP
JMP allows data analysts and other professionals to access and clean data, explore, visualize, share, and communicate data. This allows professionals to save effort and time, improve operations by bringing products to market faster, remove organizational barriers and maximize returns on investment.
SAS Visual Data Science Decisioning
This module provides access to the whole analytics product lifecycle, including data preparation, visualization, modeling, and deployment. You can use this software's automatically produced insights to identify the most prevalent factors and selected variables across models. You can also identify the assessment outcomes for all models.
The software's natural language generation feature allows you to readily interpret reports and develop project summaries written in simple and comprehensible language. To enhance communication and collaboration among team members, your team members can attach project notes to the software's insights report.
SAS Academy for Data Science
This product by SAS offers in-depth training and professional accreditation. It allows you to learn text analytics, predictive modeling, experimentation, and optimization strategies to enhance your analytical capabilities. With this product, you can explore advanced analytics, AI, data curation, and computer vision.
These are just some of the features available on SAS's 30-day free trial.
How Can I Get a SAS Free Trial?
You can get your running through the following steps:
Set up a SAS Profile. If you have one already, sign in.
Accept SAS'S license agreement and click on the free trial option on the My Training page.
Submit payment information.
Go ahead and select the modules you wish to take or use in your business.
Does the SAS Free Trial Automatically Renew Into a Paid Subscription?
SAS subscriptions will automatically renew into paid subscriptions if you do not cancel the free trial in time. Always plan to avert such incidences. You should also cancel your free trial subscription at least 24 hours before trial expiry to be safe.
Avoid Automatic Renewal With DoNotPay Virtual Credit Card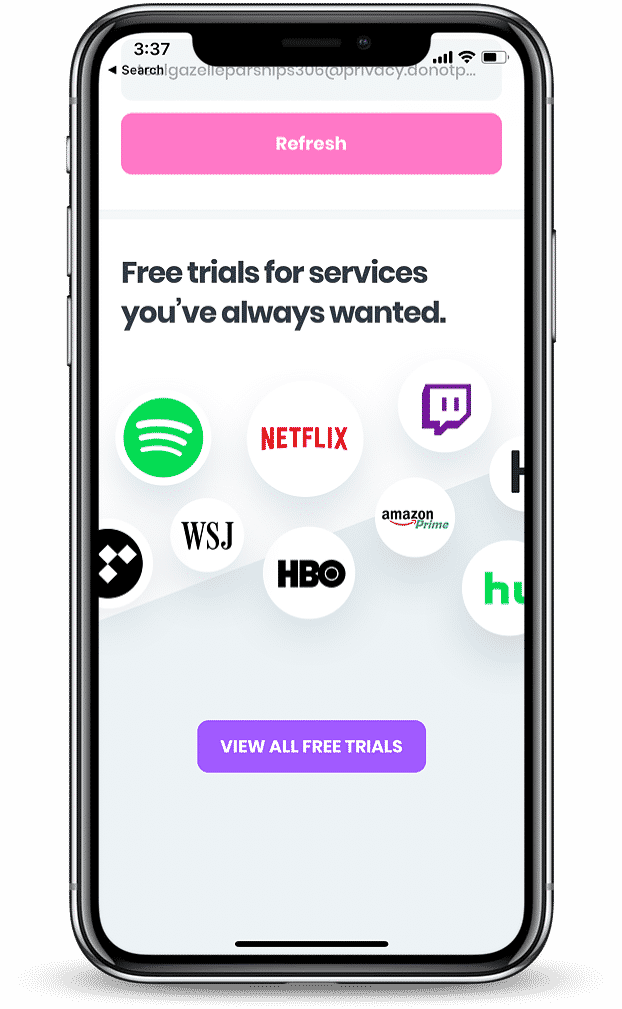 Missing free trial cancellation dates is not unusual. For some reason, we get swamped in our routines that some details slip past us. While we may set reminders to save up in some cases, this may not be the silver bullet. Having to pay for an auto-renewed subscription is stressful. However, there is a way to mitigate this.
Virtual credit cards help you do these things:
Don't give out your real financial information
Don't pay for rollover subscriptions after free trials
Explore dozens of free trials without hassle or financial risk
Here's how virtual credit cards work:
Virtual credit cards are used to provide a valid card number to a service you have no intention of paying after the free trial is over.
DoNotPay gives you a temporary, random credit card number.
You copy that number into your free trial sign-up.
The card exists until you use it, then is deactivated without ever accepting a charge.
Through the Virtual credit card product, DoNotPay allows subscribed users to enroll in free trials without running the risk of losing funds on auto-renewed billing. We assign you randomized numbers and credit card information. As our free virtual credit cards aren't loaded with money, you can miss your cancellation date without fretting, as you will be automatically unsubscribed. Also, through our automated systems, we can cancel subscriptions on your behalf and prevent any harm on your part.
How Much Does SAS Cost After the Free Trial?
The most basic bundle (SAS Analytics Pro) is priced at $8,700 (first-year charge). SAS renewal fees are typically 25-30% of the first year's price. Pricing for SAS Visual Analytics starts at $8000 a year.
What Are the Most Popular Alternatives to SAS?
The table below describes some alternatives to SAS.
| | |
| --- | --- |
| Sisense | Sisense is a business systems solution that uses analytics, reporting, and visualization to manage and support corporate data. It examines large and intricate data sets and churns out key business trends. |
| Jamovi | Jamovi is a rising open statistics spreadsheet. Jamovi is an appealing alternative to expensive statistical solutions like PLCs and SAS, and it is built from the ground up to increase ease of use. Jamovi is a collaborative effort that welcomes contributions from individuals worldwide. Jamovi captures your data, analyzes it, and provides you with options and results in one file. |
What Else Can DoNotPay Do?
Reach out to us today and get your free trial billing handled.