How to Sign Up for a Sapling Learning Free Trial Without Your Credit Card

In today's uncertain times, the virtual classroom has become an effective alternative to in-person learning. Additionally,  the technology used to teach and evaluate students online continues to evolve, with easier-to-navigate learning platforms and more interactive presentations.
Macmillan Learning created such a platform to support educators and students at the high school level. Their SaplingPlus programs consist of a comprehensive catalog of e-books, online homework, multimedia learning tools, and easy-to-use grade books. A  downloadable selection of courseware in AP Statistics, Chemistry, Economics, AP Environmental Science, and AP Physics 1 is available.
While these valuable tools do not come without a price, SaplingPlus is available through a free trial to test drive their educational resources. This guide will describe how to sign up for the free trial and not get charged when the period expires. DoNotPay accomplishes this through the use of a virtual credit card that companies cannot charge when the free trial period is over.
What Features Does Sapling Learning Provide?
Intuitive navigation with fully accessible offline and online eBooks with bookmarks, notes, and highlights.
The ability to give targeted feedback on online homework assignments.
Adaptive quizzes with individualized equations based on the students' responses.
A diverse selection of questions, consisting of ranking, sorting, labeling, multiple-choice, multiple selections, and graphing.
An easy-to-use grade book that provides detailed information on class performance as a whole and for individual students.
It can be fully integrated with many campus learning management systems, including Blackboard, Canvas, Brightspace, Moodle . or the iClicker Student Response System
Does Sapling Learning Offer a Free Trial?
Sapling Learning has a free demo for all of their courseware for 14 days.
The trial period grants full access to their courses.
How Can I Get a Sapling Learning Free Trial?
To enroll for the free trial, follow the directions below: 
Navigate to the Sapling Learning webpage.
Click on Free Trial Access.
Complete the Free Trial form as prompted. Click Submit.
The free trial does not require you to submit your credit card information upon signing up.
Does Sapling Learning's Free Trial Automatically Renew Into a Paid Subscription? 
Since you do not need a credit card to access the free trial, the service will not automatically renew into a paid subscription.
You can check the expiration of your free trial from within a course, the My Courses list, or from Transaction History.
If you wish to purchase the course before the grace period expires, you can click on the blue button that says Grace Period Active.
How Much Is Sapling Learning After the Free Trial?
Since there are different levels of access for students and teachers, prices vary. Teachers are usually granted access through their school system that uses the platform. Additionally, course materials are separately priced according to the subject and the inclusion of any supplemental materials.
Will Sapling Learning Refund My Charges if I Need to Cancel the Service?
For students, Sapling Learning will refund a subscription within two weeks of purchase for digital products. Any physical purchases such as print textbooks and product rentals from the Student Store or Bedford, Freeman, and Worth (BFW) store must be unused and requested within 21 days of purchase.
How to Avoid Automatic Renewals With a DoNotPay Virtual Credit Card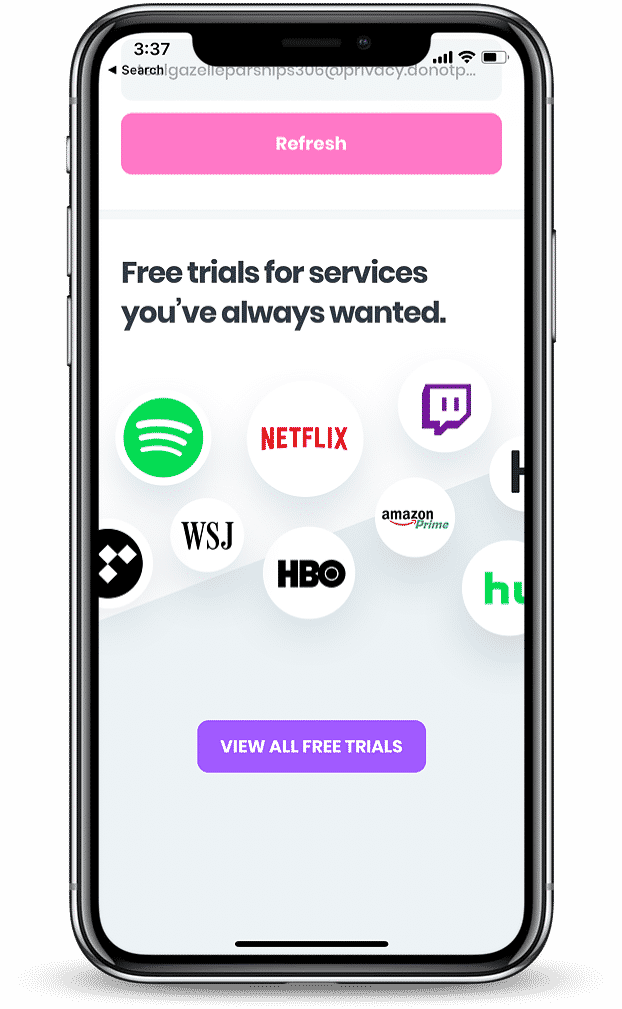 Even though Sapling Learning won't charge you automatically after your free trial ends, you may not want a subscription to automatically renew after a specific time. This is where DoNotPay's innovative free Virtual Credit Card (VCC) comes in handy.
The VCC works in the following way:
The virtual card can be used to sign up for free trials with any company or to make online purchases. The virtual card is connected to your actual card, but it uses a randomly generated number, expiration date, and CVV.
The VCC is usually limited to one transaction and can be set with the spending amount you decide on.
When you use the DoNotPay app, you can receive a temporary valid email address to sign up for services. The app generates a random email address and forwards the messages to your real email without tracking.
After your trial expires, the DoNotPay app automatically cancels the VCC. The company cannot charge you a subscription renewal fee as a result.
What Else Can DoNotPay Do?

You can open DoNotPay can help you with almost anything including the following:
These are just a few of the situations DoNotPay can help you with. With hundreds of thousands of successfully resolved cases, it's clear that DoNotPay's multi-purpose platform levels the playing field for everyone.