How to Get a Sam's Club Free Trial Securely With a Virtual Credit Card

Sam's Club's wide range of unique and bulk products come at much lower prices per serving than at most traditional grocery stores, but that does not mean you want to pay for a full annual membership just to get in the door to see what the club has to offer. You may be eligible for a 90-day Sam's Club free trial membership, during which you can shop as much as you want to get an idea of whether you will spend enough in a year for purchasing a membership to be worthwhile. 
Does Sam's Club Offer a Free Trial? 
Sam's Club offers a 90-day free trial of its basic (Club) membership. This trial membership allows shoppers that are interested in seeing what Sam's Club's unique selection, bulk items, and low prices have to offer to explore Sam's Club stores and online selection without paying the annual membership fee for potentially one visit. This way, you can get a more accurate idea of whether you will shop at Sam's Club enough for your membership to pay for itself and still save you money over shopping at another store with higher prices.
How Can I Get a Sam's Club Free Trial? 
Free trial memberships are only available to people who have some type of prior connection to Sam's Club. You can qualify by receiving an email invitation from a friend who is a Sam's Club member or by participating in a partner program that includes a free 90-day membership. You can sign up for your trial membership by following the directions in this email or through the partner program.
Does the Sam's Club Free Trial Automatically Renew Into a Paid Subscription?
Unlike many free trials, Sam's Club's 90-day free trial does not automatically renew into a paid subscription. For this reason, you do not need to provide your credit card information when you sign up for your trial membership. You can use your trial membership as much as you would like during your first 90 days, including online, and you will not need to provide any payment information until you decide to purchase a membership at that time. Although you will need to purchase an entire annual membership upfront as soon as you become a paid member, rather than making monthly payments, you can cancel your membership at any time and receive a refund for the portion of your membership that you have not used. You may cancel your membership:
In-person at any store
Online
By phone
By mail
Avoid Automatic Renewal With DoNotPay Virtual Credit Card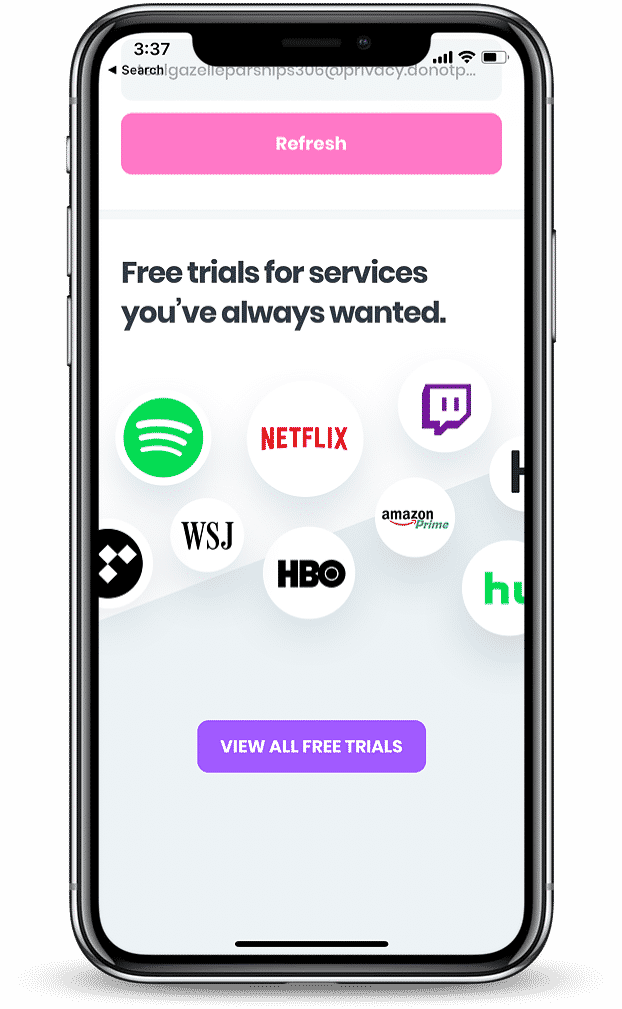 Because Sam's Club does not automatically renew your membership after your free trial or ask for any payment information until you are ready to purchase an annual membership, there is no financial risk involved in signing up for a Sam's Club trial membership. However, most other free trials do ask for your payment details up front, which can result in accidental charges if you forget to cancel your subscription or membership on time. If you are interested in supplementing your grocery shopping with related free trials, such as meal delivery services or snack box subscriptions, DoNotPay's free virtual credit card can help you avoid making this mistake.
Our Virtual Credit Card is an easy way to avoid being charged for a subscription you do not want. This "card" provides you with fake credit card details that will register as a real card when you sign up for a free trial. If the company attempts to automatically charge you before you choose to keep the subscription and add your real payment information, it will not be able to do so.
How Much Does Sam's Club Cost After the Free Trial? 
Sam's Club offers two membership levels to choose from after your free trial ends. These options include:
| | |
| --- | --- |
| Subscription | Cost |
| Club | |
| Plus | |
The basic (Club) Sam's Club membership includes the majority of the resources that casual members that primarily prefer in-store shopping use frequently. If you make frequent large or online purchases and are interested in getting even more out of your Sam's Club membership, the Plus level offers several additional perks. These include free shipping on all online orders and lower same-day delivery fees, as well as discounts on pharmacy and optical purchases and up to $500 cash back per year on qualifying purchases through the Sam's Cash program. Your free trial only includes the benefits of a Club membership, and you can choose to upgrade to a Plus membership when you renew your membership. 
What Will Sam's Club's Charges Look Like on My Statement? 
Your $45 or $100 purchases will appear on your bank and credit card statements. You can also request a copy of your purchase history from Sam's Club, which includes all memberships and online orders from the past eight years.
What Are the Most Popular Alternatives to Sam's Club? 
Few grocery stores operate on a membership model that is similar to Sam's Club, but the chain has two major members-only competitors. These include:
Costco
BJ's Wholesale Club
One of these alternatives may be a better option for you if there is one closer to your home than the nearest Sam's Club or has a better selection.
What Else Can DoNotPay Do? 
DoNotPay makes it easy to take care of several aspects of nearly any subscription or membership, as well as many other parts of your life, right from your device. We can also help you:
Cancel free trials
Close or delete accounts
Recover passwords
Manage credit card issues
Handle problems with your rental
Cancel timeshares
File complaints against companies
At DoNotPay, our Virtual Debit Card makes it easier than ever to try all sorts of subscriptions and memberships.  to get started!