Start a Sales Genie Free Trial With a Virtual Credit Card

Data Axle Sales Genie is a platform that offers unlimited access to millions of consumer and business leads. Included in the subscription-based service plan is an outreach tool that is a valuable resource for all your direct mail, emailing, and calling needs.
Does Sales Genie Offer a Free Trial?
Yes. The Data Axle is limited to only three days. The free trial offer includes a full version of the Professional package and provides 150 free leads.
For further information, you can contact Data Axle directly at 877-249-7191. There is also a live chat option available on their website.
How Can I Get a Sales Genie Free Trial?
To enroll in a offer, you must take the following steps:
Go to the company website
Click the yellow button that says "Try Us Now"
Fill out the form including your name, company, email, and phone number
Click "Start My Free Trial"
The lead generator does not require a credit card to get started, but will ask for your financial information once the free trial offer period expires.
Does the Sales Genie Free Trial Automatically Renew Into a Subscription?
No. The Sales Genie free trial will not automatically renew. If you like what you see, you can select a package by enrolling in a monthly subscription plan.
There are four types of product plans to choose from:
Professional
Team
360
Enterprise
Subscriptions start at $99 per month and are for 12 months. After the first year, the plans automatically renew at the current rate, and you will be charged on a month-to-month basis.
YOU CANNOT CANCEL until after the initial 12-month subscription expires.
Avoid Automatic Renewal Using a DoNotPay Virtual Credit Card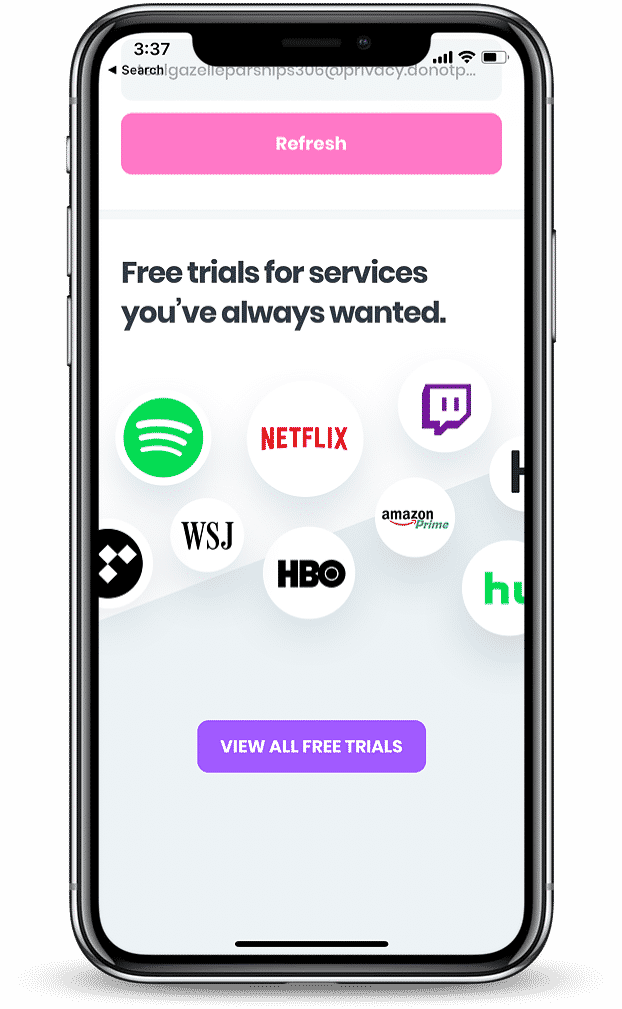 While the Sales Genie free trial offer may not require a credit card, the subscription plan does. It is difficult to determine within three days if you like the program, which is what Data Axle is counting on. Enticing you with the product can lead to a full year of unwanted charges.
Luckily, DoNotPay can help. We have developed a virtual credit card that takes the stress out of trying online free trial offers. Using your actual credit information, we can randomly generate a "fake" credit card number, CVV, and expiration date.
You can use the free virtual card to enroll in free trial offers without handing over your financial banking information for further charges. In the case of the Sales Genie free trial offer, you can use the virtual card for the first month of service.
If you decide to use the service, great. Simply change the payment method, and you are on your way to getting unlimited leads. If you find the product is not for you after the first month, the virtual credit card will deny the next payment, and your subscription will be canceled for nonpayment.
How Much Does Sales Genie Cost After the Free Trial Offer Expires?
Data Axle Sales Genie subscription plans start at $99 per month. Pricing varies for the higher-level packages and is based on several factors:
Package Selection
Marketing Audience (Consumers, Businesses, or Both)
Number of Users
Credits
Database Availability
Sales Lead and List Tools
Prospecting Tools
Sales Management Tools
Marketing Tools
Analytic Tools
Sales Genie product package prices include:
| | | |
| --- | --- | --- |
| Level | Price Range | Features |
| Professional | $99 to $199 / month | Unlimited Database Searches, In-Depth Profiles, Expert Support Assistance |
| 360 Marketing | $149 to $249 / month | Customer Enhancement, Advanced Analyzation Tools, Email Marketing |
| Team | $249 to $349 / month | Access For Five Users, Assign Leads, Track Activity, Team Collaboration |
| Enterprise | Prices Vary | Customized Features |
A database consultant will customize a package to suit your business needs. You can get a free quote by contacting Data Axle directly at 877-708-3844.
The Professional Package features are included in the promotional three-day offer. You must select a package level after the free trial offer expires.
What Else Can DoNotPay Do?

In addition to helping you start a offer, DoNotPay can help solve countless issues. Our automated system makes it quick and easy to:
DoNotPay offers round-the-clock assistance, helping you resolve everyday problems that were once considered too bothersome to handle. Following the easy-to-use prompts, you can take on a variety of challenges, eliminating stress and providing you with peace of mind.
If you want to try out any free trial offer, check out one of our many products, or learn more about a free virtual credit card, get in touch with DoNotPay today!