How To Get A Ruff Greens Free Trial With This Virtual Credit Card

Ruff Greens is a blend of nutritional supplements for your dog, with promises of things like better digestion, healthier coats, increased immunity, and youthful energy. Who doesn't want their fur baby to enjoy optimal health, right?  But for some, the price can be a little scary, at $59.99 for dogs under forty pounds or $119.95 for larger dogs. That's why it's good to know that you can get a  and only pay shipping costs.
For many people, the thought of free trials is very enticing. But after they have given up their personal and credit card information, they forget to cancel during the trial period and end up getting charged for a product or service they do not want. That is where DoNotPay comes in, offering a virtual credit card that automatically cancels out your subscription after the free trial.
How Can I Get a Ruff Greens Free Trial?
Ruff Greens is touted as being a delicious blend of 100% natural blend of vitamins, minerals, probiotics, digestive enzymes, omega oils, and antioxidants. As a supplement, you add it to your dog's food to increase their energy, digestion, and well-being. Ruff Greens is offered as a monthly subscription, purchased from their website. There are two sizes to choose from:
| | | |
| --- | --- | --- |
| Size | Pounds | Cost |
| Regular size | Dogs that are 40 pounds and under | $59.95 per month |
| Large size | Dogs that are 40 pounds and over | $119.95 per month |
To get the  bag, do the following:
Go to their website and click on "Get your free trial."
Fill out the online form with your email address, the name, and the weight of your dog.
Based on your dog's weight, they recommend a plan that fits the dog's size.
You will be taken to a screen with billing information. Complete name, address, phone number, and credit card information.
You will be billed $8.95 for shipping, so the free trial is not free.
If you do not cancel your free trial within 15 days of your order, you will be billed for a thirty-day supply of Ruff Greens plus shipping costs.
The tricky part of the free trial is that it is not free. They will charge your credit or debit card at the time you request your free sample bag.
What Is DoNotPay's Virtual Credit Card, and How Does It Work?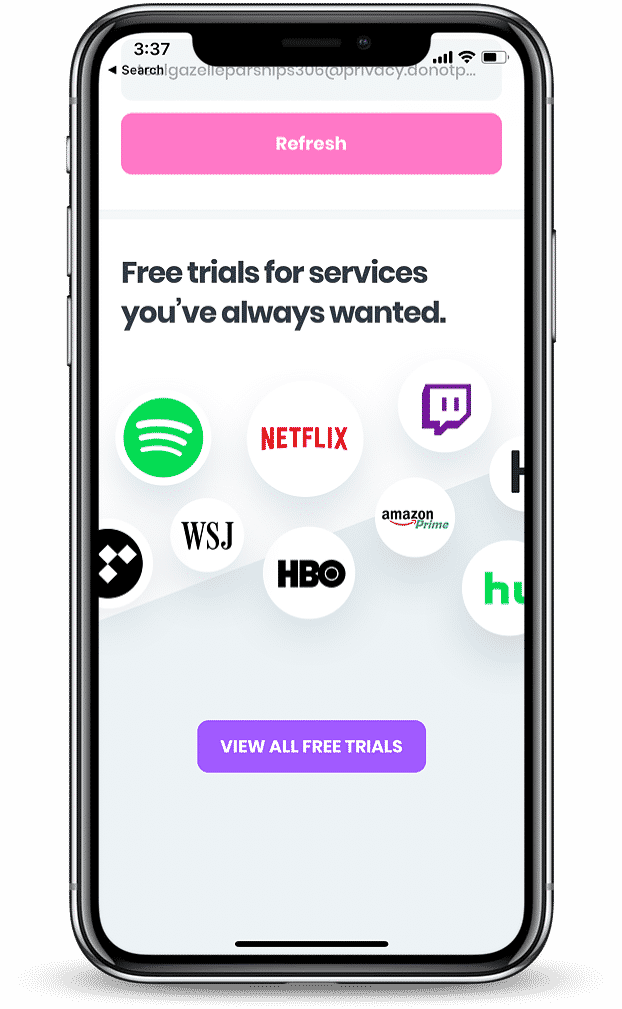 Many companies offer free trials. They solicit your credit and personal information so that you may be automatically billed when the free trial period is over. These companies count on you forgetting to cancel the pending subscription, and they automatically charge your card.  With Ruff Greens, this is not the case. They will charge your card up front to cover shipping.  This does two things:
It charges for the cost of shipping
It verifies that your card is valid
In a case where charges are placed against a card, DoNotPay's virtual credit card will not work.  But in the case of free trials where charges are placed after the free trial period, DoNotPay can help. This is what you do:
Search Free Trial Card on DoNotPay and type in the name of the company that you want a trial from.
DoNotPay generates a credit card number and information for you to use when submitting a request for a free trial.
You never get charged, never have to worry. Your card has no money available on it, so you are automatically unsubscribed.
Remember that DoNotPay's virtual credit card is good for one use only.  After that, the card will be deactivated. You will not be able to make purchases with it. Need more than one virtual credit card? No worries because DoNotPay can generate multiple one-use virtual credit cards.
What Else Can DoNotPay Help Me With?

DoNotPay not only helps you avoid charges after free trials expire with their virtual credit cards, we can help with just about any problem that you have. Simple or complex, DoNotPay saves you not only time and money, but also makes solving your problems easy and quick. And we work hard to get the best outcome for you. Some matters we can help you with are
The problems that are filling your day and causing you stress, can be easily solved with the help of DoNotPay. How can DoNotPay help you?