Sign Up for Rosetta Stone English Free Trial Without a Credit Card

If you want to perfect your spoken English, Rosetta Stone is your platform. Rosetta Stone offers a  of the language tool to help would-be users get a taste of the forum before committing to sign up for paid subscriptions.
If you have signed up for the Rosetta Stone English free trial, keep in mind the plan upgrades automatically to paid plans at the end of the trial period. This may result in unwanted charges on your credit card at the end of each month.
DoNotPay can help you avoid losing money on unwanted upgrades and charges on free trials. We provide a virtual credit card that you can use to sign up for free trials without exposing your actual credit card and bank details to data breaches and unnecessary charges.
How Does Rosetta Stone Work
The software leverages a combination of images, text, and sound to teach words and grammar by spaced repetition. Rosetta recommends 30 minutes each day in the program to guarantee you retain everything you are learning. This also ensures Rosetta becomes your daily routine as an effective way to practice new vocabulary.
How Long Does the Rosetta Stone Free Trial Last
Rosetta Stone offers a  featuring up to 25 different languages. Once the trial ends, you will continue with the language packages starting at $35.97. Some of the top-rated features in paid plans include:
Personalized Lessons
TruAccent Speech Recognition
Live tutoring
What Is Rosetta Stone's Three-Month Free Subscription?
Rosetta Stone is offering a new free Rosetta Stone for Students subscription. The subscription, which lasts three months, is designed to help students across the world complete their schooling remotely over the coming months. The company reveals the free subscription is an engaging resource for students and parents working and learning from home due to COVID 19.
Is Rosetta Stone Affordable?
Rosetta Stone offers a range of subscription options with varied prices depending on the months you want to use the platform. For example:
| | |
| --- | --- |
| Subscription | Cost |
| 3 months | $36 |
| 6 months | $66 |
| 12 months | $96 |
| 24 months | $144 |
Essentially, the free trial automatically upgrades to a paid subscription at the end of the trial period. The platform also has an auto-billing feature that charges you a monthly subscription for the subsequent month. If you want to avoid automatic upgrades and the charges that come with them, ensure you cancel your plan ahead of the expiry day.
How to Get Started with Rosetta Stone
The following are the steps to use Rosetta Stone for free:
Download the app on your app store and install
Open your app and sign up by filling all the fields that require your personal details
Follow the provided prompts to use the three-day free trial
Why Should I Use DoNotPay's Virtual Credit Card to Sign Up For Free Trials?
DoNotPay's virtual credit card offers a unique 16-digit virtual credit card number that you can use to carry out online transactions and sign up for accounts without exposing your real credit card and bank details. The fact the card is virtual means it is highly secure, thus protecting you from data breaches and unauthorized payments.
As the payer, you predetermine the amount to pay by setting limits on the amount you want to spend on a transaction. During a free trial setup, you can set your spend limit to $0, meaning the vendor will be prevented from charging you added costs should you forget to cancel a free trial.
How Does DoNotPay's Virtual Credit Card Prevent Unwanted Charges On Free Trials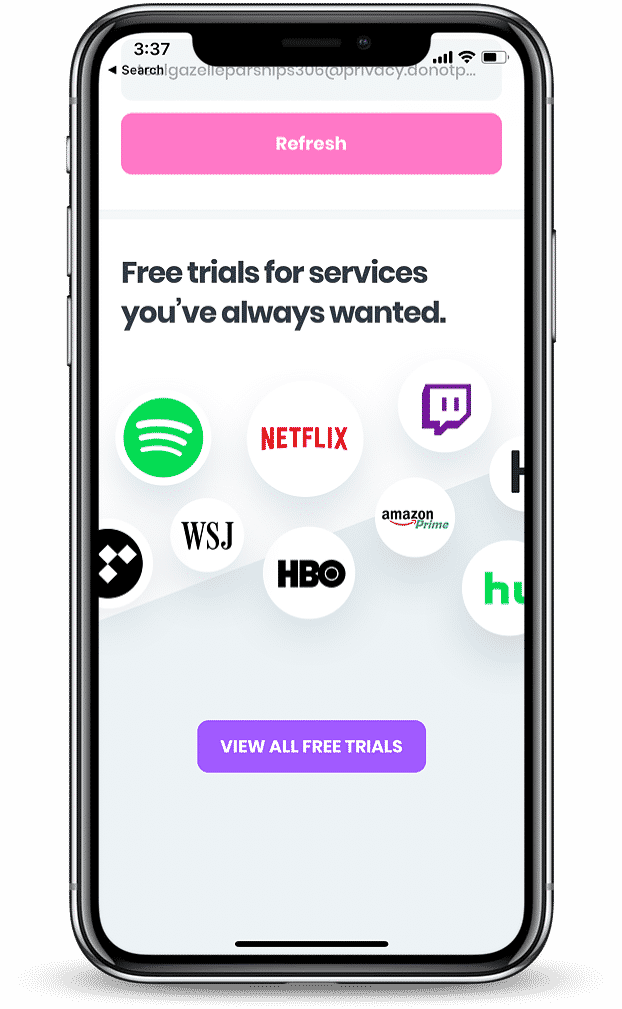 The following is a step-by-step guide on how DoNotPay Free Trial Card ensures users save money and time:
DoNotPay generates a random number and credit card info that you can use to subscribe to any service
Once the free trial period ends, the service can't charge you because there's no money on that card, so you get unsubscribed automatically.
Here are some things to note about virtual credit cards:
You can only use the card once.
The card is deactivated as soon as it is used.
You can't make an actual purchase with the card since there is no funding attached to it.
What Else Can DoNotPay Do?
DoNotPay can help you with almost anything, including:
Let DoNotPay Help You Sign Up For Rosetta Stone Without Worries Of Additional Charges
Rosetta Stone is one of the best-known language learning services helping thousands of people learn foreign since it launched in the '90s. The platform, which is best for beginners, is also equipped with a ton of additional content for more advanced learners.
 is designed to help you get a feel of the platform before you start using it. Unfortunately, the free trial phase can automatically translate to a paid version if you forget to cancel it on time.
DoNotPay is here to ensure such a thing never happens. Our virtual credit card provides an effective way to block vendors from charging your actual credit card.  to learn more.