How to Get Roadtrippers Plus Free Trial With a Virtual Credit Card

If exploring the open road brings you peace and happiness, Roadtrippers might be the perfect app for you! It allows you to plan your route and hit the best tourist destinations along the way, even ones you've never heard of!
You can enjoy the app even more with a  However, it's understandable to worry about the app charging you unexpected fees after the service is over. Fortunately, you can still enjoy Roadtrippers Plus for 30 days with a virtual credit card!
How Can I Get a Roadtrippers Plus Free Trial?
While the base Roadtrippers app is free to download and use, only the Plus version offers the full array of services. While Roadtrippers doesn't overtly advertise free trials, here's how you can get one:
Coupon Codes
Online coupon sites sometimes have free trial offers for Roadtrippers Plus. These free trials usually last 30 days, and you'll need to provide a valid credit card number to activate it. Companies require this for the ease of charging your account should you continue to use the service.
Gifted Subscriptions
Someone can purchase a Roadtrippers Plus free trial and have a code sent directly to your email inbox. Unlike other free trials, you'll gain access to Roadtrippers Plus for a whole year!
Credit Card Offers
If you're a MasterCard owner, you're automatically eligible to get free Roadtrippers Plus! To redeem it, simply:
1. Create your free Roadtrippers account and sign in.
2. Opt to purchase the Roadtrippers Plus plan.
3. On the purchase page, enter the promo code 'BQFKVRIIUT' into the promotions box.
4. Confirm your purchase and enjoy Roadtrippers Plus for 30 days.
Roadtrippers Plus Partner Program
This program is available for other companies that want to add Roadtrippers access to their service offerings. These might include individual travel planning professionals, hotel booking companies, and local tourism agencies.
If you happen to use one of these services, you're eligible for a free Roadtrippers Plus trial! Here's how you can redeem it:
1. Create a Roadtrippers account, or sign in to your existing account.
2. Enter your Roadtrippers Plus account redemption code on the purchase page. You may be able to find this inside the partner's brochure, or on their website.
3. If you can't locate the code, contact that partner's customer support team for additional assistance.
4. Roadtrippers can also contact the partner company on your behalf! Simply fill out the form on this page.
Benefits Included in Roadtrippers Plus
When your Roadtrippers Plus free trial begins, you'll gain access to all of these perks:
| | |
| --- | --- |
| Feature: | What It Offers: |
| Stops | Up to 150 stops in your trip planner |
| Advertising | |
| Customized Routes | Customized RV routing, complete with trailer park location services |
| Offline Features | |
| Map Customizations | Light and dark map customizations |
| Discounts | Access to discounts from other Roadtrippers partner companies |
| Route Planning | Route planning integration between other Roadtrippers users |
| Traffic Conditions | |
Once your free trial ends, you shouldn't be able to use these benefits. If you find that this isn't the case, your credit card may have been charged without your knowledge!
Enjoy Roadtrippers Plus Worry-Free With a DoNotPay Virtual Credit Card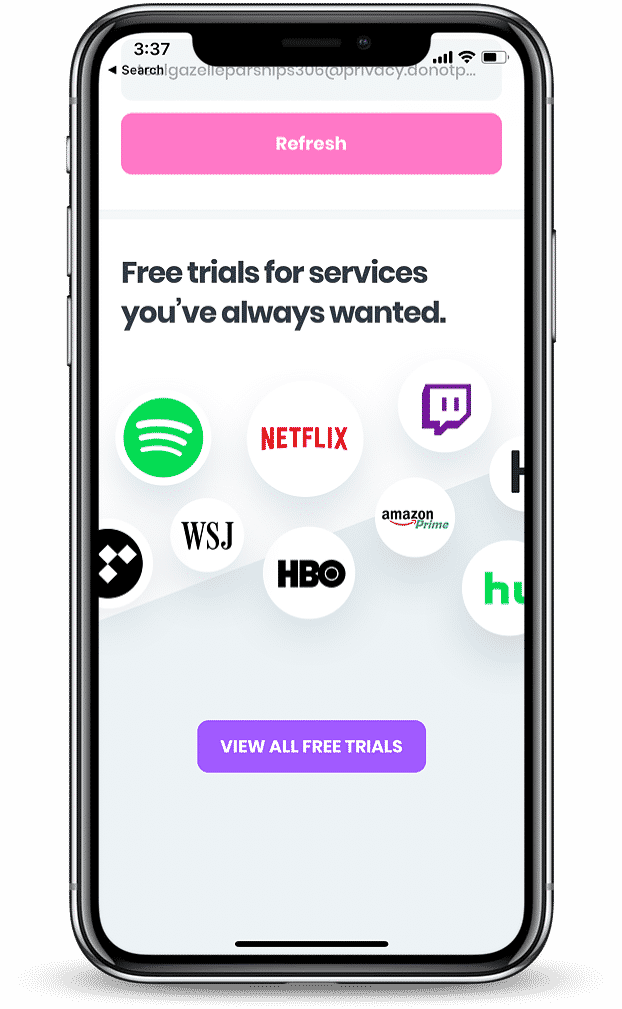 Forgetting to cancel subscriptions is an increasingly common problem for consumers. This is especially true if you're a road trip enthusiast! When you're spending so much time driving and sightseeing, you're not as active online.
Additionally, you may frequently find yourself in areas that don't have the best cell phone service or Wi-Fi. You might only remember that you need to cancel a free trial when it's too late! Most of the time, companies won't issue a refund for a service once your card has been charged.
The best answer to this problem is a virtual credit card! This is a safe alternative to providing your personal credit card information when signing up for any service. It uses a string of random numbers and personal information to bypass an initial authorization.
After that "charge", the credit card will automatically become invalid! Your  membership will cancel itself because money can't be stored on a virtual credit card. That also means that you can't make any accidental in-app purchases with these cards!
DoNotPay provides virtual credit cards for any product, subscription, or membership. All we need from you is the company name, and we'll generate your risk-free credit card!
How Much is Roadtrippers Plus After My Free Trial?
Keeping your Roadtrippers Plus membership costs $29.99 per year. Roadtrippers plans to add more features to the Plus service in the future, so the cost may go up. Fortunately, no matter when you decide to try Roadtrippers Plus, our virtual credit card offer will always be here!
Do You Know What Else DoNotPay Can Do?

If you're satisfied with your virtual credit card experience, you'll probably also enjoy our products for: