Start Your Reloaded TV Free Trial Today With a Virtual Credit Card

A Reloaded TV free trial was a great way to try out the IPTV service provider before enrolling in a monthly subscription plan. Unfortunately, the company no longer exists, shut down for illegal practices. This left viewers scrambling for an alternative.
DoNotPay can help you find a new way to watch television. Better yet, we can help you find a free trial offer that is risk-free.
Free trial offers are a great way to take a product or service for a test run before committing to a lengthy membership or subscription plan. Many companies use this marketing ploy to entice new customers to enroll in their service program.
Unfortunately, free often costs the consumer in the long run. Most free trial offers require a credit card to activate the trial period. While consumers can cancel during the free trial period, many forget, and their credit card gets charged for the entire membership amount without their knowledge. They are then left to fight for a refund for a service they never intended on purchasing in the first place.
DoNotPay is changing the game of free trial offers and putting the power back in the hands of the consumer. A free virtual credit card from DoNotPay lets you check out a trial offer with no obligation or risk. Here's how it works.
What Is Reloaded TV Free Trial?
Reloaded TV was an internet-based protocol television (IPTV) service provider. The service allowed viewers to stream television programs without the need for satellite or cable subscriptions.
IPTV providers with proper licensing can offer worldwide streaming access to their customers. Unfortunately, numerous illegal IPTV providers are infringing on copyright laws, putting their customers in jeopardy of hefty fines and penalties. Reloaded TV was one of those illegal providers. Customers can no longer access the service.
Alternatives to Reloaded TV
There are many legal alternatives for streaming television programs and movies.
The cost is considerably less than most cable television providers, and there are typically no long-term contracts to sign. You can stream all the channels you want, on any device, from the comfort of your couch.
Legal IPTV providers that offer a good alternative to a Reloaded TV free trial include:
| | | | |
| --- | --- | --- | --- |
| Service Provider | Cost | Channels | Free Trial Offer |
| Sling TV | $40.00 / month | ESPN, Disney, Fox, NBC, 30 channels | Yes - 14 day |
| Hulu + Live TV | $69.99 / month | Hulu, Disney+, ESPN+, 75+ live channels | Yes - 30 day |
| DirecTV Now | $69.99 / month | 65,000 On Demand titles and 140+ channels of live TV | No |
| YouTube TV | $64.99 / month | 85+ top channels | Yes - varies |
| Amazon Prime Video | $14.99 / month | 100+ channels, option to add premium subscriptions | Yes - 30 day |
How Does a Free Trial Offer With an IPTV Provider Work?
Most IPTV providers offer a free trial offer, so potential customers can check out the service before committing to a monthly subscription plan. There are a few things to consider before signing up for a free trial:
How long does the free trial period last?
Are there restricted features only available to current paying subscribers?
Does the offer automatically renew?
What does the free trial offer include?
Customers must provide a credit card to activate a free trial offer. If the viewer fails to cancel within the specified time, the service provider will charge their credit card for the entire amount of the subscription plan. 
According to the Federal Trade Commission (FTC), "free trial offers can be tricky." Here's why:
Unexpected shipping or activation charges
Sometimes it is hard to cancel the free trial offer
Automatic renewals are common
Affiliate marketers can be misleading
Consumers aren't aware of pre-checked boxes that agree to a renewal
How to Avoid Automatic Renewal With the Help of DoNotPay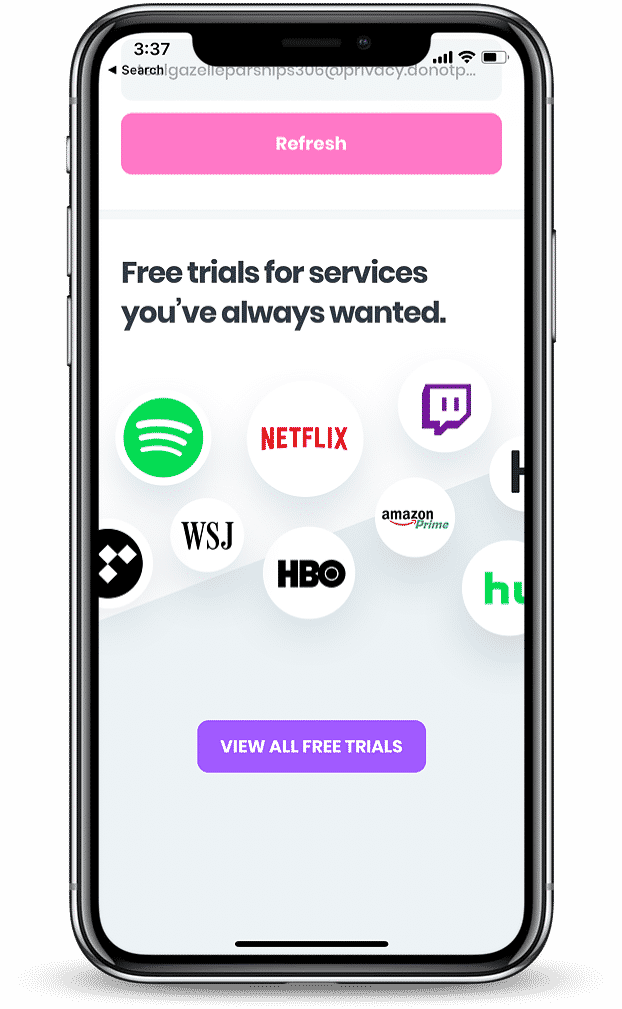 DoNotPay has developed a way to eliminate the risk, allowing you to try out an IPTV service provider with no out-of-pocket expenses. A DoNotPay virtual credit card lets you activate a free trial offer without disclosing any of your personal financial information.
Using your current credit card, we randomly generate a new credit card number, CVV, and expiration date. The "fake" numbers can then be used for any free trial offer, leaving your actual credit card information secure.
When the free trial offer expires, the provider will try to charge your credit card. When the transaction is declined, the subscription will automatically cancel. You will never be at risk of any further charges.
Using a virtual credit card is the perfect solution for trying out a trial offer for free, as it was intended to be, with no obligation or commitment required.
Why Use DoNotPay
DoNotPay is fast.
DoNotPay is easy.
DoNotPay is successful.
How Else Can DoNotPay Help You?

In addition to showing you how to access free trials using a virtual credit card, DoNotPay can also help you:
So, whether you want to try out a free virtual credit card or need help with everyday problems, DoNotPay can help. Our easy-to-use automated system guides you every step of the way, helping resolve issues and giving you the confidence that you are not alone!