Sign Up For The reFX Nexus Free Trial Securely With a Virtual Credit Card

NEXUS by reFX is a music production program that includes pre-fabricated electronic sounds. This type of tool is known as a ROMpler, which is a combination of the terms ROM and sampler. NEXUS 4 is the latest version, which offers improved features while remaining compatible with the previous versions, NEXUS 2 and NEXUS 3. DoNotPay can help you
Does reFX Offer a Free Trial of NEXUS?
Unfortunately, there is no . However, if you're interested in trying Nexus, you do have the option to buy the Starter edition, which is a small fraction of the cost of the Complete Edition. If you like Nexus, you can purchase additional expansions separately later on.
How Can I Get Started With NEXUS?
While NEXUS does not offer a free trial, the Starter edition can be a good way to try out the product at a much lower cost of around $250 compared with around $4500 for the Complete Edition. Before you purchase NEXUS, you'll need to make sure your computer has the proper amount of storage space and other requirements to use it.
You'll need:
26.5 GB of disk space to install the plugin and basic content
206.8 GB of disk space to install all the expansions
8 GB of RAM, with 16 GB or more highly recommended
MacOS 10.11 or later, or
Windows 8, 10, or 11
At least 1024x768 display resolution
Compatible host software
Check reFX's website for the full list of compatible host software options, as well as additional technical requirements. Some of the host software options that are compatible with NEXUS are:
FL Studio
Reason 10 or later
Studio One
Sonar 6 or later
To buy NEXUS, simply add the edition you want to your cart, enter your payment details and follow any additional prompts given. Once you've done this, you'll need to set up a reFX account if you haven't already. To do this, simply:
Go to the log-in page.
Click "sign up" at the bottom of the screen.
Enter your first name, email address, and new password.
Click "sign up."
Once you've created a reFX account, accessing your new NEXUS program is simple. Go to the downloads page within your account, and follow all the prompts from the reFX Cloud app to get started.
Sign Up for Free Trials Risk-Free With DoNotPay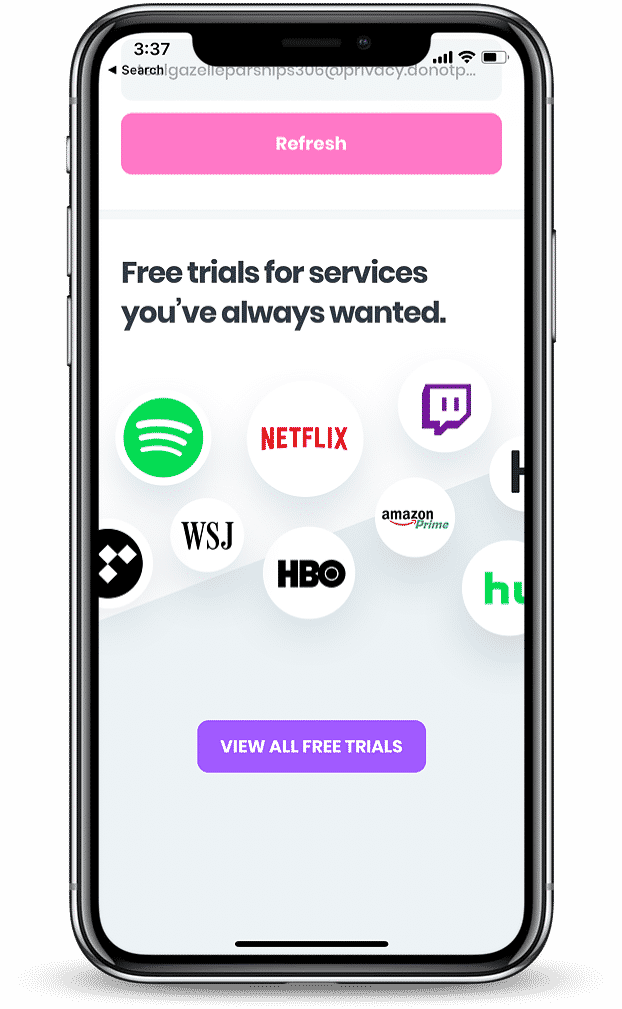 While NEXUS isn't subscription-based and therefore doesn't have a free trial, more and more software programs and apps are moving to the recurring subscription pricing model. Testing out these apps and programs with a free trial is great, but it's easy to forget to cancel and end up with a surprise bill for something you weren't interested in paying for. DoNotPay has a convenient solution to this problem with its virtual credit card product. With a virtual credit card, DoNotPay generates random credit card details for you to use as a placeholder to sign up for a free trial. If the company tries to charge you later, the payment won't go through. Save yourself the stress and effort of needing to cancel free trials with DoNotPay's virtual credit card.
What Is the Pricing for reFX NEXUS?
There are three different editions of NEXUS, which come with different numbers of presets and samples. Your options are:
Edition
Cost
Information
Inclusion
Starter
$249
This is a great way to get going with using a ROMpler.

3811 presets
26.5 GB of samples

Value 10
$499
This is a solid midpoint for those looking for more sounds than the Starter edition but at a much lower cost than the next level.

The 10 most recent expansions
5097 presets
46.7 GB of samples

Complete
$4529
This is for those who want to explore everything NEXUS has to offer.

All 162 expansions
25,999 presets
206.8 GB of samples
Since there's a significant range in the price points and amounts of preset sounds included in the different editions of NEXUS, the program can work for people with both a hobbyist and a professional interest in music production.
You can also purchase NEXUS expansions individually. The newer ones are $60 each, while legacy expansions, which are older but still fully supported, cost $30. When you purchase the Starter or Value 10 editions, you'll have the option to purchase expansions at a 15% discount. The expansions offer presets focused on specific music genres, moods, or sound types. Some examples include:
Cyberpunk
Lo-fi
Hollywood Piano
Sounds of the 80s
Festival EDM
Sounds of the Summer
What Are the Alternatives to NEXUS Available on the Market?
There are several different types of music production apps and programs that might suit your needs and preferences better than NEXUS does. Some of these alternatives are:
What Else Can DoNotPay Do?
DoNotPay can help you deal with bureaucracy and save time and money in a number of situations. With DoNotPay, you can easily:
To enjoy free trials completely risk-free, contact DoNotPay now.