How to Get REDX Free Trial With a Virtual Credit Card

REDX is a leading provider of real estate lead generation, lead management software, and other real estate solutions. It connects real estate agents to homeowners ready to buy or sell their homes. To experiment whether the platform is your real estate missing puzzle, you can sign up for a .
But, like any other subscription, when signing up for a free trial, you must provide your credit card information. That's a bummer. If you don't like the solution and don't have time to explore all of its features, you'll still get charged?
Fortunately, there is a way you can enroll in a REDX free trial without providing your credit card information. Follow our guide below to start a REDX free trial without risk.
Does REDX Offer a Free Trial?
Yes.  of its lead generation service for real estate agents. The free trial provides full access to all the features and tools available on REDX. There are 5 different REDX subscriptions:
Starting at $59.99, Expireds connects you with the most accurate information on homes that have expired on the market and are ripe with potential. You gain connection to more qualified sellers in a short period to convert expired leads into listings.
Need phone numbers and addresses for homeowners near you within seconds? GeoLeads provides homeowners' information, so you spend less time on canvassing and more time closing deals. You can get the GeoLeads standard package for $49.99 per month or GeoLeads PLUS for $99.99 per month. You get 2000 or 5000 leads per month, respectively.
For Sale By Owners (FSBOs)
When trying to sell your home on your own, 88% of the time, you will end up involving an agent. With the FSBOs account, you get the contact information of prospects trying to sell their homes on their own. Starting at $39.99, the FSBOs account provides you with details on homeowners who are trying to sell their homes without help from real estate agents.
For Rent By Owner (FRBOs)
The FRBOs allows you to take advantage of the investors and landlords who would list if given the opportunity to connect with them. You can start your FRBOs subscription for $79.99 per month and get access to landlords and investors who are trying to list their homes, apartments, or commercial properties.
How Can I Get a REDX Free Trial?
You can get a REDX free trial on the company's website in a few easy steps. Here is how to do it:
Visit the official REDX website.
Sign in or sign up. If you don't have an account, create your free REDX account.
Fill in all the details fields required on the form. Don't forget to choose the preferred type of accounts you want to sign up for.
Choose the "Start Trial" button.
Provide your billing details and then select the "Start Subscription" button.
Wait for your free trial to start, and then enjoy all the features and tools that REDX has to offer you.
Does the REDX Free Trial Automatically Renew Into a Paid Subscription?
Yes. After the 30 days free trial, the REDX service will automatically renew into a paid monthly subscription. If you don't wish to continue with the service, you should cancel your trial one business day before the bill date. Failure to cancel on time will not justify a refund of the money you have paid for REDX.
Avoid Automatic Renewal With DoNotPay Virtual Credit Card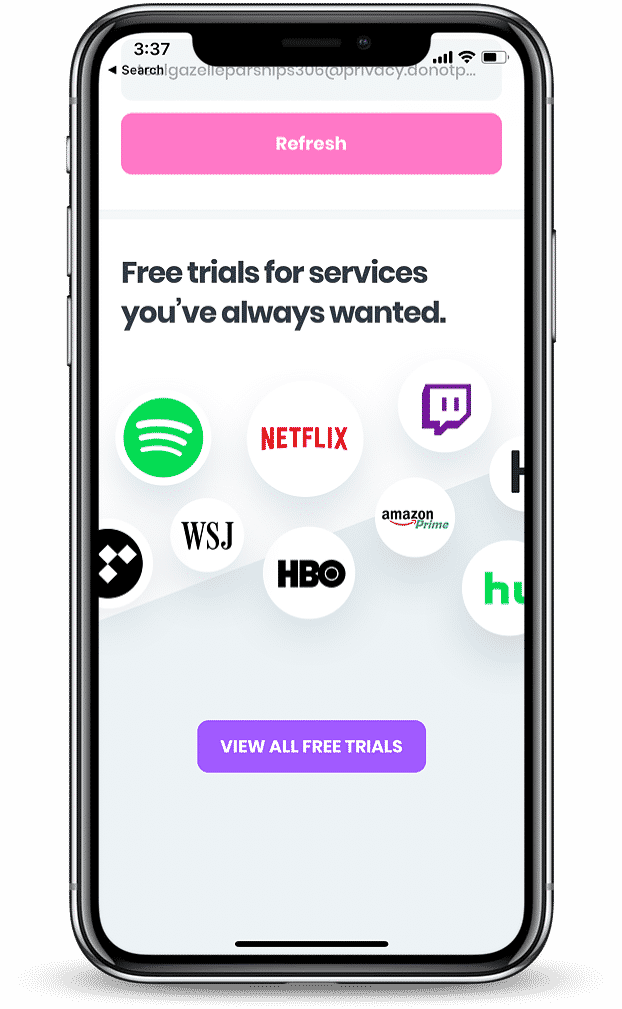 If you have been in a similar predicament before, you are familiar with the frustration that hits you when you realize you forgot to cancel your trial on time and you already have another "money eater" on your credit card. Much worse when the company doesn't offer refunds.
But, what if you had a way to sign up for as many free trials as possible without risking your credit card information?
DoNotPay's Virtual Credit Card allows you to sign up for unlimited free trials with no payment info needed. DoNotPay Free Trial Credit Card mimics regular credit cards, but it's not linked to your bank or any funding source. Here is how it works:
DNP generates a random number and credit card info that you can use to subscribe to any service
When the free trial expires, the service can't charge you because there's no money on that card, so you get unsubscribed automatically.
Search DoNotPay on your  and use our virtual credit card to register for limitless free trials without risk.
REDX Subscription Costs
Once the free trial expires, REDX will automatically charge you between $39.99/month and $99.99/month depending on the type of account you chose. You will also incur a $149.99 setup fee which can be waived or reduced when subscribing semi-annually or annually. Discounts are also available when purchasing multiple lists or paying quarterly, semi-annually, or annually.
| | |
| --- | --- |
| Subscription | Cost |
| Expireds | $59.99 |
| GeoLeads | $49.99 |
| GeoLeads PLUS | $99.99 |
| For Sale By Owners (FSBOs) | $39.99 |
| For Rent By Owner (FRBOs) | $79.99 |
What Else Can DoNotPay Do?
DoNotPay has become a household name for solving everyday issues and problems Americans face. It offers convenient and hassle-free ways of getting anything done or solving any problem you encounter without wasting time or paying too much. You can open DoNotPay on your web browser to solve almost everything, including: