Sign Up For a Rabbit TV Plus Free Trial Securely With a Virtual Credit Card

Rabbit TV is a popular platform providing access to over 5000 internet stations, including ABC, CBS, ESPN, FOX, NBC, and more. Signing up for Rabbit TV plus a free trial can be a great way to review the platform's features before deciding to purchase a full subscription.
Keep in mind free trials can upgrade into paid plans at the end of the trial period. It is important to cancel your subscription in time to prevent unnecessary charges on your credit card. Do not pay provides a more secure way to sign up for free trials without worrying about unwanted charges. Our virtual credit card allows you to transact online and prevent data losses and unauthorized expenses.
Does Rabbit TV Plus Offer a Free Trial?
Yes. Like most subscription services, service lasting for 30 days. The free trial offers access to top premium services, including:
Premium Services

 200,000+ TV Episodes (TV Shows)

 100,000+ Movies

 50,000+ Radio Channels

 5,000+ Live Channels with Rabbit TV Plus
How Do You Obtain a Rabbit TV Plus Free Trial?
New users must sign up for Rabbit TV before they start using the free trial service. Use the following method to sign up:
Go to the Rabbit TV Account sign up page
Provide required information on all sections to sign up
Log in using your username and password. A login screen appears upon successful login.
After Signing Up, visit your Free Offers page to claim your Free Trials.
Are Free Trials Good?
While of a product or service are a perfect way to get a feel of service before purchasing it, you should still be wary about them. Free trials are never meant to be free. They are intended to hook you into service to the point of paying for it once the trial period ends.
Most free trials are also designed to upgrade automatically, resulting in unplanned expenses on your part. Whenever you are signed up for a free trial, ensure you cancel it before the trial period ends. However, we all know how easy it is to forget about the free trial until you receive unfamiliar charges on your credit card. The only effective way to prevent these costs is to use a virtual credit card during your sign-up.
What Is a Virtual Credit Card?
A virtual credit card is a unique 16-digit number randomly generated and linked to your real credit card number. During your sign-up process, you can present the 16-digit number to the vendors of Rabbit TV without them knowing you are not using your real credit card.
The VCC is designed to be used only once as it expires after each transaction. This prevents vendors from charging you for unwanted plans should your free trial upgrade without your knowledge.
Is a Virtual Credit Card Legal?
Virtual credit cards are completely legal and available for mainstream use. VCC provides an effective way to protect consumers from fraud whenever they are shopping online or signing up for free trials. In a nutshell, virtual credit cards offer much more security than physical credit cards.
Great Reasons to Use DoNotPay's Virtual Credit Card
Rabbit TV and other companies know too well how free trials are irresistible. Vendors often maximize it to get new customers to sign up. Although these companies promise no charges on your card, free trials often result in unbudgeted costs. Companies know you will likely forget to cancel your trials on time, thus allowing them to automatically charge your card several times before you even realize you're now a paying subscriber. This is where
DoNotPay's virtual credit cards can help. Our virtual credit cards won't let the payments go through, so you don't have to stress over remembering when to cancel your free trial. Simply sign up for the trials you want, enjoy them, and never worry about canceling before it ends again. The following are some of the things to keep in mind about our free trials:
You can only use each card once
Each card gets deactivated as soon as it's used
You can't make actual purchases using the cards
How to Get Started With DoNotPay's Virtual Credit Card During Free Trial Sign Up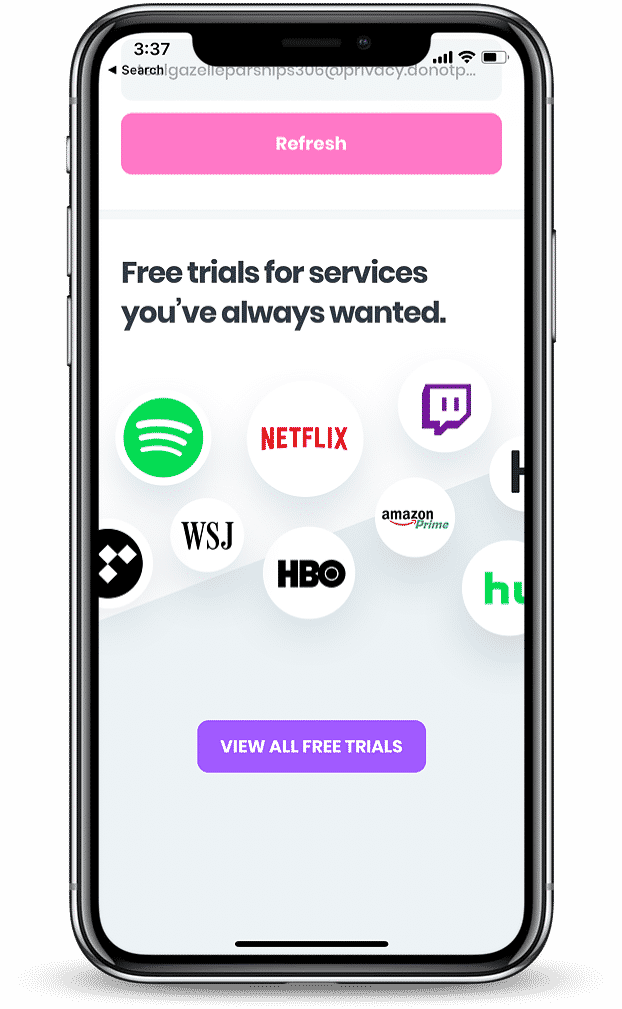 The following is a step-by-step guide on how DoNotPay Free Trial Card ensures users save money and time:
DNP generates a random number and credit card info that you can use to subscribe to any service.
Once the free trial period ends, the service can't charge you because there's no money on that card, so you get unsubscribed automatically.
Read this article for more info.
DoNotPay Can Help You Solve Other Problems Too

DoNotPay can help you with almost anything! Including:
Disputing traffic tickets.
Fighting speeding tickets.
Let Donotpay Help You Avoid Additional Charges When Registering for Free Trials
Free trials are undoubtedly enticing. But they can mess up your finances if you are not careful. As mentioned earlier, most companies know you will forget to cancel your free trial on time, giving them leeway to charge your credit card ridiculous amounts. The best way to protect yourself is to use a virtual credit card when signing up for free trials.
DoNotPay offers an unmatched virtual credit card to help you carry out online transactions securely. The card's main goal is to help you avoid unwanted charges! Therefore, you can't use it to make real purchases either. Contact us today to learn more.