How To Get a PureVPN Free Trial With a Virtual Credit Card
VPNs are a  to obscure your internet activity from prying government and public eyes, especially if you're using public WiFi. However, many people on the internet use it to access insecure and restricted websites. If you don't have a VPN in this modern internet era, you should definitely think about it.
However, sometimes you want to try out a VPN so you can see if it's fast and reliable before you make the purchase. If the VPN does offer a  without requesting your credit card information, it's even better. But PureVPN is not one of those, you must use your credit card to get a free trial.
This guide will discuss the PureVPN free trial and show you how you can use DoNotPay Free Trial Card to make a secure payment and avoid automatic transactions.
What is PureVPN? 
PureVPN is a commercial  that's owned by GZ Systems Ltd based in the British Virgin Islands. It allows users to stream, get internet freedom, enhance cyber security, and share files. They have servers in 140 countries, which hide the user, making them appear to be in another country.
Unlike other VPNs, after PureVPN finds out your intentions on the net, they'll assign you to a specific server to make your experience better with faster traffic. You can use PureVPN on Linux, Mac OS, Windows, Android, and iOS. You can use up to five devices, or share a VPN hotspot with others to enjoy the internet together.
How Can I Get a PureVPN Free Trial?
PureVPN offers a seven-day  to new customers who subscribe to a 1-year plan by charging them less than $1 for the seven days. However, you must use your credit card to get access to the free trial.
To get started:
Access their free trial page or Google "PureVPN free trial" and click the first link that appears
Fill in your personal information and your card information
Make sure your card has at least $1 and enough funds to cover the transaction fees
Make your payment 
Download the PureVPN application and start using it 
Does the PureVPN Free Trial Automatically Renew Into a Paid Subscription?
Yes. PureVPN will automatically charge you $39.95 for the first year subscription when the seven days are over. After that, you'll pay $69.96 per year for the rest of your subscription.
However, there PureVPN does have two caveats:
If you want to avoid being charged for the first year, you must unsubscribe or cancel the service 24 hours before the renewal. However, if you forgot about the subscription and got charged, you can still ask for a refund.
They also offer a 30-day money-back guarantee for you to test their product and if you don't like it you get your money back. But you must also pay in full at the beginning.
Avoid Automatic Renewal With DoNotPay Virtual Credit Card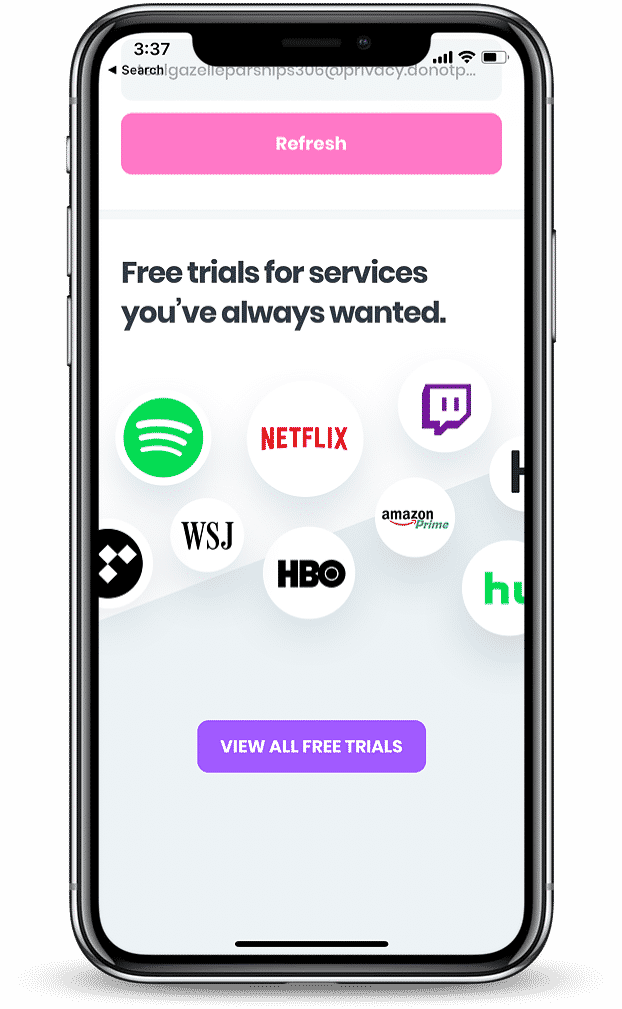 When it comes to free trials, everybody wants them, but using your credit card exposes your bank account to others, making it easy to charge you for services you don't require.
In addition:
Some companies make it extremely difficult to unsubscribe from their services and you have to contact your credit card customer care to inquire how you can unsubscribe.
Other companies don't use their product names when they charge you, so it becomes difficult to know what services you subscribed for.
These are some of the frustrations people endure when they use their real credit cards. But DoNotPay has come up with a solution that might help you avoid this problem for good -- a Free Trial Card.
A Free Trial Card is a virtual credit card that operates normally except without revealing your personal information or accepting automatic payments. It only allows one-time transactions; that means when you subscribe for a free trial, PureVPN won't be able to charge you again.
You can use DoNotPay Free Trial Card to try out PureVPN and see if it's worth your money. If you like it and want to continue your subscription, don't worry.
The DoNotPay Free Trial Card allows you to make other transactions from your bank to pay for the service. And since it's a one-time transaction, you don't have to worry about auto-renewal next year if you decide to switch to another VPN.
Try it today; it's completely free.
What Else Can DoNotPay Do?
In addition, if you're struggling with a problem caused by some company, then DoNotPay can help. It's a RoboCop that is designed to help you find solutions to almost anything in America. This includes preparing legal cases, fighting large corporations, or settling debts.
Here are related topics you might be interested in:
PureVPN is a highly rated VPN that doesn't overheat your computer or mobile. It can help you mask your identity in over 87 different countries. However, it requires your credit card information.
For someone looking to mask your identity, I don't think you appreciate sharing your personal information. So why not use a virtual credit card that hides your information? Try DoNotPay Free Trial Card today and enjoy your privacy.